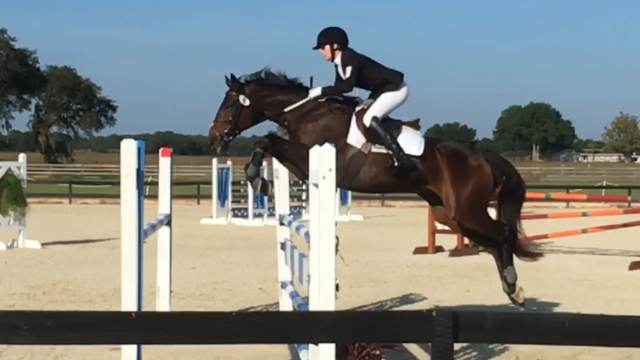 This story is about an amazing girl and her OTTB, England Calling, also know as "Johnny Bad." Johnny was 5 when we bought him for Elle, who was 15. Elle has ridden since she could walk, but it was always that " hard to handle" or green babies because we have a very limited budget to work with.
Johnny was also green, but Elle knew he was special, and this was her horse all the way. He wasn't special to the rest of us — he's grumpy, about as plain-looking as they come, a difficult ride when it comes to dressage and not very big.
She started with him at Beginner Novice and quickly moved to Novice, where they stayed for very long time due to his reluctance to dressage. After lots of hours in the saddle, they move to Training level, where as a Mom you start to get a tad nervous when it comes to cross country.
Johnny definitely has his opinion when it comes to cross county — things need to be jumped big and fast! He took a look at Training level, and after two runs decided that these could also be jumped big and fast. But their dressage still lacked, so more and more flat work at Training level.
Finally some breakthroughs, and they tackled Prelim. I feel this is the level that horses and riders start to move into a new realm, or they realize that maybe this is not for them and or the horse. Johnny and Elle encountered new challenges, which made their partnership more solidified. I also saw them move into a new realm.
During this journey Elle graduated high school, did undergrad and is now in her third year of pharmacy school on the Dean's List. She also has to manage our barn of four horses, two goats, four cats and four dogs when I am at work on 24-hour shifts. She has a wonderful father who builds her jumps, banks and ditches, and a boyfriend that helps her with the "chores."
Last month they went for it — Intermediate at Rocking Horse Fall Horse Trials! Words cannot express the emotions I had as they went around. This child and her horse took my breath away several times. Her work and dedication was so visible as they had clear cross country and stadium rounds that were unbelievably beautiful. As I write this, I still get emotional as the pride overwhelms me. This was a forever moment in my life!
She has never been privileged enough for a regular lesson program, fancy tack or horses, or to be coached at a show. What she is privileged to have is an incredible work ethic and uncanny talent. I just wanted this moment to tell the world how proud I am of her and the plain little bay horse.
Comments