Andrew Nicholson riding Quimbo earlier today at the Kentucky Horse Park.
Rolex 2013 is upon us – the horses and riders are beginning to trickle into the Horse Park, the banners and signs are being put into place, security is guarding the European barn…and so it begins! Andrew is here with both his horses Quimbo and Calico Joe, and I watched him work them on the flat earlier on Sunday.
Andrew and Calico Joe
–
–
It's such a treat when some of  the world's best horses and riders converge in your own backyard, and I could have watched for hours…but I have two children so sadly we only stayed for the rest of the morning!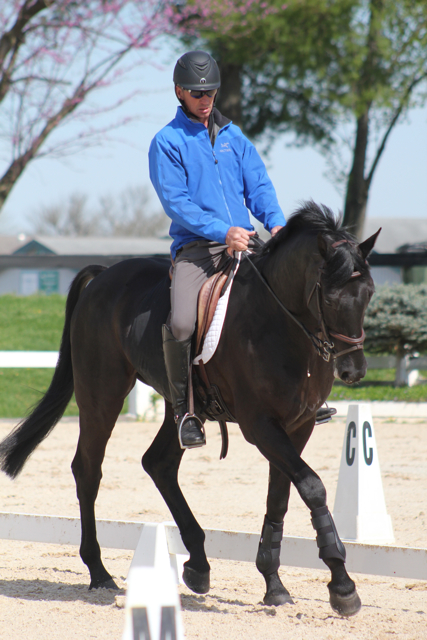 Andrew and Quimbo again – should he win this weekend, then both he and William Fox-Pitt will by vying for the Triple Crown of Eventing, the Rolex Grand Slam, at Badminton next week, completely unprecedented due to the cancellation of Badminton last year. Remember, Pippa Funnell remains the only rider ever to complete the trifecta…until now?
Lauren and Fernhill Urco also arrived Saturday night and we chatted briefly while Fernhill Urco grazed.  While Alex was going to turn her horses out individually in the round pen paddocks this afternoon, Lauren told me she'd probably just hand-graze Urco again, and not turn him out until Mary arrives on site as he tends to use his outdoor time as 'playtime.'
–
–
Lauren told me she does have her own horse, but barely has the time to ride him anymore!  Mary is due to pick up William on Monday to take him to the airport, and they should both be here in time to ride tomorrow evening. Wishing them both the best of luck this weekend!
–
Kristin, Rosie (aka R-Star) and Stanley (below) were all looking remarkably bright considering they arrived last night after a 40 hour non-stop drive from California, including a 5 hour detour almost to Canada Kristi told me, due to a road closure in Wyoming. After a long, gentle hack Rosie relaxed all afternoon, but Kristi rallied and joined an international group of early arrivals at the races at Keeneland, kindly organised by Event Director Christina Gray.
–
–
Stanley!
Kristi added that Rosie is on great form at the moment, and that at the Galway Downs CIC*** recently they were the only pair to take the inside line on one of Ian Stark's testing combinations.  She also shared that Rosie has not been cross country schooling since her last competition as the more she does, the more aggressive she gets, and right now, fingers crossed, she seems to be spot on.  Many thanks to Kristi and Randy for chatting, and wishing them the best of luck this weekend also. We popped our heads in to see James Alliston's three horses, all resting quietly but didn't see James, and are disappointed to hear that fellow West Coasters Jolie Wentworth and Jordan Lindstedt will not be making the journey this year after all.
Lauren and Fernhill Urco grazing
I had a brief chat with Team GB vet Liz Brown who told me the horses were all feeling very fresh and lively this morning after being cooped up in Chicago, but they look fabulous, and were making the most of the facilities – hacking, hand-grazing and schooling, and also some of them had a little 'free time' in the round pen paddocks under close supervision by their grooms. I saw Fernhill Urco coming back from a hack around the pack with Alex Van Tuyll on Seacookie – talk about a power pair, how many points do those two horses have between them? Also coming back from a hack, Jonelle Richards and Austin O'Connor;  you can hear Jonelle on this weeks Eventing Radio Show. I haven't seen either of these horses go before but of course, just standing looking at them walk by, and then in the isolation barn, they look gorgeous!  I was longing to see Chilli Morning as I don't think I've seen him go since winning Bramham last June, but being a stallion makes life slightly more complicated for Alex as she has to have one of the CEM Quarantine people follow him at all times to ensure he doesn't cover a mare by accident! Thus, she had scheduled her ride on him, a hack in the park followed by said official in a car, for long after my kids' patience had worn thin, and so sadly we missed him.
Tomorrow we expect a lot more of the US riders to arrive in the afternoon and the Park will very soon be bustling. Safe travels for all those making their way to Kentucky, thanks for visiting Eventing Nation, and Go Rolex!
Comments