EN's Got Talent is Eventing Nation's newest series. We hear all the time about horses at the top of the sport, but what about the next generation of equine talent? This series introduces the future superstars of the sport, interviewing riders about how they're tackling training with these youngsters. Have you spotted a spectacular young horse at an event you think should be highlighted in this column? Tip me at jkautry@gmail.com.
_____________________
Every event rider dreams of breeding a talented prospect to bring through the levels. Colleen Rutledge made that dream a reality with Covert Rights, her 6-year-old homebred who recently finished ninth in the CIC2* at Plantation Field. "His mom, Let's Get It Right, was my first Advanced horse, but our history goes back even further than that," Colleen said. "She was the first horse I ever broke; she belonged to someone else I was working for at the time. She was your stereotypical chestnut Thoroughbred mare — hardheaded and very opinionated — but she and I had a great connection. She ended up getting sold away and I later bought her back."
Colleen and "Delia" only ran one Advanced together before an injury forced the mare into early retirement. Delia turned out to be a perfect match for Lisa Reid's BFF Incognito, a Thoroughbred/Clydesdale cross stallion who evented through Preliminary level and stands at Black Fox Farm. "I thought they would make a fantastic baby," Colleen said. And along came Covert Rights, or "CR," as he's known around the barn. "I loved him from the moment he hit the ground," Colleen said. "He was so personable from day one — sweet and lovable. His personality has never really changed. He's always been in your pocket."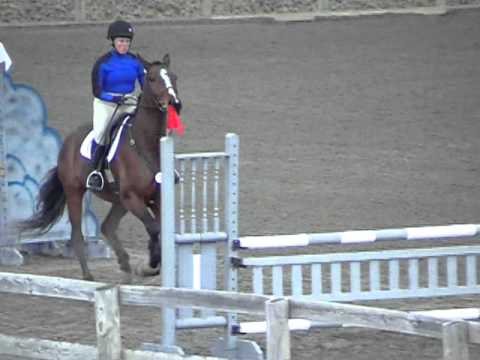 Colleen and Covert Rights in their Training Level show jumping round at Morven Park last year
Much to her dismay, Colleen's snuggly foal quickly grew into a 16.2-hand youngster, a height she hoped he would never reach. "He was supposed to be a very small horse," Colleen said. "His mom is 16 hands, and because he was her first foal I thought I was golden and I would get a 16-hand horse. I know his dad has some size behind him, but I still was convinced I would get a nice 16-hand horse. Then he hit 16.2 and all my friends said I would have to sell him because he was too big for me to ride." Luckily, Colleen didn't take her friends' advice.
While Colleen normally breaks all her babies herself, she sent Covert Rights, then a 4-year-old, away for a friend to start, as she was facing some medical issues with her children at the time. Her friend called two weeks later and said CR was ready, noting he had really been broke by the third day. "He's just so easy going," Colleen said." That worried me a little in the beginning because I wanted him as an event horse. I worried he might not have enough oomph. Thankfully, his mom tends to show up on cross-country day." Covert Rights' maturity and talent as a 4-year-old led to a fifth-place finish in the 2010 USEA Young Event Horse East Coast Championships.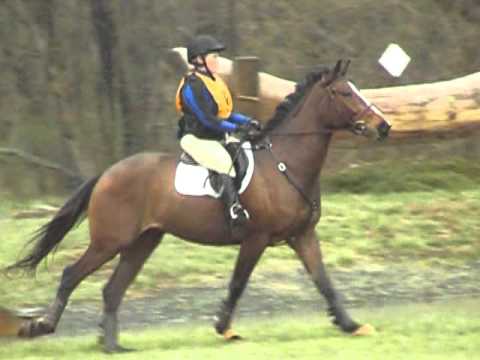 Colleen and Covert Rights going cross country at Training Level at Morven Park last year
Colleen said she always told herself she would never push one of her babies too fast, but Covert Rights proved to be a natural candidate to move quickly through the levels. He competed at his first Beginner Novice event after only 60 days under saddle. "He just went around like it wasn't a big deal," Colleen said. "He did a Novice shortly after that. He was just saying, 'OK, we can do more.' He would give you that feeling. At his first Training, it was like he was saying, 'Oh, these got bigger. This is more fun!' I was waiting for him to say, 'I don't understand this question,' but instead, he said, 'I've got this.'"
Next week on EN's Got Talent:While Covert Rights has fulfilled Colleen's expectations and then some, bringing him through the levels hasn't been without its challenges. We'll talk about some of those training questions Colleen faced with CR next week, including how she taught the big crossbred gelding to gallop properly for cross country. "We taught him like Thoroughbreds are taught to gallop," Colleen said. "We put him in a group, kicked him on and told him to 'go get 'em.'"