EN's Got Talent is Eventing Nation's newest series. We hear all the time about horses at the top of the sport, but what about the next generation of equine talent? This series introduces the future superstars of the sport, interviewing riders about how they're tackling training with these youngsters. Have you spotted a spectacular young horse at an event you think should be highlighted in this column? Tip me at jkautry@gmail.com.
_____________________
Last week we met Covert Rights, Colleen Rutledge's talented homebred gelding she believes could be her next superstar. Colleen and Covert Rights are coming off fifth- and ninth-place finishes in competitive CIC2* fields at Richland and Plantation Field, respectively. While Colleen spoke last week about Covert Right's easy-going attitude and natural talent for eventing, she also made it clear that bringing him through the levels hasn't been without its challenges.
"One of the biggest issues we've faced is he can be very relaxed about show jumping because he's so laid back," Colleen said. "He tries his heart out, but we were a little worried that he might not be the cleanest jumper because he finds it easy. We've had to work very hard on getting him to understand that his job is to jump clean." Thankfully, cross country hasn't presented as many training questions for Covert Rights. "His only stop on cross country happened when I came around to a corner at Maryland and put him on way too sharp of an angle. He just said, 'I don't know how to jump this.' It was totally my fault; I couldn't blame him in the slightest."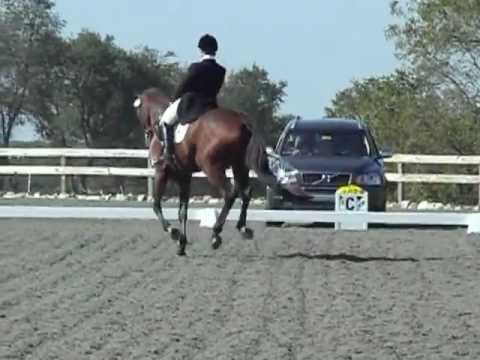 Colleen and Covert Rights' dressage test in the CIC2* at Plantation Field 
Colleen did find she had to teach the big crossbred gelding to gallop properly, as he didn't understand initially how to maintain the right pace in the open. "We taught him like Thoroughbreds are taught to gallop," Colleen said. "We put him in a group, kicked him on and told him to 'go get 'em.'" Colleen still uses the 'go get 'em' verbal queue when riding Covert Rights on cross country, especially when coming out of the starting box. "It's now become a running joke, but it works," Colleen said. "It was a cue to help him learn to get faster. I used it at Plantation and he moved up and gave me what I wanted."
Covert Rights has vastly exceeded Colleen's expectations thus far. At his first CIC2* in Richland, Colleen found herself a bit worried if he had enough experience to tackle the challenge; but, as usual, Covert Rights rose to the occasion. "He totally had it and said, 'It's not a big deal, mom.' He loved that there were bigger crowds there watching him. He's just the most fun, even when he's bouncing around like an orangutan because he's so fit."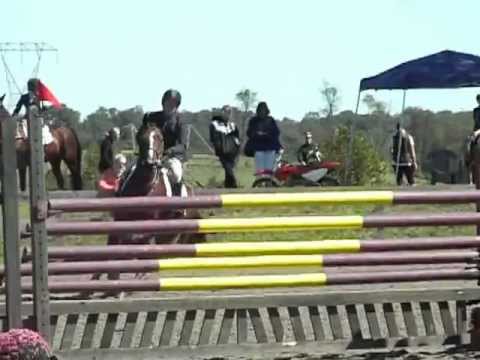 Colleen and Covert Rights' CIC2* show jumping round at Plantation Field 
CR had an "orangutan moment" in dressage at Plantation Field, where he squealed throughout his dressage test. "But you have to temper that with the fact that he's 6 and it's the fittest he's even been in his entire life," Colleen said. "I now know I need to have a different plan for him in dressage; he needs a more intensive warmup. I have to make sure he uses his extra energy for good rather than evil." That said, Colleen is very happy with CR's flatwork, and noted that he always gives 110 percent. "He's got some of the best natural rhythm I've ever sat on," Colleen said. "The first time Linda Zang watched him go she said I could do straight dressage on him."
As far as future goals for Covert Rights, Colleen is looking to how he runs at Fair Hill this fall before deciding how to proceed. "If he goes around Fair Hill and handles it well, we're thinking about moving him up to Advanced in the spring," Colleen said. "With the way he ran at Richland, I sat there and thought 'this is my next Advanced horse.' This is a horse that I really do think will go all the way. Time will tell."
-
Next week on EN's Got Talent: We'll meet Elisa Wallace's newest prospect, Corteo, owned by Rosemarie Spillane. This 5-year-old gelding is sired by Verdi, who helped the Dutch Olympic show jumping team to a silver medal in London. Rick Wallace tipped me on this up-and-coming youngster, who apparently acquired quite a fan club — including Becky Holder and Leslie Law — at Poplar Place last month. "You will gasp when you see him jump," Rick said. Check out this video of Corteo's stadium round at Poplar; I think you'll agree. Thanks for the tip, Rick!