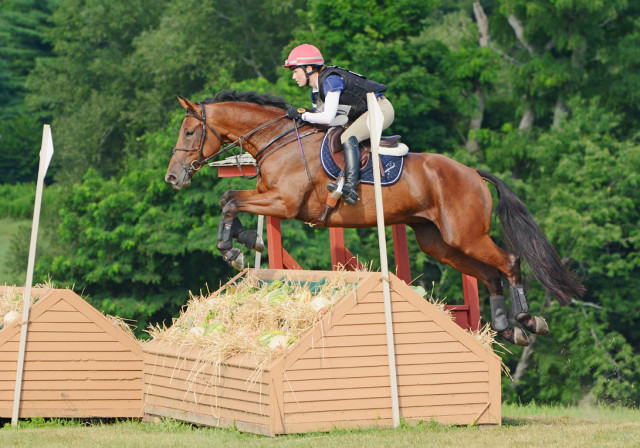 Kelly Prather has a passion for producing young horses, and her mounts routinely go on to succeed with new riders. Her program focuses on keeping horses engaged and happy in their work by piloting them towards the discipline for which they are most mentally and physically suited.
"I love producing young horses. It's what I've always done," Kelly said. "I love seeing the progress being made. I love riding at the top level myself, and I've always made my own horses."
Born into a horse-enthusiast family, Kelly received a well-rounded education in multiple disciplines as a young rider. After high school she moved to Ireland to work with Carol Gee; Kelly was with Carol in the early days of the Fernhill empire. While there Kelly rode "anything and everything" and said that is when she "truly fell in love with riding."
Kelly moved home to California from Ireland in 2003 and went to work for her coach Andrea Pfeiffer, staying on as assistant trainer for nine years.
While in Ireland, Kelly had met Ballinakill Glory, a then 3-year-old Irish Sport Horse mare that eventually took Kelly to her first four-star. "She was broke for two days when I saw her. She couldn't steer so I hopped off and watched her trot around," Kelly said. Andrea wanted to see where the horse could go, so she purchased the mare for Kelly to ride.
"I brought her up through the levels and she was a great mare. She went around Kentucky twice, taught me a lot, took me around my first three-star and four-star. She was probably a little big to run around a four-star, conditioning wise, but she had all the jump in the world and a heart of gold. I owe a lot to her getting me to the level and giving me the hunger."
Kelly credits Glory with laying the foundation for how she develops horses today, and their appearances at Rolex Kentucky helped Kelly secure a job with William Fox-Pitt in England during 2012. Upon returning home, she moved from her home state of California to develop her own business on the East Coast. Today, Kelly splits her time between Ocala, Florida and Unionville, Pennsylvania.
A Philosophy That Works
Kelly likes to keep her business small, with Kelly and her groom Sara Pettey attending to no more than 10 horses at a time so that each one receives individual attention. "I like to ride all of them every day so I have a relationship with each and every horse," Kelly said. "That's the side I love — seeing horses improve. Not just young horses but all of them."
Kelly is often sent young horses to break in and bring along to identify the career that would best suit them. She doesn't lock them in to eventing simply because that is her primary discipline but takes into account their physical and mental ability when choosing their career path.
"My biggest thing with them all is to keep them happy in their everyday work. They don't get drilled on the same subject every day. That has a lot to do with how they progress and how much they want to learn. I to keep things switched up so they don't get bored or sour. I think keeping their minds engaged and doing different things makes them willing to try and learn for you."
Proven Results
From a financial standpoint, it works for Kelly to buy horses young and bring them up the levels. As their careers flourish, other riders take notice, as is evidenced by the recent sales of Blackfoot Mystery and D.A. Duras.
Kelly's client Lisa Peecook found Blackfoot Mystery through the Thoroughbred Rehab Center, an accredited organization of Thoroughbred Aftercare Alliance. She took him off the track as a 3-year-old, and Kelly rode him off and on over the years before taking the ride full time after returning from England.
"I fell in love with him back then and when I moved over to England to ride for William, (his owner) said she never wanted to run a four-star, and I'd be first in line if I he was going to go on to another rider. I always thought he had it all."
Known as "Red," Blackfoot Mystery moved East with Kelly in the summer of 2013. Red had experience at the one-star level with Lisa, and Kelly took him through to the CCI3* level, finishing fourth at Jersey Fresh last year.
Shortly after that, Boyd Martin put together a syndicate to buy the horse. The pair promptly went on to finish ninth at the Plantation Field CIC3* and sixth at the Dutta Corp Fair Hill CCI3*. They kicked off 2016 with a win at the Wellington Eventing Showcase, and Red is one of Boyd's contenders to represent the U.S. at the 2016 Rio Olympics.
"It was an honor to (sell Red to Boyd) and it would have been silly to say no," Kelly said. 
"It's been really exciting watching him go and I would love to see him and Boyd go on to do well this year. He's a horse I loved dearly and had for quite a while."
EN closely followed the progress of Kelly and D.A. Duras, who was produced through the Preliminary level by owner Debbie Adams, as they prepared for the 2015 FEI World Breeding Eventing CCI2* Championships for 7-year-olds at Le Lion d'Angers, where they finished ninth. After Le Lion, Ms. Jacqueline Mars joined Debbie and Tony Adams as part-owners of the Dutch Warmblood gelding for Lauren Kieffer to take as far as he will go.
Looking Ahead
Kelly has several others coming up the ranks, including Truly Wiley, a Thoroughbred bred by Bruce Davidson that Kelly bought as a 2-year-old. Now 9, Wiley is aiming for his first CCI3* at Jersey Fresh this May.
"He runs around Advanced pretty easily and casually," she said. "He hasn't found it horribly difficult at this point. I could see him running a four-star for sure. That would be his longterm goal."
Flagmount's Nightcap, a 10-year-old Irish Sport Horse gelding also bred by Bruce, has competed through the two-star level, but Kelly says she will likely focus him more on pure show jumping going forward, and he is currently for sale.
Kelly has several other young ones she's bringing on and working out what discipline they will prefer.
Here at EN we love tracking the progression of a talented horse and rider, so we're anxious to see success for Kelly and Wiley this season and look forward to meeting more of her talented youngsters in the years to come.
Comments