It was a golden weekend for North American eventing, as representatives from all over North, Central and South America competed on the world stage for the glory of a gold medal.
Both up in Toronto and down in Kentucky, we saw horsemanship and class from all spectrums of the sport, and this weekend can fondly serve as a reminder of why we all do what we do.
At the end of the day, big dreams are the fuel that keeps the fire going for the riders who are working towards the next big thing. Big dreams are what inspires the adult amateur to rise early on show day to put their best foot forward in their event. Big dreams and, as David O'Connor put it, belief are what this sport needs — and this weekend was proof of that.
Without further ado, here are some social media musings from the weekend:
From EN's own Facebook page comes a comment that warms the heart. It's all the more inspiring to know that Lauren Kieffer was just another horse crazy kid, just like we all were. #startedfromthebottom …. you know how the rest goes.
Jessica Phoenix, aka #superwoman, celebrated with her friends and family after wrapping up what can only be called the best comeback ever. After not only having a baby earlier this year but suffering serious injuries at Jersey Fresh, Jessie shook it off and casually won team bronze and individual silver in front of her home crowd this weekend. Two thumbs up, Jessie.
This is probably one of the most adorable photos from the weekend. Evie Dutton and Silva Martin show off their husband's hardware. Gold looks good on you, ladies.
#nailedit is definitely the best way to describe Marilyn Little's double gold medal winning weekend. Just think, just a few years ago, Marilyn was an internationally competitive show jumper. Don't leave us, Marilyn. Don't even try.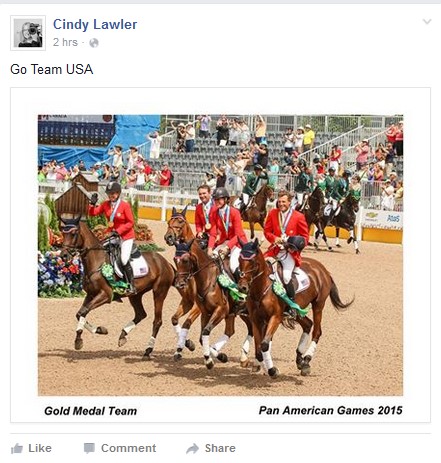 We'd like to once again give a big, massive shout-out to Cindy Lawler, who has wowed us with her photography skills all weekend. And there's still more to come! Thank you for sharing your art, Cindy!
These sort of statuses are a dime a dozen this afternoon — we could make an entire post with just these! Team USA definitely had an army behind it this weekend.
Awesome :) pic.twitter.com/GabVwDIfSv

— Ruy Fonseca (@RuyFonseca) July 20, 2015
We couldn't be happier for Ruy Fonseca, who capped off a weekend with a spot on the podium both as an individual and as a team member for Brazil. Brazil is one to watch as we hurtle towards Rio next summer — and their riding this weekend was pure class.
Meanwhile in Kentucky, we're all wishing Sinead hadn't booked it out of the park so soon. Perhaps her team will converge on her at Rolex next year and make this happen:
@EmilyBeshear damn I would have but already left

— sinead halpin (@sinead_c_Halpin) July 19, 2015
Deservedly so, Area II is on Cloud Nine this evening as they wrap up a dreamy weekend at Kentucky Horse Park. As Area VII's Madison Temkin put it on Facebook, we're all sad to see the weekend over!
I spoke to Sinead this afternoon as she drove home, and she couldn't have been prouder of the girls who pulled out all the stops this weekend. Proud coach indeed!
Let's not forget about all of the other hard working junior and young riders who made us excited for the future of the sport this weekend. They all deserve medals for their efforts, and we can't wait to see them making waves in the near future.
And finally, it wouldn't be a celebration without a little victory celebration. Cheers to all winners this weekend! We won't be forgetting this one for awhile.
Comments