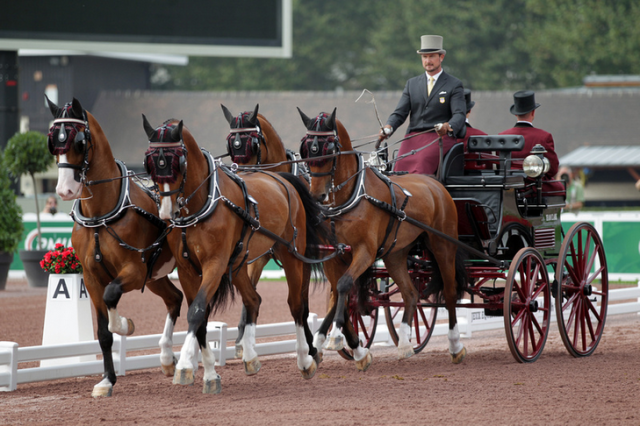 Most driving fans were likely waiting with bated breath to see world number one ranked driver Chester Weber take on the dressage today, and they were not disappointed. Chester scored a 79.9% to take the lead after phase one over Australia's Boyd Exell (I'm thinking 'Boyd' must be a popular Aussie name, what do you think?), who sits on a 77.8%. Dutch driver Theo Timmermann will take individual bronze position into the marathon phase with a score of 76.7%.
For the team standings, Chester's performance helped boost the U.S. team into silver position after dressage on a cumulative penalty score of 88.31. Taking gold position into the marathon phase is the Netherlands team on a score of 79.40. Team Hungary is poised in bronze position with a score of 94.62, giving the U.S. a bit of wiggle room.
Driving Coverage Links
Women's #Vaulting : Great Britain Bags the Gold Once More http://t.co/Lsd1MopJKF #WEG2014 pic.twitter.com/Otk7KCzb9E

— Normandie2014 (@normandie2014) September 5, 2014
The vaulting competition is still wrapping up the finals competition for the day, but Joanne Eccles has secured her second consecutive individual gold medal for her performance for Great Britain. Joanne won handily on a final score of 8,718 over Italy's Anna Cavallero (8,452) and Switzerland's Simone Jaiser (8,433). The top placed U.S. woman was Mary McCormick, whose total score of 8,112 put her in fifth place overall.
France dominated the men's individual competition, with Jacques Ferrari and Nicolas Andreani finished one-two on the podium. Germany picks up the next three individual spots with Erik Oese, Thomas Brusewitz, and Viktor Brusewitz.
In the Pas de Deux competition, Austria takes home the gold medal on a score of 9,059, followed by Germany (8,605) and Great Britain (8,575).
Vaulting Coverage Links
Comments