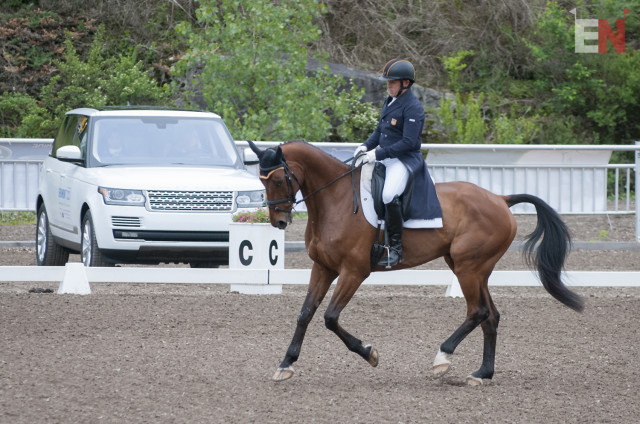 Buck Davidson and The Apprentice were the first to enter the ring this morning for the Bromont CCI3* Todd Sandler Challenge. Laying down a 45.9, they set the bar high for the rest of the field. The score held throughout the division, putting Sherrie Martini's 12-year-old Irish Sport Horse in good standing to begin the gelding's ninth career CCI3*.
Will Faudree and the striking gray gelding Pfun are currently second on 48.8. The 9-year-old Irish Sport Horse owned by Jennifer Mosing and Sterling Silver Stables moved up to the three-star level this spring. Although they retired on course at Jersey Fresh last month, they had a good season, completing three CIC3* competitions with increasing success: they were 13th at Carolina International, eighth at The Fork and the winners at Fair Hill.
Jennie Brannigan and the 13-year-old Oldenburg mare Catalina produced an elegant test to score 49.0 for third place. Catalina, who is owned by Candace Kircher and Tim and Nina Gardner, is Maggie's predicted winner. Jennie was forced to withdraw the mare from Jersey Fresh after falling from another horse earlier in the day, but the pair has historically produced three good phases and are in the hunt after the first phase.
Kylie Lyman and Lup the Loop were the last to ride in the division, and they closed out the morning session with a 50.2 for fourth place. Kylie and Joan Nichols' 8-year-old Irish Sport Horse were the winners of an Advanced division at Carolina International in March and were most recently seventh in the CIC3* at Jersey Fresh. Bromont is "Loopy's" first attempt at a CCI3*.
The fifth and sixth place combinations scored within 0.1 penalty of each other. April Simmonds and Quebec NZPH narrowly edged ahead of Ryan Wood and Woodstock Bennett. They scored a 53.6 and 53.7 respectively. Matthew Brown and Talking Point BCF picked up an unfortunate error early in the test but a score of 54.3 was good enough for seventh place after dressage in the 9-year-old Irish Sport Horse's first attempt at a CCI3*.
Palm Crescent, a 10-year-old Thoroughbred owned by Chase and Darcie Shipka is also competing in his first CCI3*. He and rider Meghan O'Donoghue were fifth in the gelding's first CIC3* at Jersey Fresh last month. They are currently eighth after dressage at Bromont.
Kylie's second ride, Sacramento, is ninth on a 55.6, and Lauren Kieffer tactfully rode through a few tough moments with a spicy Vermiculus. They scored 55.7 to round out the top 10.
See the complete scores here and we'll have much more from Bromont this afternoon including comments from the riders. The CIC3* is getting underway shortly. Stay tuned!
Bromont CCI3* top 15 after dressage: