Hot off the presses! Entries for the 2018 Land Rover Kentucky Three-Day Event have just gone live, and we have 60 total horse and rider combinations appearing on the list.
Michael Jung and fischerRocana FST will return to defend their title and aim for a fourth consecutive win. The mare will have some serious challengers, both from the U.S. and across the pond. Australia has a serious shout in Burghley 2016 winners Chris Burton and Nobilis 18.
Great Britain has a strong contingent led by Oliver Townend with three entries in Cooley SRS, MHS King Joules and Cooley Master Class, as well as William Fox-Pitt with Fernhill Pimms.
Ireland's Sam Watson is bringing Horseware Ardagh Highlight for the horse's CCI4* debut. We also have a Polish entry in Pawel Spisak and his Rio Olympic mount Banderas.
Looking to heavy-hitters from the U.S., Phillip Dutton has two entries in I'm Sew Ready, who finished 10th last year, and Z for the horse's CCI4* debut. Boyd Martin also has two entries in Steady Eddie, who placed 10th at Burghley last autumn, and CCI4* newcomer Tsetserleg.
Buck Davidson has three entries in Park Trader, Copper Beach and Carlevo. Lauren Kieffer also has three entries in Vermiculus, Landmark's Monte Carlo and Veronica, who is also cross-entered for Badminton. Will Coleman has Tight Lines entered, as well as a cross-entry for Badminton with OBOS O'Reilly.
Canada has six entries in Hawley Bennett-Awad and Jollybo, Lisa Marie Fergusson and Honor Me, Rachel McDonough and Irish Rhythm, Holly Jacks-Smither and More Inspiration, Waylon Roberts and Kelecyn Cognac, and Colleen Loach and Qorry Blue d'Argouges.
Here is who we'll look forward to watching gallop across the bluegrass next month: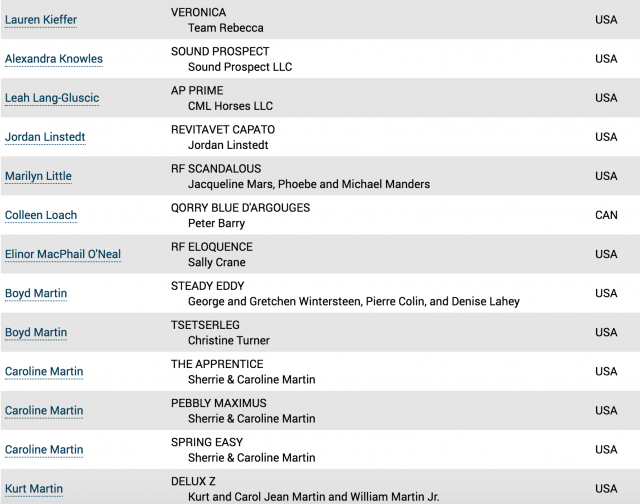 Click here to view the complete entry list. It's that time of year, EN! Go Eventing.