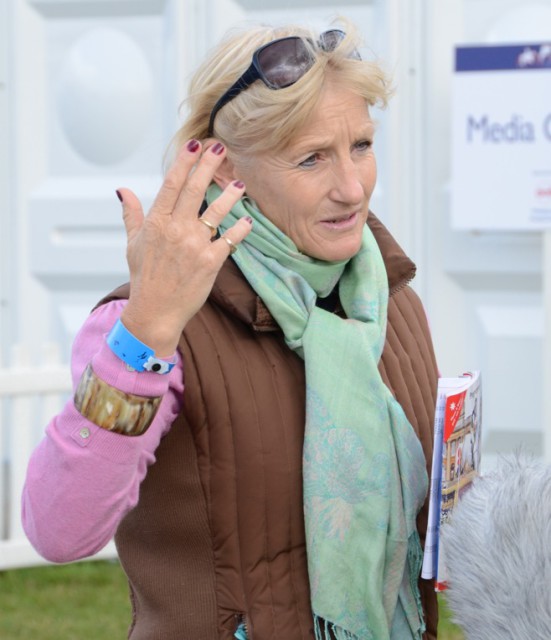 What can be better than a day of listening to Lucinda Green talk about all things horses? It gets better when D-Day – the Invasion of Normandy is mentioned – now we have history and horses together – my two favorite topics!
So how did we get from the breeding and athleticism of horses to the events of D Day? Let me back up for the younger readers here – remember that brief chapter in your American history books about a major world conflict in the 1940s that involved millions of people and oodles of countries?
Not sure exactly what is taught in history classes these days, but for many people the events of World War II are very significant. And so it turns out for Lucinda, as I found out when doing some research before going to her clinic.
Lucinda comes from a family with a strong military connection; having said that I can't really explain what all the stuff about "The Kings" this and "The Queens" that really means, but Lucinda comes from a long line of people who did their duty for their country.
What caught my eye in Lucinda's bio was that her grandfather was the Viceroy of India from 1936-1943, the longest ruling Viceroy in the British Raj. Lucinda explains the family story of her maternal grandfather, the second Marques of Linlithgow, being asked by King George V, to take the position. "When the King asks, you don't say no," explained Lucinda. An honor, yes, but an expensive one…no pay while doing the job, just the honor of serving the empire on which "the sun never sets".
So Lucinda's grandfather sold some very valuable family possessions, including an ancient Bible, to finance the family's stay in India. That branch of the story could go on forever as the British Raj in India is one of my favorite topics, but her family returned to England in 1943 and went from palaces to bombed out London.
With the striking British fortitude we have come to expect in their event riders, Lucinda's family pitched right in with the war effort. By June of 1944 Lucinda's mother lacing up a "good pair of sturdy brown shoes" and was working at military canteens serving hot coffee and donuts to soldiers on leave or getting ready to leave. Her father, Major-General George Erroll Prior-Palmer, was the commander of the 27th Armoured Brigade, and was one of the Brits to "storm the beaches of Normandy".
The movies and TV serials such as Private Ryan and Band of Brothers can tell the story of the Normandy landings much better than I, so I won't even try. However, as Lucinda tells the story, her father's unit, under his command, was given a very difficult task. They had very few casualties and achieved the military objective. When Major-General Prior-Palmer reported to Field Marshall General Montgomery, Commander of all Allied Forces, that they had accomplished their goal and needed more tanks for the next maneuver, Montgomery replied "there are no more tanks for you, we never expected your unit to survive."
Wow! Her father and his brothers in arms did the impossible. I'm thinking that Lucinda's indomitable spirit, one that has enabled her to win Badminton 6 times, earn European and World Championships, Olympic Medals, and all sorts of other things that I am sure the shine from would hurt one's eyes, comes by her naturally – it's in the genes!
Now, back to horses. Given that I noticed today that some of the grooms and horses heading across the pond are doing so on this, the 70th anniversary of the invasion of Europe that led to the end of WWII, and that some of those riders hoping to secure a spot on the team are already on foreign soil in Canada, the coincidences are jumping out at me! For some riders this is a have or be had competition; same for those soldiers way back when.
Riders and horses are landing somewhere in Europe; same as many soldiers did. Protective head gear, body protectors, equipment on people, equipment on horses, ditto for both endeavors. Some riders and horses will be successful and will come home to very happy supporters – lets hope they all do! However it turns out for riders at Bromont and next week at the CCI4* at Luhmuhlen , best of luck to all of you and thank you to our British friends who produced heroes, our country that also produced heroes, and to the great sport of Three Day Eventing!
-Colleen Hofstetter