"A Horse of a Different Color" features horses and ponies that have been successful in the sport of eventing while representing a unique breed. Do you have a horse that you think would be a great feature subject? If so, email [email protected].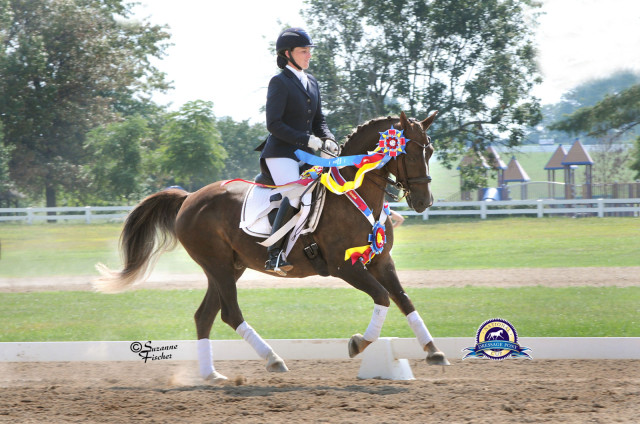 When Melissa Dowling first met Avatar's Jazzman, the 2002 Morgan gelding was a green-broke 4-year-old at Cordia Pearson's Avatar Morgans in Minnesota. Melissa was looking for a top quality Morgan to train for upper-level dressage and bought Jazz after falling in love with him right away.
Dressage trainer Lauren Chumley began working with Jazz after Melissa bought him in 2006. Lauren is based in Flemington, New Jersey, and works with horses of all breeds, ages and sizes, from "ponies and Thoroughbreds to warmbloods and everything in between."
"I had another pony several years ago that I competed to Grand Prix level in dressage," Lauren said. "In addition to being my upper-level show horse, he was also my 'fun' pony. We took him on hunter paces and crazy trail rides and cross-country schooling. He suffered an injury to one of his hind legs and though he recovered, I no longer felt it would be a good idea to run him all over the countryside. Jazz stepped right up to fill his shoes!"
Lauren started hunter pacing Jazz to see how he would like jumping. Jazz took to it like a fish to water, and Lauren decided that more serious jumping training would give the gelding a fun break from his upper-level dressage studies.
Athletic and adaptable, Jazz is always willing to try whatever task his rider sets before him. Within the span of a few weeks, Jazz is known to morph seamlessly from FEI dressage horse to trail horse to hunter pace pony to fox hunter to eventer. His adjustable gaits enable him to shorten and lengthen his stride in the blink of an eye, a skill necessary for both dressage and jumping.
"He's extremely brave and very trustworthy," she said. "I always feel very safe when jumping him!"
Despite this, Lauren has found that Jazz has often had to prove himself to judges and the public.
"I think it has been assumed that due to its stature, a pony will lack the scope of a larger horse and will therefore be unable to be competitive at the higher levels," Lauren explained. "I have found this to be untrue, but some people tend to write off the smaller horses and ponies."
Jazz's can-do attitude, scopey stride and versatility enable him and Lauren to prove to the world that he is more than just a pretty face.
"Last year, he competed at Dressage at Devon at Fourth level on Friday and Saturday and placed third, and then on Sunday we competed at Flora Lea Horse Trials at Novice, where he finished in second," Lauren said.
Jazz also placed seventh at the 2014 USEA Area II Novice Championships, was the 2014 National Dressage Pony Cup Champion at Fourth level and FEI level, and he was the 2014 USDF All-Breeds Winner at Fourth level and Prix St. Georges. In short, his list of accolades is stretching longer than his 14.1-hand frame.
Some of Lauren's future goals with this chestnut superstar include competing at Grand Prix level dressage and tackling their first Training level horse trial.
When asked about any extra special skills that Jazz brings to the table, Lauren responded, "He has a very good piaffe, and my friends always want me to perform his 'dressage party trick' at all the horse trials!"
Lauren and Jazz were originally featured in EN's Tuesday News & Notes in September 2014, right after their successful outing at Dressage at Devon. You can read more about their adventures here. Go Morgans. Go Eventing.