In 2014, I logged nearly 13,000 miles driving to teach clients and clinics. Nearly 13,000 miles of eager anticipation to see each of these ladies and their equines once again. What a journey!
It was about this time last year that Roger and I had the conversation: Shall I make a go at the horse business? I had been a "professional" by USEA and USEF definitions for nearly a decade, but had been leery about taking the leap into the profession without the security of a nine to five position.
We decided it was time, and the opportunity presented itself as if it were predestined. "Going Pro" has been one of the best decisions I have made in my life.
Through the love of the horse, I have met the most exceptional women. As an instructor, your role is not just to teach. It is also to support, to guide, to correct, and sometimes to inspire.
When you are invited into a rider's barn, to climb into their tack, or are a witness to their ride, an instructor does not just witness a partnership — we witness moments that often convey intimate aspects of a person's life.
I am sure we can all agree that our experiences throughout the day may have a direct effect on the quality of our ride and that our behaviors, insecurities, strengths and weaknesses often reveal themselves during our riding.
As an instructor, we are being entrusted by these riders as a witness to very personal moments. We become confidants, counselors, leaders, and friends. We are being trusted.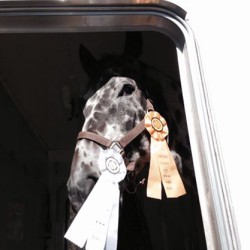 My clients are wonderful. They are inspiring. They have brought me immense joy, self-awareness and strength. Together, we have ridden through broken bodies and broken hearts, elated joy and upsetting realizations, surprising moments of discovery and magical moments of connection.
When you ride a horse, you are not just riding through a dressage test, a gymnastic line, or a cross-country course – you are riding through life. Riding does not allow us to simply strengthen the connection between horse and rider, but it allows us to strengthen ourselves, and if we allow, I believe it can heal us.
I laugh every day at my job. I witness exceptional people doing exceptional things – both with their horses, and in turn, with themselves. Referring to them as clients does not feel right, as each of them holds a special place in my heart. I am honored to be a part of their lives, and the partnership they share with their horse.
Cheers to 2015 as Murphy Eventing enters year two in this magnificent path through life. I look forward to sharing the adventure with all of you!
Katie Murphy
Murphy Eventing on Facebook