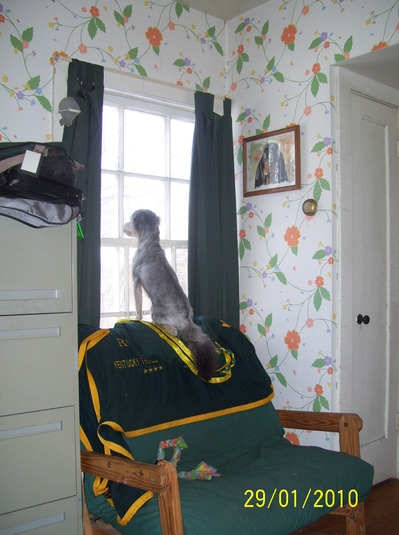 OK, as promised – "Fun and Games at the Dressage Show," the second in my interdisciplinary fantasy interview series. (No, I will not whine any more about John's writing skills versus mine – not too much anyway – and I will try to stay out of the saloon into which I was driven by my exchange with Britiffuffy last week. The ensuing hangover was almost as devastating as the pain of the interview itself. Note to self – pack alternate analgesic substances – of the legal variety of course.)
Now that I have apparently thoroughly pissed off the hunter/jumper world, (at least those who can read), and in an effort to be known as an equal opportunity Pain In The Ass, I've decided that this week's fantasy interview will be with dressage devotee and owner/rider, Gretel Schimmelfrog. She recently imported an 18 hand 1 inch approved Lichtensteiner Warmblood stallion, Wanton XIII, on the advice of her trainer Otto Gregor "Schmutzi" von Santenhopfbrauhaus who is also riding the horse at the show I attended.
(Ah how sweet it is to be the snarky Dominick Dunne of equestrian sport!)
Dressage shows amuse me – for about 20 minutes anyway. Before the Eventing and Dressage TD licenses were split up, I officiated at a bunch of dressage shows. One day, I came to a pathetic bit of self awareness – the only thing I enjoyed about the job was making DQ's cry so I quit to pursue other sadistic pleasures. (Ask me about my personal best dressage TD day sometime. Brutal!) Dressage people are verrrrry intense and tend to be quieter than their hunter/jumper or eventing counterparts. So quiet in fact that someone with a loud guffaw of a laugh when amused (like me for example) tends to draw the most thunderous scowls. My late father used to call such expressions "Gorgonzola sneers," so named because the sneerer looks like he/she has a piece of very ripe Gorgonzola under his/her nose. My father was a very funny man – but as usual, I digress!
I set out to interview Ms. Schimmelfrog at the Divine Dressage Extravaganza on the Plains (that's the real name – honest!) after doing some preliminary research on her background. She was born one of 12 children in the tiny town of Lost Virginity, Oklahoma and began her riding career barrel racing on the southwestern circuit. The highpoint came when she was crowned "Miss Teenage Oklahoma Swine Breeders' Queen" at the Tulsa rodeo. By chance, that same rodeo featured a circus dressage performance put on by Dusty Duvall and her aging Arabian stallion Sparkle Boy, and then and there, she knew that she had found her calling.
The first thing she changed was her name. Realizing that her birthname Gertrude Mabel Ganz lacked the necessary panache for her new lifestyle, she redubbed herself Gretel Inga Schimmelfrog after the heroine in a very short lived children's comic strip. Never one to do anything half way, and hearing that the very best dressage is to be found in Europe, she next took her rodeo winnings and traveled abroad where she acquired (in chronological order) a sort of German accent, the wealthy scion of a Lichtensteinian dynasty who happened to be in extremely poor health, and a trainer, the portly Herr Gregor Otto "Schmutzi" von Santenhopfbrauhaus whose claim to fame was a short period spent on the Lichtenstein Olympic Dressage team. (I'd never heard that Lichtenstein had an Olympic Dressage team, but what do I know. They ski awfully well so why not dressage?) Following the not entirely unexpected death of Herr Schimmelfrog and the subsequent settling of his estate, Greta cashed out her holdings, packed up Schmutzi and the seven warmblood horses of varying skills that she had acquired, and returned to her native country to spread the mantra of pure, classical Lichtensteiner dressage which is what they were doing when I tracked them down at the DDE on the P Show.
I caught up with my quarry at the warm up ring where she was watching a puffing, panting and red faced Schmutzi thundering around in ever decreasing circles on a sweat drenched and thoroughly annoyed Wanton in preparation for a series of Rollkur stretching exercises destined to scatter the more conservative riders in the area. She was dressed in the prerequisite "I am a serious dressage groupie, but I'm not competing" attire – black full leather seat breeches, white nylon knee socks, black Dansko clogs, a pale lavender stretchy tee shirt, a small fanny pack, (lavender of course), and a matching pale lavender visor with her farm logo, a golden tiara, embossed on it. (Amazingly enough, she also sported perfectly matching lavender eye shadow!)
Me – (handing her my card to establish myself as a REAL PROFESSIONAL) "Hi Ms. Schimmelfrog. I am doing a series of articles following the careers of selected imported horses in America, and I'm especially interested in learning about the progress Wanton has made since he arrived. Is this a good time to talk?"
GS – (never taking her overly made up eyes off her horse) "Ja, ja, fine. I luff to talk about my darling horse and my passion for pure dressage."
Me – (taking a deep breath and fearing that this is going to be a very long day) "How long has Wanton been in the United States, and has he adjusted well?"
GS – "He is here only six veeks. His transport vas delayed because he is too big for the standard shipping pallet. Ve vanted him to haf plenty of room on the flight. He told his communicator that he fears closed spaces."
Me – (weakly) "His communicator?"
GS – "Ja, communicator. You don't hear vell? Ve employed the best one to help Vanton over the trauma of adjusting to a new country. He is very sensitive horse. He vas restless in his stall ven he finally got to the farm, and the communicator referred me to a Feng Shui Master. He did the entire barn over using tones of lavender as the primary Feng Shui color palette. The effect has been miraculous!"
(concurrently, the "very sensitive horse" has lowered his head and is charging bull-like across the arena oblivious to his rider's considerable weight hauling on his double bits)
Me – (long day confirmed) "Do you ride Van – er – Wanton Ms. Schimmelfrog?"
GS – "Not yet. Schmutzi doesn't vant to break the delicate rapport betveen the two of them until he is confirmed in all three gaits. Schmutzi has an uncanny ability to anticipate Vanton's needs."
(the rider for all of his uncanny ability, however, is evidently oblivious to Wanton's well expressed need to rid himself of the abusive tub of Lichtenstein lard grinding away on his back)
Me – (suppressing the need to simultaneously giggle and throw up) "Are you riding any other horses?"
GS – "Oh ja, Schmutzi gives me daily lungeline lessons on a perfectly vonderful schoolmaster ve brought from Lichtenstein. He says he vill continue this until my seat is strong enough that my hands vill function independently and effectively. Maybe next month I vill canter. I learn so much just watching Schmutzi and Vanton together."
Me – "Is there anything in particular you'd like me to stress in my article?"
GS – "Ja. I vould vant you to talk about the purity of Vanton's gaits as you can see in front of you, and the elegance of both horse and rider as they strive to achieve the ultimate goal of HARMONY. To me they now look like a classical painting, and they vill only get better. Ven vill your article be out?"
Me – (stalling for time and suddenly feeling the need to get away before I lose all semblance of self control and yank Schmutzi off the poor horse's back and beat him to death with the two long whips he is carrying) "I'm not sure. All submitted articles are subject to editing based on available space. Thank you so much for your time."
GS – "Ja. You vill come to the farm soon and continue the interview?"
Me – (mumbling something incoherent as I beat a retreat to the safety of my car.)
Sadly, I realize that I'm not that much of a REAL PROFESSIONAL after all!
WWJHD – What Would John Have Done?
Sigh. Depressed!