With Eric Winter's CCI*** course really sorting out the men from the boys it was up to Irish Olympican Aoife Clark to storm round on the lovely chestnut mare Fenya's Elegance, adding just 4 time penalties to her 2nd placed dressage score and taking the overnight lead.   Surprisingly this is the first time Aoife has led a three star after cross country: "With no-one making the time today, I'm not disappointed at all with four time faults, that was nothing really for her, it's the first big stamina test she's done. She just kept picking up for me, and gained in confidence as she went round.  She has been brilliant cross country, she's a super jumper, very powerful and I really believe in her."
Aoife decided to enter her in this CCI*** division instead of the CIC*** for young horses after an 8th place finish at the Gatcombe British Open Championships and says being in the lead going into the final phase hopefully won't affect her tomorrow, "I'm not going to think about it! I've just got to ride her as I always do, and I usually find the nerves go away as soon as I get on.  She looks great now and you've just got to hope that she comes out well in the morning and does her best."
After an annoying abscess kept her London horse, the much-coveted Master Crusoe out of the European Championships a couple of weeks ago, Aoife admitted that should it happen, the win here at Blenheim would be a welcome consolation prize. "It's a lovely position to be in, she's a fantastic mare and I love how she's come on this year and it would be great to finish with that sort of a result but either way, whatever she does tomorrow I'm just delighted with her, she's only nine and she tried her heart out out there and was just brilliant for me.  (Check the leaderboard here).
This is Aoife's first season riding Fenya's Elegance and she didn't think going late in the day was an advantage at all, "I was aware that some fences were causing trouble but generally I rode it as I walked it.  It did ride tough, it was a testing track and the bit of rain certainly made it a little bit holding and it was tiring the horses out."
There was only one clear within the time all day and  and it moved Gemma Tattersall and Arctic Soul all the way from 22nd after the dressage to fourth place currently.  There were 33 clear rounds (roughly a third of the field) , while about 25 combinations were either eliminated or retired. Jean Teulere was clear, and heartbreakingly 1 second faster than Clark Montgomery on Loughan Glen, so although they finish on the same score, Jean takes 2nd place and Clark will lie 3rd going into the show-jumping.
Jean Teulere, in his best English (with that French accent!) agreed that he thought the course was tough, and added that although his horse Matelot Du Grand Val went well through all the direct routes he was quite surprised by how steep the drop was after the influential brush corners at 5.  The calendar and circumstances meant that Jean was dropping Matelot du Grand Val down a level, nothing to do with the horse; he was thinking about taking him to Burghley but he'd ridden at Haras Du Pins so elected to bring him here instead. Jean hopes that this horse will be a strong contender for the WEG in Normandy next year because he's four star qualified and has made such huge progress in his dressage.
Clark talked about his round afterwards, "I was told to go out there and go quick in the beginning as it was quite hard to make up the time in the end, and so that's how I approached the ride. It definitely wasn't the smoothest round I've ever had, you definitely had to fight for it all the way round, but the horse has a ton of heart and really tried the whole way.  There were several 'Oh Crap' moments but he responded when it got a little hairy so that's all you can ask.
I think the main thing about being over here in the UK since January is that you're competing against these guys all the time and you know what to expect from them. It's nerve-wracking going into the show-jumping at a big three day but it's always better to be sitting in my position where I have everything to gain than the one that has everything to lose.  He is a good show-jumper –  he can have a rail like any horse,  he looks good after cross country but you never know how they're going to wake up in the morning.  If he were to win here it would be icing on the cake after the question marks we've had about his staying power since the wind problems, but for me, just from the way he went round today it's already been a massively successful year."
Megan O'Donoghue and Pirate totally rocked it around the course, getting the job done with style. I haven't managed to catch up with her yet but will be going to find her as soon as I've typed this up.
Jessie Phoenix also looked wonderful on Pavarotti, and explained to Rupert Bell that her 17 time penalties were just her riding to orders, and that her horse is definitely one to look out for in the future, "This was only his first CCI*** and he's only done three Advanced leading up to this and I could not have been happier with the maturity he showed out on that course.  He was super-rideable, he jumped everything so well, he was amazing.  This track is riding hard, no-one has made the time (yet!), there's been a ton of cross-country faults and Clayton told us just before we left the box to get a clear round over time; it's the most rideable he's ever felt cross country, he felt amazing.
"Always when you cross the finish line you're thinking of places you should have gone faster but it's his first 3* and there's a lot of terrain here and I'm really happy with how he finished, he looks great. He's an incredible show-jumper, and I can't say enough good things about this horse – he's so careful and he truly is a competitor, he knows the difference between all three days and I definitely have a lot of confidence sitting on Pavarotti going into the show-jumping. Leading up the WEG next year I'm really happy with the maturity he's shown today."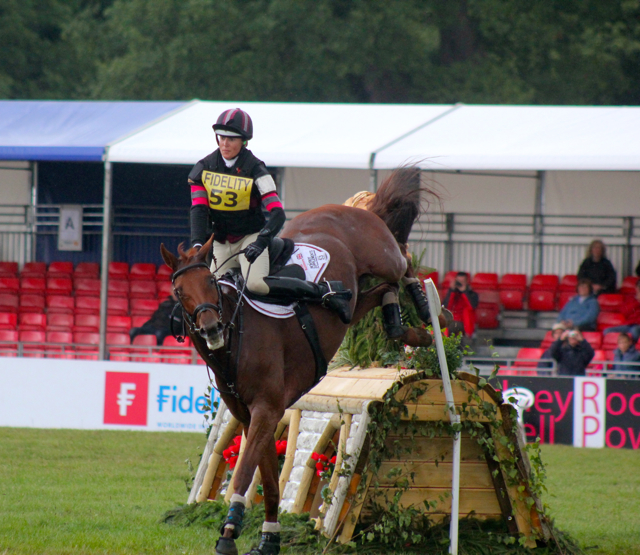 Dressage leaders Sarah Bullimore and Lily Corinne used up a life at the double of tables at 4, another one in the arena, above, and finally ran out of luck at the Dew Pond, picking up 20 penalties at the skinny brush coming out.
Neither was it a good day for Jules Stiller, above on Sintra BK, who ended up retiring on her second ride Pandora X. Similarly William Fox-Pitt retired his second ride Running Order after he stopped twice at the B element of 12, the big brush drop into the second lake crossing, and William had been going great guns on his first ride Before Time until they fell at the houses three from home, "The course rode well until I fell off! It was a real shame because he was giving me a good ride, he was coping well, the footing was good. I was aware that it wasn't ideal for him; I knew that would be a very short distance for the horses, I tried to warn him that it was short but he ignored it and clobbered it! I didn't get away with it which was disappointing."
William is currently leading the CIC*** for 8 and 9 year olds with Fernhill Pimms, but his third placed horse in that division Freddie Mac was eliminated after the show-jumping because of some elastic in the straps of his hind boots, which of course in no way gave him any advantage but technically are illegal. Sam Griffiths also fell foul of the same rule, but after he and William had gone, the ground jury started to check boots before rounds,  preventing further eliminations.
Nicola Wilson and Beltane Queen had a lovely round to finish clear with some time. The Final Horse Inspection  is at an ungodly 7:30am Sunday morning, but before I rush off to talk to the US riders for you it's important to mention how fantastic the organisation has been here at Blenheim these last few days. Not just in the press tent where we've been treated like royalty – food, drinks, help with anything we need, fast results, fantastic internet (and thank you for turning a blind eye to Leo!) but also every volunteer has been friendly and helpful, everything has run on time, it's an absolute pleasure and a privilege to be here reporting for you. Thank you as always for stopping by Eventing Nation and thank you to the incomparable Fidelity Blenheim International Horse Trials – Go  Eventing!