For Bramham coverage throughout the weekend tune into SamanthaLClark.com and Eventing Nation. [Bramham Results]

The CCI*** do the blue numbered jumps and their course is considerably different to the CIC*** who do the green numbers. As I mentioned, the going is perfect, and as of Thursday morning a light rain is falling. Update:  it's pouring down! I'll try and walk round the CIC*** and take photos today. The CCI runs xc on saturday, show-jump on sunday, the CIC show-jump on saturday and run cross country on sunday. They are both currently doing dressage next door to each other in next door arenas in the main ring.
[Click below for much more of the Bramham course]
Good use of the ha-ha
The combination at 8 – corner to owl hole to corner in the woods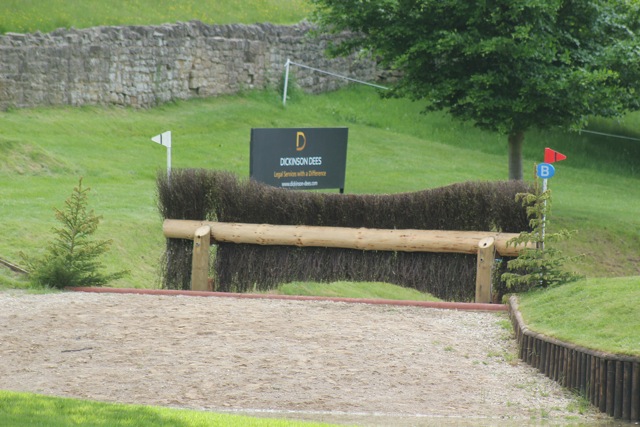 The course starts at one end of the stabling and finishes at the other. Ian Stark has made good use of the natural undulations, and although it's a bold, attacking course which should encourage forward riding, there are certainly plenty of places where I anticipate mistakes – I'm interested to watch the owl hole, and the coffin a few fences later – neither of those, along with the two boots in the water are on the CIC course.  Tipping down with rain now, so time to suit up and go and watch some dressage, thanks as always for reading, and Go Eventing!
Comments