The Eventing Nation "Brand Spotlight" is a weekly column that highlights up and coming brands making their way into eventing style. If you know of a brand looking to be represented, email [email protected]
So we've all seen the infomercials for the negative ion bands. Some people have tried them, some people wonder about their validity and some wonder if they can stretch the band over their horse's hoof for a more balanced canter in the dressage. While it may not be possible to stretch it that much, Mojo Futuretech has a solution!
Mojo Futurtech makes both Mojo wristbands for people, and patches for competition horses. Both are worn by a number of celebrities (horsey and non horsey) including William Foxx Pitt, Erin Sylvester, and Mark Todd.
The bracelets come in a multitude of colours and styles to fit everyone's cross country colours, or match every day outfits! They range in sizes from 6-8 to best fit your wrist (although they do not have to be worn tightly).
The horse patches come in two types, removable velcro ones and ones that you glue to the bottom of your bridle or halter. The velcro ones are not approved by FEI for competition, but the glue on ones are.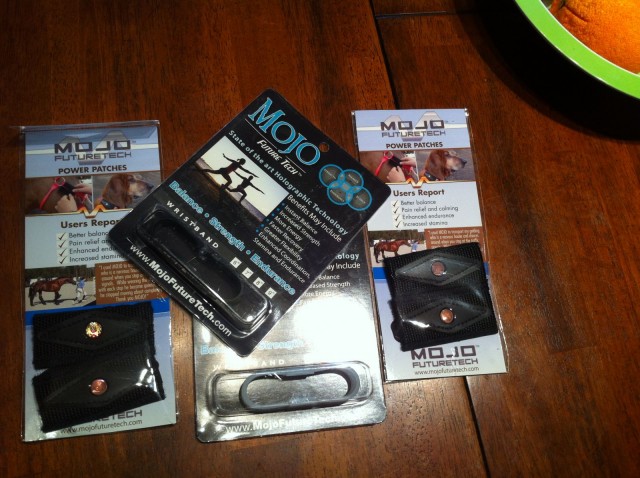 I had the pleasure to try out both the Mojo products over the winter. I was a bit skeptical at first but was very excited to see what kind of a difference they made in my horse and me. In my horse I first noticed that she was more supple but excited. In myself I found that I had an easier time waking up when wearing the Mojo wristband in the morning. I love using them , and wear them every day!
So go get your Mojo on!   www.mojoeurope.com