In response to how Team USA will move forward after failing to finish a team at this year's World Equestrian Games, part of coach David O'Connor's answer hinged on our horse power: "We need more horses, there's no question. The type of horse — it takes a lot of Thoroughbred (blood) to truly be competitive. That is an important part of where we have to look and be strategic …"
But is more Thoroughbred blood really the answer? And if so, what percentage is needed to produce a horse that can be competitive at this level? Looking at the breeding of the top-10 finishers at WEG shows a wide range of Thoroughbred blood, from the highest percantage of 83.98% from gold medallist Opgun Louvo, to a low of 59.18% from Shamwari 4, who finished in eighth as Team USA's top-placed horse.
Three of the top-10 horses have less than 60 percent Thoroughbred blood: Shamwari 4 (59.18%), ninth-placed Nereo (52.15%) and 10th-placed So Is Et (59.77%). In comparing the top-10 blood percentages to Team USA, it seems we're not that far off the mark, though Trading Aces' low percentage of 37.54% stands out as the clear outlier.
Check out the breeding and Thoroughbred blood percentages below and and post your thoughts in the comments. All percentages are taken from HorseTelex, which calculates the number based on nine generations. Stay tuned for much more as we break down trends in breeding for the 59 horses that ultimately completed Badminton 2.0. Go Eventing.
#WEG2014: Website, Final Team Scores, Final Individual Results, EN's Coverage, @eventingnation
Gold: Sandra Auffarth and Opgun Louvo
12-year-old Selle Francais gelding owned by Sandra Auffarth and Deutsches Olympiade Komitee
Breeding: Shogoun II X Vanille du Tertre, by J'T'Adore; bred in France by Yves Berlioz
Percentage of Thoroughbred blood: 83.98%
Silver: Michael Jung and fischerRocana FST
9-year-old dark bay German Sport Horse (SATHU) mare owned by Joachim and Brigitte Jung
Breeding: Ituango xx X Rose II, by Carismo; bred in Germany by Mirko Glotz
Percentage of Thoroughbred blood: 63.87%
Bronze: William Fox-Pitt and Chilli Morning
14-year-old chestnut Brandenburg stallion owned by Christopher Stone
Breeding: Phantomic xx X Koralle, by Kolibri; bred in Great Britain
Percentage of Thoroughbred blood: 62.89%
4th: Jonelle Price and Classic Möet
11-year-old black Thoroughbred/Irish mare owned by Trisha Rickards
Breeding: Classic X Gamston Bubbles, by Bohemond; bred in Great Britain by Mrs. Hepworth
Percentage of Thoroughbred blood: 75%
5th: Maxime Livio and Qalao des Mers
10-year-old bay Selle Francais gelding owned by Isabelle Debruyne
Breeding: Iolisco de Quinhon X Ucaria de Crestian, by Kachou; bred in France
Percentage of Thoroughbred blood: 75.39%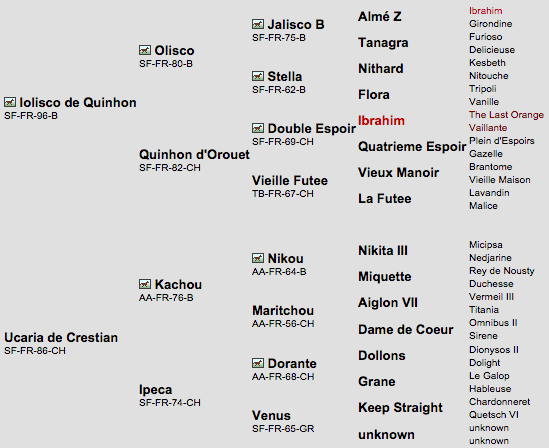 6th: Karin Donckers and Fletcha van 'T Verahof
9-year-old bay Belgian Warmblood gelding owned by Karin and Joris Donckers and De Brabandere
Breeding: Vigo D'arsouilles X Southern Queen xx, by South Gale xx; bred in Belgium by van Dame-de Smedt
Percentage of Thoroughbred blood: 76.76%
7th: Peter Thomsen and Horseware's Barny
12-year-old bay Holsteiner gelding owned by Hans-Peter Clausen
Breeding: Barnaul xx X Hanna II, by Cornetto; bred in Germany by Volker Jacobs
Percentage of Thoroughbred blood: 71.09%
8th: Boyd Martin and Shamwari 4
12-year-old Hanoverian gelding owned by the Shamwari 4 Syndicate
Breeding: Star Regent xx X Donnica, by Der Clou; bred in Germany by Gita Zuhlsdorf
Percentage of Thoroughbred blood: 59.18%
9th: Andrew Nicholson and Nereo
14-year-old chestnut Spanish (CDE) gelding owned by Deborah Sellar
Breeding: Fines xx X Berganza, by Golfi; bred in Spain by Ramon Beca
Percentage of Thoroughbred blood: 52.15%
10th: Andreas Ostholt and So Is Et
11-year-old dark bay Westphalian gelding owned by Marcelis Padmos and DOKR
Breeding: Sunlight xx X Rotessa, by Rotarier; bred in Germany by Marcelis Padmos
Percentage of Thoroughbred blood: 59.77%
And now on to the breeding and blood percentages for the U.S. team horses. Shamwari 4, who finished in eighth place with Boyd Martin, is already listed above. Here are the remaining team horses listed in the order in which they finished:
23rd: Kim Severson and Fernhill Fearless
14-year-old dark bay Irish Sport Horse gelding owned by Kim Severson
Breeding: Sired by Mark Twain xx X unknown mare; bred in Ireland
Percentage of Thoroughbred blood: at least 50% (If anyone knows the name of the dam, please post in the comments below)
38th: Sinead Halpin and Manoir de Carneville
14-year-old chestnut Selle Francais gelding owned by the Manoir de Carneville Syndicate
Breeding: Gaub X Carneville, by Matador du Bois; bred in France by Andre Le Goupil
Percentage of Thoroughbred blood: 75.39%
47th: Lynn Symansky and Donner
11-year-old day Thoroughbred gelding owned by Lynn Symansky
Breeding: Gorky Park X Smart Jane, by Smarten; bred in U.S. by Wilson Securities Group
Percentage of Thoroughbred blood: 100%
Retired: Buck Davidson and Ballynoe Castle RM
14-year-old bay Irish Sport Horse gelding owned by Carl and Cassandra Segal
Breeding: Ramiro B X Ballyvaldon Natalie, by Blue Laser; bred in Ireland by Sylvester Cullen
Percentage of Thoroughbred blood: 63.48%
Retired: Phillip Dutton and Trading Acces
10-year-old dark bay Irish Sport Horse gelding owned by Trading Aces Syndicate
Breeding: Coevers Diamond Boy X Ballyvonnan Beauty VII, by Leabeg; bred in Ireland
Percentage of Thoroughbred blood: 35.74%