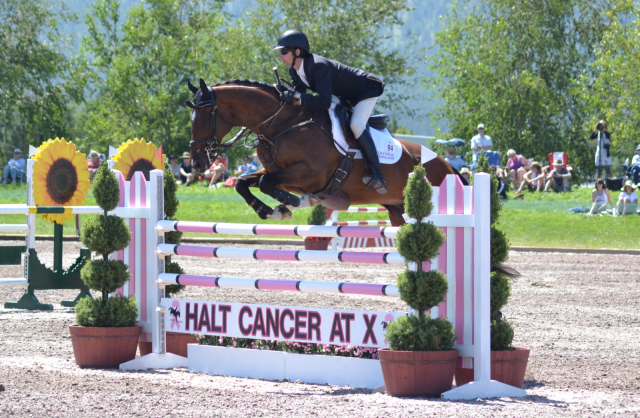 Just as the East Coast CIC3* season is winding to an end — aside from the new Ocala Jockey Club event in November — the West Coast too is winding down. Woodside marks the final CIC3* for the Pacific shore competitors for 2016 and is generally used as a platform to prepare for the Galway Downs CCI3* in November.
The dressage test will be 2015 FEI 3*-B. Ian Stark has designed the cross country, giving these horses a taste of what they might see for Galway Downs. Marc Donovan has taken over the show jumping at this event. Click here for Woodside entry status and ride times.
TOP THREE
1. James Alliston and Parker: As one of the most experienced pairs in the field, James and Parker have been a fixture at this level since 2010. With nothing left to prove, Parker continues to dominate the cross country over and over, proving his dominance by finishing inside the optimum time almost every time out.
Parker's strength isn't generally on the flat, but he's shown a propensity for liking this test; his average of only 55.2 is nearly seven points better than his overall average. Although he has jumped double clear over the only Marc Donovan course he's attempted, he generally averages one rail and 1 time penalty in show jumping. He tends to run double clear over all cross country courses, whether Ian is the designer or not. His cross country prowess should put this pair into first with a score just over 60.
2. Barb Crabo and Eveready: Another pair who has been in these divisions for a very long time, Barb and her longtime partner Eveready are always a threat in the west. A solid performer in all three phases, Eveready's consistency has netted him top wins in the past.
Barb and Eveready are fairly consistent with their overall average on this test, tending to score around 54.5. In general, Eveready tends to have one rail over Marc Donovan's courses, consistent with his overall average. A consistent pace that average 6 time penalties over Ian Stark's courses would solidify second place for Barb and Eveready with a score in the mid-to-low 60s.
3. Mary Burke and Prince William: These two have now won two consecutive Adequan Gold Cup legs at Aspen Farms, one of which was their first attempt at Advanced. After taking the spring season off, Prince William returned this fall with a bang and will be looking to carry forward the momentum.
Prince William averages a 54.4 overall on the flat. This horse is a little slower in the stadium phase, averaging 6 time penalties along with a rail over Marc Donovan's courses. His real strength is cross country, where he averages only 2.4 time penalties across Ian Stark's courses. A final score in the mid-60s would help this pair round out the top three.
THE SPOILER
Frankie Theriot-Stutes and Chatwin: Chatwin is lightly competed at this level thus far with two starts under his belt. Despite that, he's proven he could be a force to be reckoned with, laying down low 40s dressage scores for both of his competitions at the level. With that sort of head start, he could be tough to beat if he has no problems across the country.