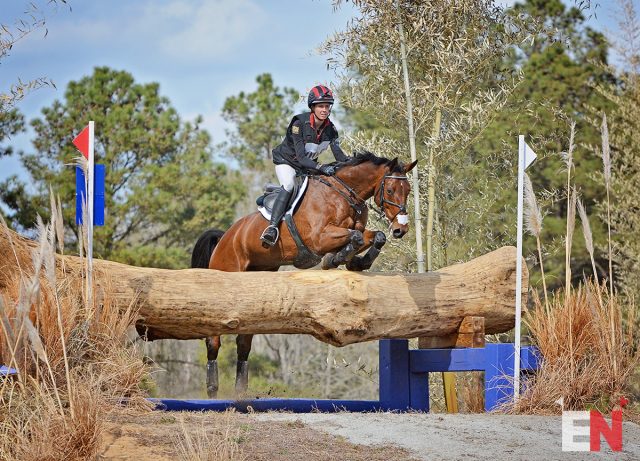 The CIC3* cross country finale at Carolina International certainly lived up to expectations, with the top of the leaderboard shuffling in a nail-biting conclusion that ended with 22-year-old Caroline Martin clinching the first three-star win of her career aboard Sherrie Martin's The Apprentice on a final score of 44.3.
Caroline has only had "Dirk" in her barn for just over a month since she took over the ride from her former trainer Buck Davidson, who produced the 13-year-old Irish Sport Horse gelding to the Advanced level.
With Carolina being the first three-star run for their new partnership, not only did Caroline and Dirk storm around as the only pair to make the optimum time of 6 minutes, 41 seconds, but today is the first time the horse has ever made time at the CIC3* level.
Caroline said she had an advantage in going out first on two other horses, Danger Mouse and Spring Easy, before leaving the start box with Dirk. "He gave me a surprise. He was a little bit stronger than I thought. I rode him in a loose ring snaffle, and he was pretty good through most of the course, and honestly he just showed me how to ride."
Dirk is next entered at The Fork CIC3*, and Caroline said she will confer with USEF Developing Coach Leslie Law in making a plan for the rest of their spring season. "I trained with Buck for about 12 years, so the way Buck taught me how to ride himself is the way he rode the horse, so that helps a lot. I also used to ride Titanium and he was also trained by Buck.
"Dirk is a new horse for me, but I was also taught the basics by Buck, who is amazing. I think that's why it was easier to get to know him. He's an incredible athlete and jumper. He has an amazing gallop. He's very easy on the flat. I have to give Buck credit for training him and for training me. I can't forget Buck for everything he's done for me."
Clark Montgomery and Loughan Glen, who led after yesterday's show jumping, skipped around clear to finish in second place on 47.7 with 6.4 time penalties. The 14-year-old Irish Sport Horse gelding, owned by Jessica Montgomery, Kathryn Kraft, and Holly and William Becker, now has two top CIC3* finishes under his belt this season, having won the Pine Top CIC3* last month.
"Glen" was a bit cheeky on course today for Clark, he said. "He jumped all the fences; he just wasn't super adjustable to go really quick on a CIC course." Clark confirmed they will stick with the plan to go straight on to the Rolex Kentucky Three-Day Event next. "He doesn't need to do anymore runs. We'll just make sure he's physically happy from here on out and peak his fitness and get to Kentucky."
Jennie Brannigan and Cambalda, a 15-year-old Irish Sport Horse gelding owned by Tim and Nina Gardner, sat in second place after their clear show jumping round yesterday and went clear today with 8.4 time penalties to finish third on 49.9. That's yet another strong result for his comeback tour, as "Ping" also finished second in the Red Hills CIC3* last month.
Ping gave her a very smooth round today despite pulling a shoe, Jennie said, and she said she will consult with Phillip Dutton as to where to aim the horse next.
"He doesn't owe me anything. I've been lucky to have some other horses up and coming, and we really just want to keep him happy," Jennie said. "He is a horse that likes hard ground, so I wouldn't say I'd ask him to jump around a CCI4* in the rain again because horsemanship-wise it's hard on him. We'll see how he comes out of this."
Will Faudree and Pfun, a 10-year-old Irish Sport Horse gelding owned by Jennifer Mosing, steadily climbed the leaderboard throughout the weekend, rising from 22nd after dressage to 13th after show jumping, and ultimately finishing in fourth place on 52.9 with a speedy cross country round and 4.4 time penalties.
Doug Payne and Debi Crowley's Vandiver, a 13-year-old Trakehnher gelding, also cruised up the leaderboard this weekend, jumping up from 23rd after dressage to round out the top five in the CIC3* on a final score of 53.6 thanks to a fast cross country trip with 4.8 time penalties.
Lynn Symansky and Donner, a 14-year-old Thoroughbred gelding owned by the Donner Syndicate, had the second fastest time of the division, crossing the finish with just 1.6 time penalties to finish in sixth place on 54.1 in preparation for the Mitsubishi Motors Badminton Horse Trials.
Kurt Martin and DeLux Z, a 12-year-old Irish Sport Horse gelding owned by CJ and Bill Martin, looked super impressive in preparation for the Rolex Kentucky Three-Day Event, cruising around with 7.2 time penalties to jump up from 29th after dressage to finish in seventh on a final score of 58.8.
Will Faudree was the only rider in the division to finish two horses in the top 10, picking up 12.4 time penalties on cross country with Jennifer Mosing's Hans Dampf, an 11-year-old Oldenburg gelding, to finish eighth on 59.1.
Kylie Lyman and Da Vinci Code, a 10-year-old Irish Sport Horse gelding, delivered the third-fastest round in the division, picking up 3.2 time penalties to move up from 30th after dressage to finish in ninth place on 59.4.
Sharon White and her own Cooley On Show, a 10-year-old Irish Sport Horse gelding, finished in 10th place on a final score of 60.5 with a clear cross country trip and 13.2 time penalties.
Ian Stark's cross country course certainly caused its fair share of trouble, with nine pairs picking up jumping penalties and three pairs being eliminated on refusals. We had two falls on course, with Kylie Lyman parting ways from Lup the Loop after the second water, and Hannah Sue Burnett popping off of Cooley Dream at the Cloud 11 Pebble Peach. Both horses and riders were uninjured.
We are waiting on final fence reports to be released from the event to confirm jumping penalties.
Kim Severson and Cooley Cross Border Defend Advanced Lead
The Advanced division ran cross country immediately following the CIC3*, and Kim Severson and the Cross Syndicate's Cooley Cross Border, a 10-year-old Irish Sport Horse gelding, defended their lead with a clear round and 28.3 time penalties to hold first place on 28.3.
Matt Brown and Super Socks BCF, an 11-year-old Irish Sport Horse gelding owned by the Blossom Creek Foundation, came the closest to making the optimum time of 6 minutes, 41 seconds, coming home just one second over to move up from ninth to second on 33.5.
Lauren Kieffer and Team Rebecca's Veronica, a 15-year-old Dutch mare, jumped clear with 13.6 time penalties to drop one spot on the leaderboard to third place on 40.8. Click here to view full a full scoring breakdown. The Advanced division concludes tomorrow with show jumping starting at 9 a.m. EST.
Carolina Links: Website, Ride Times, Live Stream, Schedule, Live Scores, EN's Coverage, EN's Twitter, EN's Instagram
Comments