It was a great day for the USA at Blenheim Palace today — we finish the second phase in the lead thanks to dressage leader Clark Montgomery's blazing clear across country 10 seconds inside the time on Loughan Glen, and nipping on his heels we have Lauren Kieffer in 8th place, clear with just 0.8 time, one second over after a heroic save in the arena.
Two inside the top ten, two more inside the top twenty — Emily Beshear was impressive, coming home with just 3.2 time to lie 11th, and Will Coleman and Obos O'Reilly blazing around one second faster than Clark to be 19th! Definitely one of the standout rounds was Elisa Wallace's on Simply Priceless, even though they added  7.6 time to their dressage score.
Liz Halliday-Sharp suffered a tack malfunction which left her with compromised steering and control leading to a drive-by at fence 17b, and Jen McFall sensibly decided to retire High Times when things got a bit sticky after the second water crossing, but Team Coach David O'Connor confirmed that on the whole it's been a great day for the USA.
"It was a very good day, we had five clear rounds which was good so I'm very pleased with that; those guys rode great, they were aggressive, they looked the part, they handled the different situations they were in; it was a huge, huge step. It was fantastic for Clark and a beautiful round, the horse looked great and looked great pulling up, and so far they've all looked good pulling up so it's a day we'll take!"
How significant is Blenheim with an eye towards next year? "From a morale point of view, they were players in the game. The Pan Am Games going well, then Burghley going well, then coming here and hopefully it will go well in the next 24 hours, so it gets everybody's tails up and shows them it's doable, or that we can win this, and I think that it's a mind set that we've been looking for for a while. The riding is getting better. Clearly the riding is at a good level, and so now it's the competitive edge and that mindset that it's in our capability to win this thing."
Clark now has more than two fences in hand over second-placed Australian Chris Burton on Nobilis, who moved up from 7th after dressage with his clear round inside the time, and touch wood, Loughan Glen is usually a very good jumper on the third day and looked phenomenal finishing and pulling up.
After the gap from Clark to Chris, the scores are tightly packed — with just a rail separating Chris Burton in second, Tim Price in 3rd, William Fox-Pitt in 4th, Andrew Hoy in 5th, Kitty King in 6th and Gemma Tattersall in 7th. The first four of those names are all four-star winners, that's the kind of competition Clark is winning right now! From the 98 starters today, there were 13 clear rounds inside the time, 79 clear rounds and 88 completions.
Lauren Kieffer lies in 8th after a copybook round on the tough little mare Veronica, but for one sticky moment in the arena. I'm an unashamed, huge Lauren Kieffer (and Veronica!) fan, and they looked fabulous today, and she's such a fabulous ambassador for U.S. eventing.
I watched her sign autographs after her round and talk to the foreign press. (I didn't see them in the arena but I did see pictures courtesy of Uptown Eventing's Facebook page, holy clinging like a monkey, Lauren! Click here and keep clicking through to see the photo sequence.) What more can we say except we look forward to watching them do great things in the future.
Likewise for Emily Beshear and her lovely grey mare Shame On The Moon who made the course look easy, and it's hard to believe she's only a 9 year old. Emily confirmed that after the way she romped around today, clear with just 3.2 time faults, she's definitely thinking about Rolex for her next spring. Not only does Emily have the most conspicuous team of supporters — we love it! — clad in purple caps and attire, but she also has the best alternate groom, her son Nicholas, and vet, her husband Jeff.
Will Coleman looked to be cruising round on Obos O'Reilly but actually come home with a very quick time, a testament to how easy the horse found it and how effortless Will makes everything look — oh that we should all have that talent! Will was held before Fence 9 while they fixed a frangible pin, curiously only the second time it's ever happened to him and a first for his horse, but luckily it didn't affect them adversely.
Will is lying just inside the top 20 in 19th place, and although Obos O'Reilly is a good jumper, Will is also well aware that he doesn't appreciate a lot of atmosphere, so he's hoping he'll be able to cope in the main arena tomorrow. When he finished, Will couldn't praise his horse enough: "He has a heart, as big as the palace over there," he gestured, although Elisa Wallace later one-upped him, describing her horse's heart as big as England! How much do eventers love their horses?!
Elisa Wallace fulflled all the promise she's shown this year and then some, piloting Simply Priceless to a beautiful clear round, and she wants more! Far from being happy with her roun — which of course she was really, and she was delighted with her horse — like a true competitor she was already analysing her ride and kicking herself for things she could have done better when I caught up with her — what an exciting young rider.  Elisa and Simply Priceless will show jump in 32nd place tomorrow.
Liz Halliday-Sharp completed with a stop at the second narrow 'Member's Badge' at 17, after struggling to steer and turn due to slippery gloves and reins — not what you want cross country, especially on a big, strong horse. The encouraging news for her is that 'Blackie' jumped all the difficult questions despite his rider being slightly hampered, and that she really feels she's beginning to get the measure of him mentally and physically.  The bad news is obviously she was gutted to have that happen, but as Jon Pitts explained, it's now a matter of perspective and moving forward.
Today was not to be for Jen McFall and High Times, and she sensibly decided to call it a day when things began to unravel halfway round the course. As she described it, they started out well, but an awkward jump at the second water crossing, the JCB water splash at 13A/B, may have dented High Times' confidence.
"He felt good, he was running well, he felt fit and the hills didn't seem to be bothering him, but he jumped up and over and he ended up getting three inside the two to the water. He really ballooned over that into the water, but then we jumped out well. Then he really misread that open rail with the bunny in it at the top of the hill; I came with a good distance and thought I was going and he stopped, and then when I re-presented he actually bounced it. He thought it was a step-rail, and I think he really scared himself with that misreading.
"Then down the hill was the ditch and house, and he really jumped that badly, and I just thought it's not his day today. He's fine; I just felt like he was scaring himself, so I thought we'll just relax,and come back again and do it some other time!"  Jen and High Times go to Amsterdam on Monday and fly back to the States on Tuesday; we wish them safe travels and look forward to seeing them back out and on form again.
Kate Chadderton jumped round clear with 12.4 time on her gutsy little Thoroughbred VS McCuan Civil Liberty and looked to get stronger and better the further she got. I imagine Kate's surprised quite a few people by getting here, by getting round, and by her great attitude, good riding and general all-round pleasant personality! Hopefully the trip will pay dividends in all sorts of ways and will have been worth the huge gamble — she's a brave girl, and we should take our hats off to her!
As the numbers attest, the course rode really well today; we did have perfect going — once the fog lifted the sun came out and it was a completely perfect English autumn day.  Faults were pretty evenly spread out, although perhaps the JCB water splash at 13 was the most influential. We had large crowds who are still here watching the CIC3* horses show jump as it's beginning to get dark!
Lauren jumped two four-fault rounds on her horses Landmark Monte Carlo and Vermiculus. Landmark Monte Carlo had the 3rd down and Vermiculus the 8th plus a few time faults, but they both looked good and very at home in the big arena. We'll post pictures on our Facebook page later.
Congratulations to all our riders today, and to all their grooms, families and supporters who've worked so hard today and for so long to get here. We couldn't be prouder. Thank you to all the volunteers, jump judges, organisers, everyone who put in such a long day today, and every cross country day, and dressage day and show jumping day. It's easy to say thank you at big events when it all goes right, but harder to remember every day at unaffiliated shows, in horrible weather, when you're running late, or when things are going wrong — so thank you today and every day! From all of us!
We have another long, long day tomorrow, so thank you for bearing with us in advance, and let's hope the U.S. horses pick up their toes and keep the rails in the cups, and that Lauren can add another two Blenheim clear cross country notches to her C4 belt! Thank YOU for making Eventing Nation part of you weekend; it's not over yet! Go Clark Montgomery at the Blenheim Palace International Three Day Event!
Blenheim: Website, Ride Times & Live Scores, EN's Coverage, Twitter, Instagram, @samanthalclark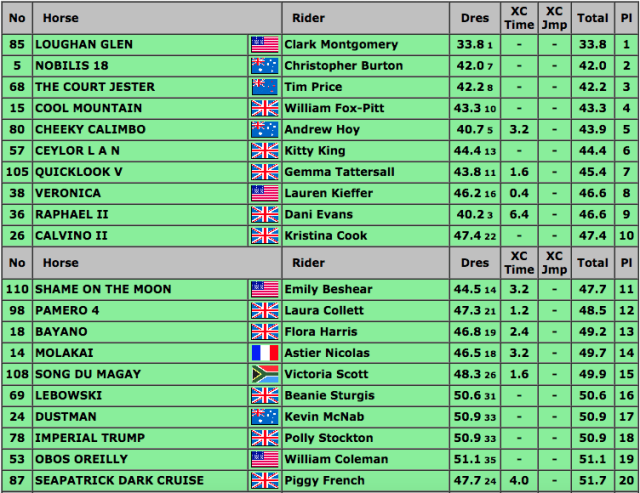 Comments