Clark Montgomery led the USA to a banner weekend at the Blenheim Palace CCI3* International Horse Trials. Finishing on his dressage score at the top of a huge and stellar leaderboard on his mother in law Katherine Kraft's, and Holly and William Becker's Loughan Glen he was almost ten points clear of his nearest rival, Chris Burton in second on Nobilis 18.
Kitty King was the best of the Brits in 3rd place on the hugely exciting young horse Ceylor LAN, and Gemma Tattersall 4th on the grey Quicklook V.
Glen will now get a well-deserved holiday, although as Clark mentioned he won't go completely out to grass and get fat. Clark said he'll talk to Team Coach David O'Connor and see what the U.S. Selectors would like him to do with Glen next as to what they plan with Glen over the winter and next spring; one would think, and he hopes that this win would be enough to impress them but as he ruefully acknowledged, "You never know what they're thinking!"
Tim Price dropped an expensive rail in the show-jumping to fall from 3rd place after to cross country to eventual 5th, and Lauren Kieffer rose to 6th place with her clear round on Veronica, and she also takes home the prize for the Best Placed First-Timer at Blenheim.
Veronica still looked feisty this afternoon, she never makes it look easy but I imagine that's why she's so good; I overheard Lauren explaining to one of the English journalists who asked if she was a good traveler that she's a mare who knows how to look after herself!
Emily Beshear was right behind Lauren in 7th place and also jumped clear; Shame on the Moon knocked the second jump pretty hard and  rattled a few others but they all stayed in the cups — that's right, counting Will Coleman's clear on Obos O'Reilly too that's four clear rounds show-jumping today, four US riders in the top 12 at Blenheim out of 101 starters and three in the top eight!
Both Clark and Will finished on their dressage scores, and Lauren added just 0.4 time fault XC for that one second over time.
Will Coleman was the first of the U.S. riders to jump this afternoon and Obos O'Reilly looked like he had springs in his shoes, giving the fences feet to spare, and almost hanging over them a little too long. It's interesting to watch all the different styles and techniques of horses, and riders on the Sunday when the horses are a little tired and the riders are under pressure and Will is a rider who deals with it incredibly well.
Needless to say it's been a fantastic weekend for the USA — we have certainly made the rest of the world sit up and take notice. Congratulations to the USEF, to David O'Connor, especially to Joanie Morris who, it's been pointed out to me so many times, should have, depending on who you speak to, a halo, a tiara, a medal, all of the above… someone at least buy her a drink! Huge Well Done to the riders, you made it happen! And to your horses, and to everyone who loves and looks after them, well done and thank you too.  Wishing all the U.S. based horses and riders, and of course families and supporters a safe journey home, I think it was a fun trip for everyone — Blenheim certainly knows how to put on a good show — thank you to all the volunteers and organisers who made it so.
Thank you for making Eventing Nation part of your Blenheim experience, we'll put more pictures up on our Facebook page and Twitter later tonight but for now another huge congratulations to the U.S. team at Blenheim, and as Clark said, let's ride this wave for as long as we can! Go the U.S. Eventing!
Blenheim: Website, Ride Times & Live Scores, EN's Coverage, Twitter, Instagram, @samanthalclark
Final Top 20: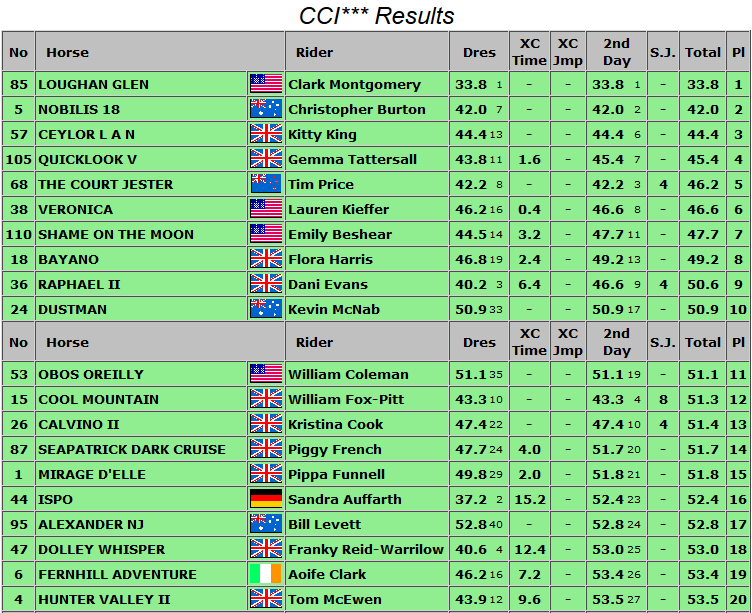 Comments