+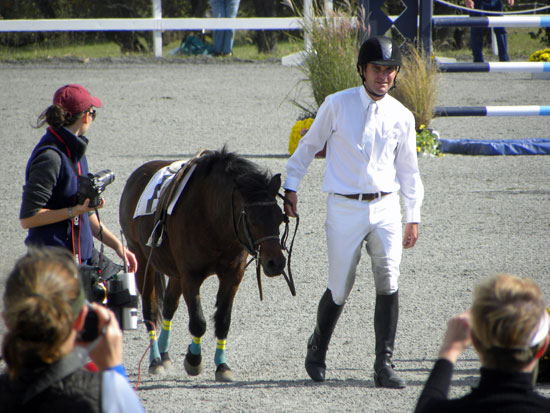 = ?
There's only one Monday morning news and note
Of course, the big story from Sunday evening is that Phillip Dutton and Bobby Costello will be APPLYING jointly to lead the US Eventing Team, with Phillip applying for the Technical Advisor position and Bobby applying to be the US Chef. Generally speaking, the 'Technical Advisor' is the coach who you would see standing in the center of the arena warming up the US riders, while the 'Chef d'Equipe' is responsible for the organization and direction of the Team. Currently, Mark Phillips fills both the US Technical Advisor and Chef d'Equipe roles, but the USEF's Search Committee indicated at the USEA convention open forum that they encouraged candidates to develop a creative plan for US eventing high performance as part of their application for the position. Mark will retire after the 2012 Olympics and the deadline for applications to replace him is January 31st.
Phillip and Bobby need no introduction to eventers and both are extremely qualified. Phillip is one of the most prolific riders in history, and, more importantly, has experience coaching several previous team riders as well as a good portion of the current USEF training and developing rider lists. Bobby is a well respected and very well connected rider, having represented the US at the 2000 Olympics and 2003 Pan Ams and having served on a myriad of USEF and USEA boards and committees.
Personally, I think Phillip and Bobby would make an excellent team–Phillip is a great coach and Bobby is a great communicator. Several top riders have brought Bobby's name up to me over the past few months as the perfect person to fill the role of Chef. There are a number of possible candidates who possess the knowledge required to serve as Chef, but Bobby might be the only one with the tact to guide riders without overstepping into the coaching role.
I have a lot more personal experience with Phillip than with Bobby, having ridden for and taken lessons from Phillip at various times over the past several years. As with any top rider and coach, some riders like Phillip, some don't, but I think everyone respects Phillip's accomplishments. Phillip's coaching approach has always inspired me to, above all else, find a way to get the job done. When you take a lesson or walk a course with Phillip, he's not going to tell you how to ride every single step the horse takes, but he will tell you exactly what you need to know to get home clear.
On any given afternoon at Phillip's farm, whether in Pennsylvania or Aiken, you will see a steady stream of up to twenty 4* riders taking lessons from Phillip. Phillip's familiarity with so many top US riders is an asset, but the USEF might view this as a concern if they are looking for someone who will bring a completely independent perspective to the job.
One big question that needs to be addressed is: what will Phillip do about riding for the US if he is hired as coach? Assuming Phillip plans to retire from riding if he is hired as US coach, the USEF is put in an interesting position of losing their most consistent rider if they hire Phillip.
The next choice for the US Team's leadership will shape the direction of US eventing for the next 10 years and perhaps much longer. I think that Phillip and Bobby working together offers a very intriguing possibility, but there are 4 more weeks left before the application deadline and I expect several other top contenders, foreign and domestic, to enter the race. One thing is clear: the next few months are going to be exciting. Go eventing.