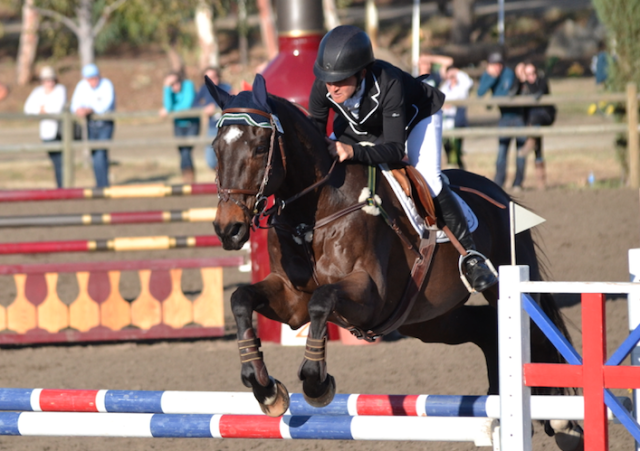 No one had delivered a clear round over Marc Donovan's CCI3* show jumping course when Barb Crabo and Eveready II entered the ring. Sitting in second place overnight with just 3.2 penalties separating her score from leaders Buck Davidson and Copper Beech, Barb and "Ready," a 15-year-old Swedish Warmblood gelding she's known since the day he was born, needed to leave all the poles in the cups to put the pressure on Buck.
And that's exactly what they did, delivering what ultimately proved to be the only clear round in the division to win their first CCI3* on a score of 53.2. "There's alway that cheap rail that I think just about everybody experienced out there today, and I was just hoping we wouldn't get tagged by one," she said. "He was breathing fire and putting on a show today. When it really matters, he jumps clear, every time."
But it hasn't always been like that with this horse. "Ready and I have been working together so hard for so long, and I think, 'Wow, he's 15; I probably only have a couple more seasons with him. Why couldn't he be 11?' Because when he was 11, he was unrideable. We've paid our dues. It feels amazing; it means everything," she said.
The win is made even more special by the fact that she had decided to retire him from CCIs several years ago due to concerns about how he would hold up long term. After a fifth-place finish at the Nutrena American Eventing Championships in September, she made the call to give a CCI3* another shot.
Considering the outcome this weekend, you can't help but wonder if Barb and Ready will return to Lexington for another shot at completing a four-star after things didn't quite go their way in 2012. But for now, she said she's just savoring the victory. "You want to say the 'R word' for spring, but I won't," not yet, she said.
Though 8-year-old Copper Beech pulled one rail to finish in second place on 54, just .8 penalties out of the lead, Buck Davidson said the horse delivered the best three phases of his career this weekend, so he can't be disappointed with the outcome.
"I think it's so cool Barb has done everything with the horse, made the horse; she deserved to win … It's a tribute to the hard work and dedication and what this sport's about," he said. "It's what my dad talks about all the time; it's a dream. I couldn't be happier for her."
Buck actually didn't realize he had a rail down at first; he saw it on the ground when he turned the corner after and knew he'd lost it at that point. "I got there the way I wanted to … I knew we touched it but didn't think I touched it hard enough for it to fall. At Jersey (Fresh), I think we moved a few standards; we got lucky. It's the way the sport goes; we've all been on both ends of it."
Buck thought the round was much improved from Jersey Fresh, and that's what he's focusing on, he said. "He's a bit of a baby, so it's about trying to get him relaxed," Buck said. "He jumps well; it's just sometimes he loses his form … Maybe on the scoreboard it doesn't look as great as it is, but I'm really excited about how he went yesterday and how he finished up."
Though Maya Black and Doesn't Play Fair pulled the final rail to finish in third place on 59.2, it wouldn't have changed her place in the standings, and she said she was very pleased with how he jumped.
"He went out there and was jumping really well," she said. "I really couldn't have asked for him to be any better. I had the very last fence down, which is a bit of a bummer, but I feel like we've come a long way this year, and I was pleased with how he handled it. I was able to ride him forward through my turns. I think that it's definitely going in the right direction."
Maya said in yesterday's press conference that she's been searching for consistency this season after great runs at Bromont and Plantation Field and running into trouble at Richland and Fair Hill. "Cody" will now enjoy a vacation with his owners Jon and Dawn Dofelmier in Washington State before Maya hauls him back east for next season, when she'll be another rider considering the "R word."
Lizzie Snow and Coal Creek pulled one rail to finish in fourth place on 61.6, and Bonner Carpenter and Basco also pulled one rail to round out the top five on 71.8. We also have to send a big shout out to Jordan Linstedt, who is now officially qualified for Rolex next year with Revitavet Capato after finishing in sixth on 74.6.
You can watch the full replay of CCI3* show jumping over on PRO TV, which also includes highlights from dressage and cross country. Stay tuned for much more from Galway Downs.
#GalwayDowns: Website, Live Scores, EN's Coverage, CCI3* Preview, PRO TV, @eventingnation, EN's Instagram