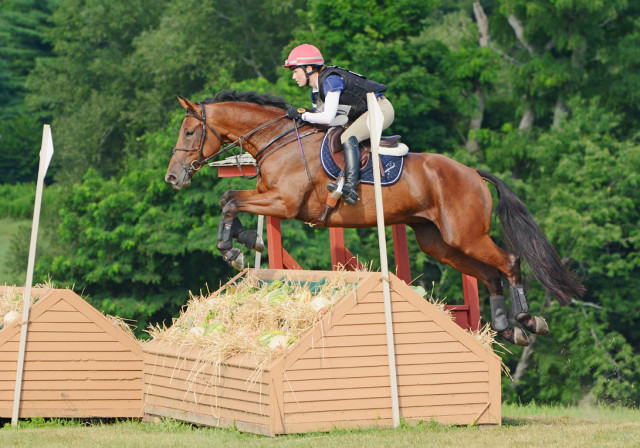 Lauren Kieffer will campaign a new upper-level horse this year in D.A. Duras, an 8-year-old Dutch gelding that finished ninth in the FEI World Breeding Eventing CCI2* Championships at Le Lion d'Angers in France last fall with Kelly Prather in the irons. Selling him as a two-star horse was always the plan according to Debbie Adams, who sourced the horse in the Netherlands and produced him through the Preliminary level.
Jacqueline Mars now owns D.A. Duras, better known as "D," in partnership with Debbie and Tony Adams, and Debbie said she's thrilled to still be involved as an owner in a horse that means so much to her.
"I buy these horses young and develop them, and then I have to sell them on, as I can't afford to own them and keep them competing at the Advanced level," Debbie said. "My niche is finding and producing them, and I'm really proud of this one. I really wanted to stay a part of his life, and I'm so excited that this has been able to happen."
Debbie, who also organizes Flora Lea Farm Horse Trials in New Jersey, is well known for spotting and producing talented young event horses. She also imported and initially produced D.A. Adirmo, an 11-year-old Dutch gelding that Buck Davidson piloted to a second-place finish in the Jersey Fresh International Three-Day Event CCI3* in 2013.
Debbie purchased D.A. Duras, by Numero Uno out of a Quattro B mare, as a 4-year-old from Paul Hendrix and competed him at the Novice and Training level as a 5-year-old. They finished in fifth place in the 2013 USEA Young Event Horse East Coast 5-Year-Old Championships, which made D.A. Duras eligible to receive the Holekamp/Turner Young Event Horse Lion d'Angers Grant to compete at the FEI World Breeding Eventing Championships as a 7-year-old.
After competing D.A. Duras at his first Preliminary event, Debbie started looking for a rider to continue what she started. After meeting Kelly Prather through Bruce Davidson, Debbie approached her to compete him. Kelly always knew the horse would ultimately be for sale and she would receive commission when the time came, Debbie said, emphasizing that she's grateful for how far Kelly was able to take him.
"I don't compete at the upper levels myself anymore, and after seeing Kelly's ability I knew it would be a smart move to have her compete him," Debbie said. "She has done a fantastic job with him for the past two years, and she deserves equal credit for his success."
In addition to receiving international attention with a ninth-place finish at Le Lion last year, Kelly and D.A. Duras also finished 17th at the Dutta Corp Fair Hill International CCI2* in 2014 and eighth in the Bromont CCI2* in 2015.
"It's been a pleasure playing a part in producing D.A. Duras to this point in his career," Kelly said. "I have had a lot of fun the last two years bringing him up through the levels, with some great success at some big competitions. I have no doubt that he will go on to be successful with Lauren. I wish them the best of luck and look forward to seeing them step up to the next level."
Traveling to France to watch Kelly and D.A. Duras compete at Le Lion was one of Debbie's proudest moments as an owner and producer, she said, and it couldn't have happened without the Holekamp/Turner Young Event Horse Lion d'Angers Grant.
The grant, founded by Tim and Cheryl Holekamp and Christine Turner, enables the highest scorer of the USEA Young Event Horse 5-year-old Championship to travel to the FEI World Breeding Eventing Championship in France as a 7-year-old if the horse obtains the proper CCI2* qualifications.
"Getting the grant gave me the impetus to raise the rest of the money to take him. I never would have dreamed of getting him to that competition on my own, but as soon as we had the grant, I wanted to make it happen," Debbie said.
"I realized how important it was for people to see that horses trained in the U.S. can play at that level. It was a huge thing when we were there that he was produced in the U.S., and Le Lion made a big deal of it since it happens so rarely that a U.S.-produced horse competes at the championships. It helps show the world that we can develop our own horses."
Now Lauren Kieffer will take the reins as we look ahead to the next chapter in the D.A. Duras story. She will compete him for the first time in Preliminary at the Rocking Horse Winter I Horse Trials this weekend in Florida, and Lauren said she's enjoying getting to know him and looking forward to their first event together.
"I was very flattered when Debbie and Tony approached me with this opportunity, and I'm grateful for Ms. Mars' generosity to make it happen. I'm really excited about the future with him. He's a very talented horse, and he's been produced beautifully by Debbie and Kelly," Lauren said.
"He's obviously very experienced. In my opinion, he's already jumped around three of the hardest two-stars you can find in Fair Hill, Bromont and Le Lion; that proves what kind of horse he is. And, of course, finishing in the top 10 at Le Lion is very impressive."
Debbie is equally thrilled to have Lauren in the irons. "She is a beautiful rider with a wonderful feel. In watching her, she understands all three phases. When we first started to chat about it, she was equally excited as we are, and she got on the horse and it was clear it was perfect," Debbie said.
"It is going to be a very exciting adventure. I'm so happy Tony and I were able to remain one of his owners with Ms. Mars so that he doesn't have to leave us. It's a very different connection when you watch them go on and you're not a part of it. We're so looking forward to remaining a part of it."
Debbie is eagerly anticipating Lauren and D's competition debut at Rocking Horse this weekend, and Tony is flying in from New Jersey to also watch the horse compete.
"Lauren is going to be able to take him as far as he can go, and I don't think it will take long for him to get to that level," Debbie said. "For a horse you pick out as a 4-year-old and then develop and train it, and then for him to end up with Lauren and in that program — it doesn't get any better than that."