Eventing Nation's coverage of the 2021 USEA American Eventing Championships is brought to you by Kentucky Performance Products. We want to share the joy of eventing this week, so we invite you to nominate an AEC rider for our "Kentucky Performance of the Week" contest, happening now in partnership with Kentucky Performance Products. Learn more here.
Woof, what a day at the 2021 USEA American Eventing Championships, presented by Nutrena! It was, quite literally, a 17-ring circus, with Novice through Advanced divisions completing one phase or another, and final scores being posted for the Intermediate and Prelim divisions. Let's recap the action.
$60,000 Adequan® USEA Advanced Final
The Advanced leaderboard enjoyed a good ol'-fashioned shakeup, with Fylicia Barr of West Grove, PA, overtaking the lead with Galloway Sunrise after cross country. We posted a play-by-play of the action here.
The story of Fylicia and her horse is the stuff of little girl horse movies — she bought the now 13-year-old American Warmblood mare (Duty Officer x Coco Chanel) for $500 off Craigslist.
"She was a feral 2-year-old when I got her," Felicia recounts. "Like, wasn't even halter broke at the time. You know, it's been a really, really long journey. And obviously, as a kid, my dream was always to go Advanced with her. And now she's here. And it's a little bit of that dream come true moment."
Nobody made the time today, and this combination picked up only 2.4 time penalties to move from sixth into first on a score of 28.9.
"It's thrilling. You know, to know that I brought a horse from nothing all the way up to the top level is one thing, but to be able to be competitive – it's incredible for me to feel like all my training and time and energy is really paying off in a big way," she said. "We grew up together, and I know this horse as well as I know myself. Heading out cross-country, I knew I had a chance to be at the top if I could be fast. And that's where she shines."
Buck Davidson jumped up the leaderboard with both his Advanced rides, Carlevo and Jak My Style, who hold second and third place, respectively. The Carlevo LLC's Carlevo, a 14-year-old Holsteiner (Caresino x Ramatuelle), was the first out of the startbox and posted a clear round, adding 6.8 time penalties for a score of 31.5.
Buck put the pedal to the metal with his second ride, Jak My Style, a 16-year-old Thoroughbred owned by Kathleen Cuca. They were the fastest pair of the 39-entry division, picking up just 1.6 time penalties to sit on a score of 32 and moving up from 17th to third.
The 2019 champions, Boyd Martin and Long Island T, had been looking to defend their title, but a fall at the C element of the Kentucky Classique Coffin dashed those dreams. Martin returned later in the class with Christine Turner's On Cue, a 16-year-old Selle Francais mare (Cabri de Elle x On High), and added 6.4 time penalties to move up from eighth to fourth. The Kentucky Horse Park has been happy hunting ground for On Cue who was the highest placed U.S. pair at the Kentucky Three-Day Event.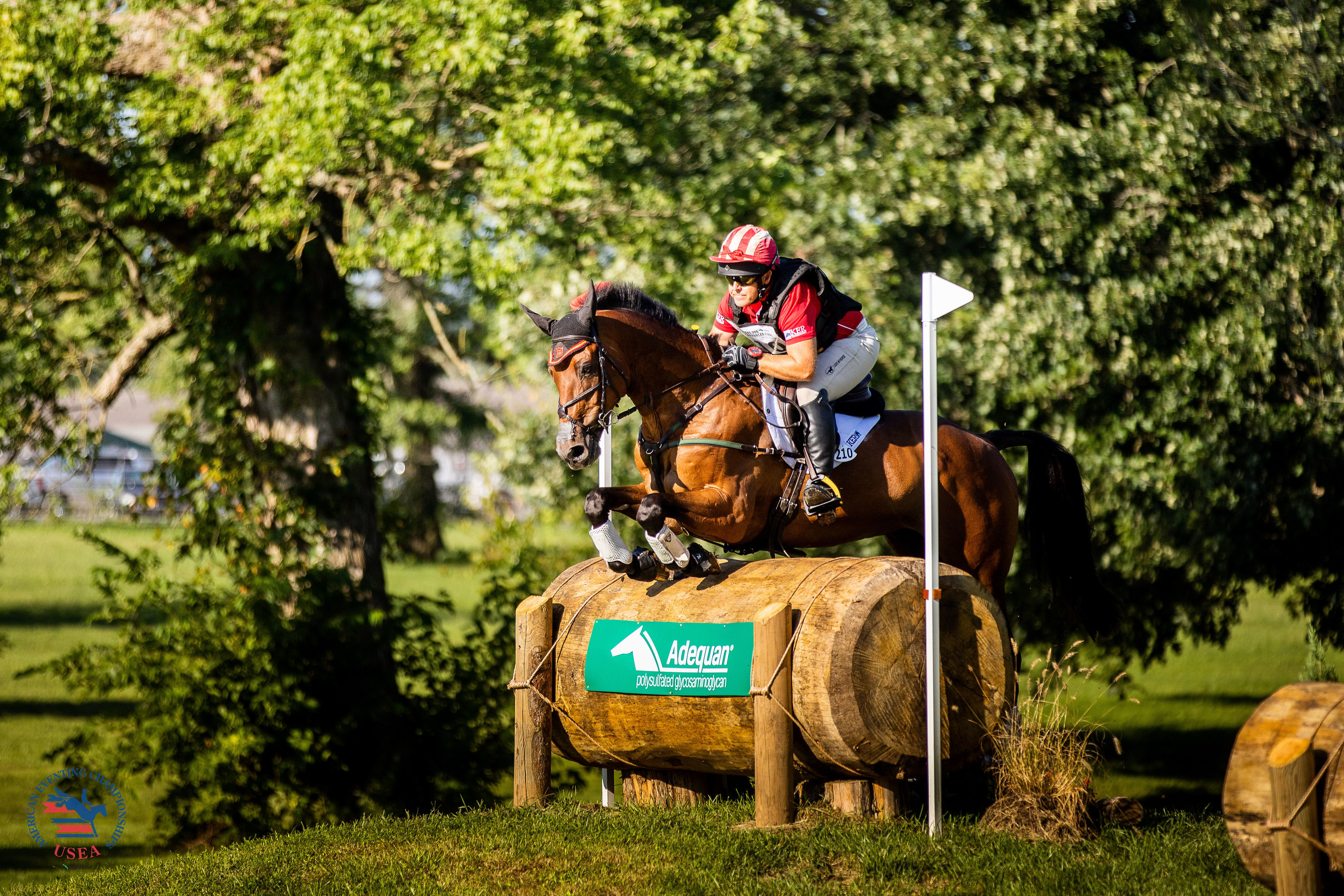 Doug Payne and Quantum Leap, his and Jessica Payne's 10-year-old Zweibrucker gelding (Quite Capitol x Report to Sloopy) moved up from 14th to round out the top five on a 34.7. Quantum Leap was the 2018 recipient of the Holekamp/Turner Young Event Horse Lion d'Angers Grant and to compete at the FEI World Young Horse Championships.
Out of the 39 starters, only nine pairs ran into trouble on the course although no one managed to finish under the optimum time of six minutes and 24 seconds. Thirty-five pairs will move forward to show jump under the lights tomorrow night at 7:15 p.m in the Rolex Stadium. In 2019 only 20 percent of the field managed to show jump clear, so the phase should prove to be influential again. However, nearly half of the previous 15 winners (7 of 15) have knocked a pole in the show jumping phase and still earned the win.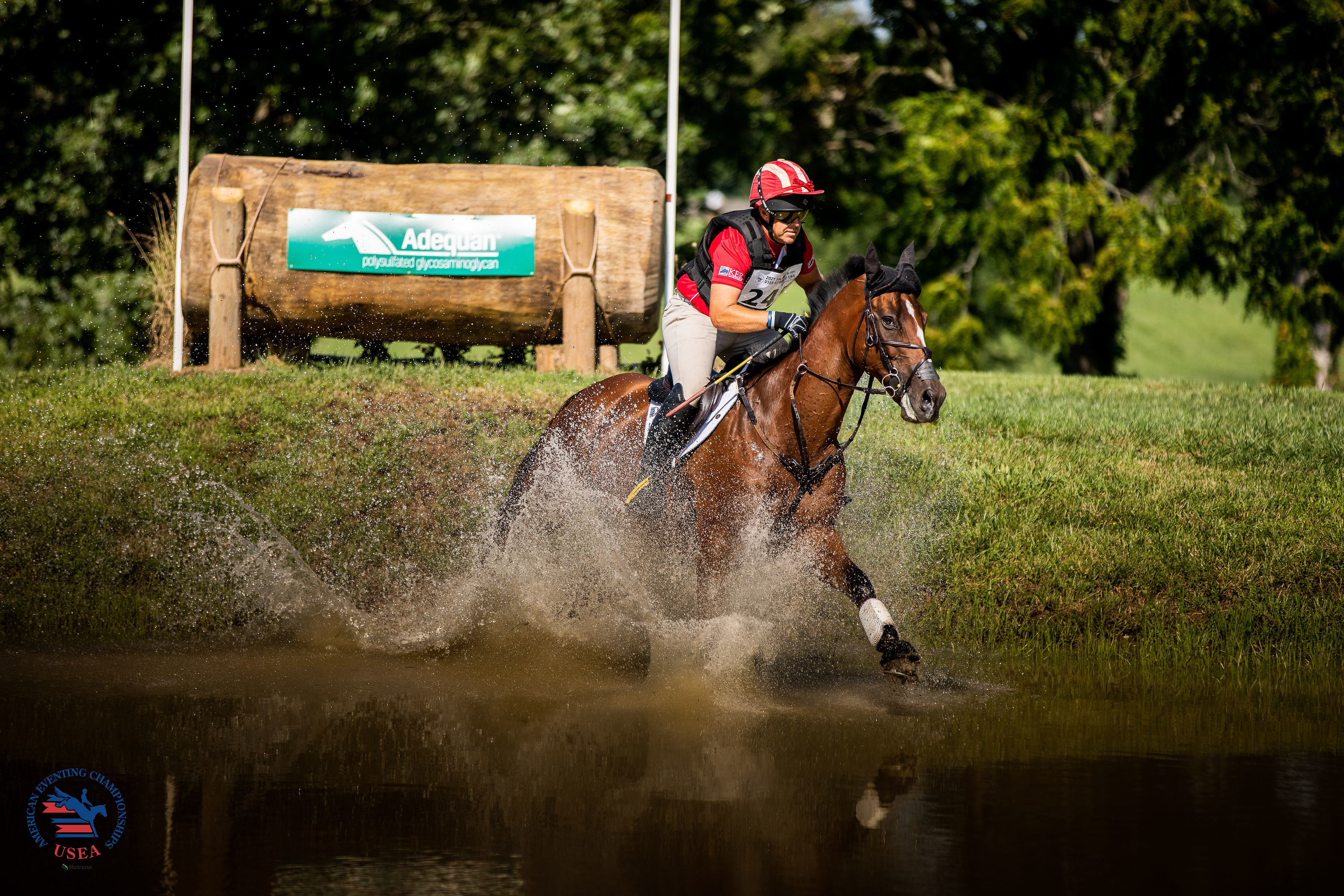 Intermediate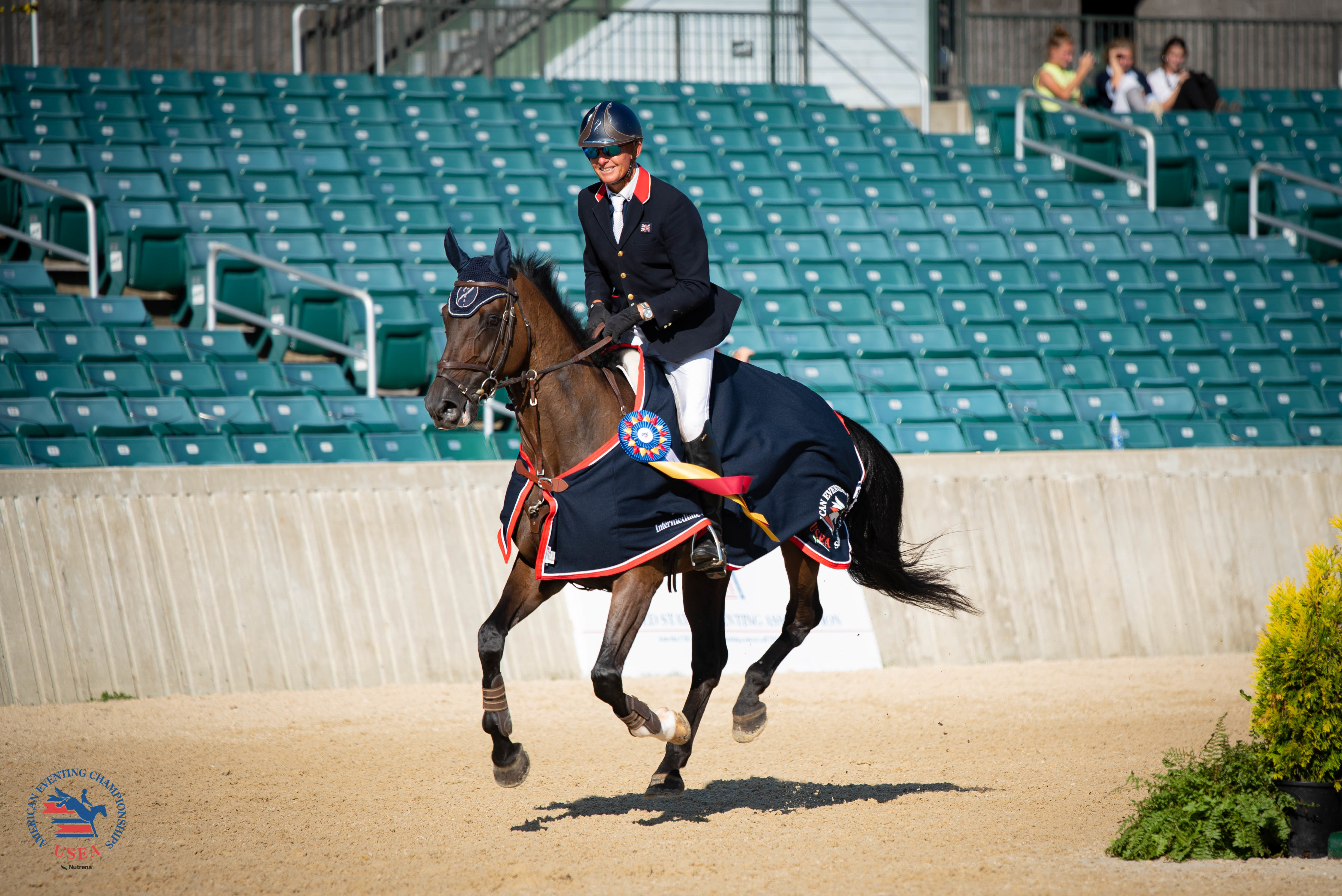 The Intermediate division ended on a one-two finish with early favorite Leslie Law. The veteran professional had a flawless weekend on Jackie and Steve Brown's 10-year-old Holsteiner mare (Connor x Jucy) Lady Chatterley having never missed a beat and finishing on her original dressage score of 25.5.
"She was more lit up than usual so I had a bit of a different horse today than I normally do," Leslie said. "She was a bit sharper and more wired but she came into the ring and did her job and did it really well."
"We have had to take our time with her because she certainly can have a mind of her own some days," he continued. "This past year she has really come into her own though so I think she is ready to move up."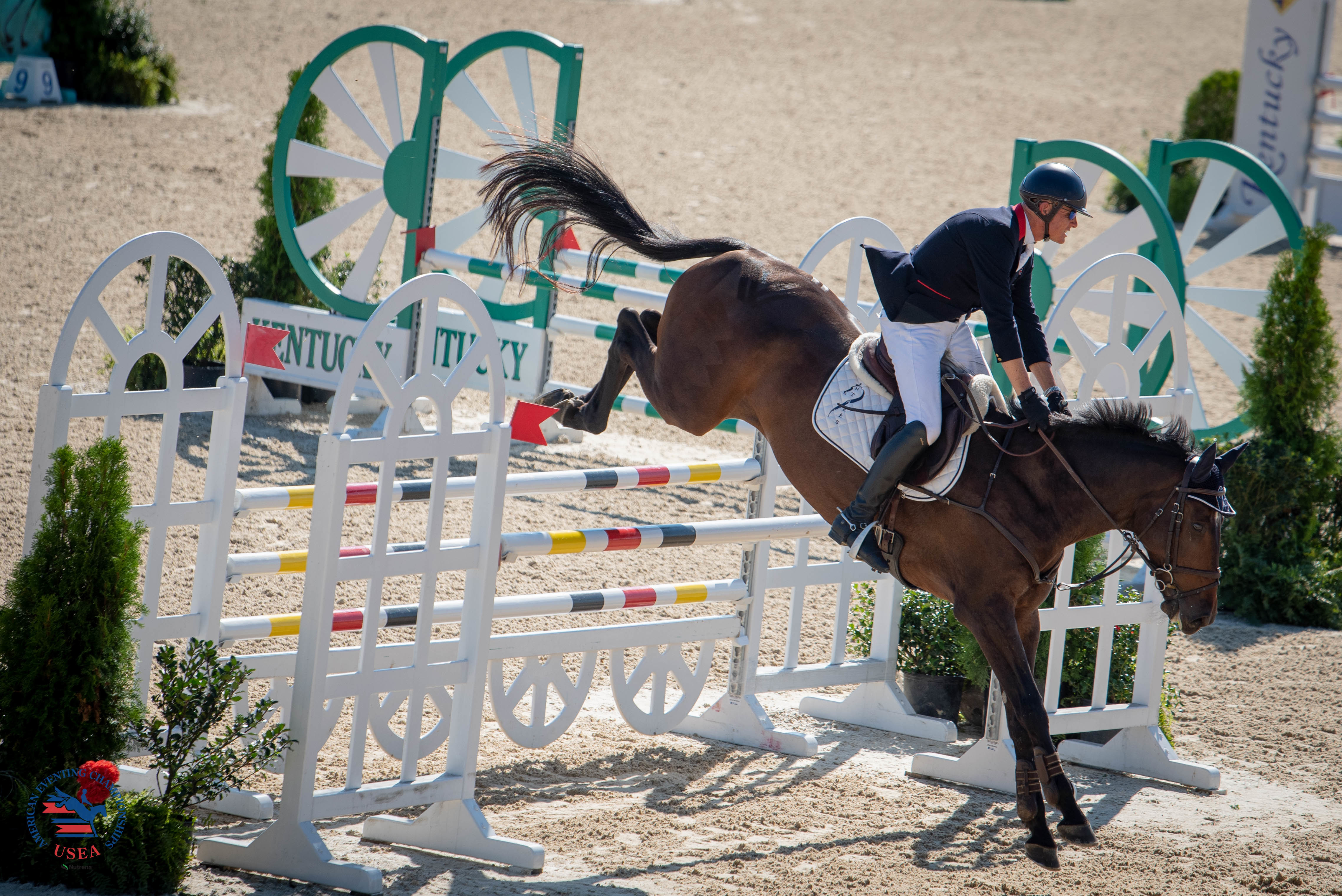 In his first ride in the show jumping phase, Leslie went clean and steady in order to earn the reserve champion ribbon with Craig McCallum's Typically Fernhill.
"I only got him two years ago but he too has come along quite quickly," Leslie said of the 9-year-old Irish Sport Horse gelding (Dondoctro Ryal K x Castlefield Sarah). "He only had about 12 months of Preliminary schooling and then he went into Intermediate at this time last year so he is very exciting as well.
"This is a wonderful venue and you know you are going to get a great course because Derek [di Grazia] is the course designer and you've got the terrain as well which produces a good test," he said. "For me, it is a good measure of where my horses are and what they are ready to do."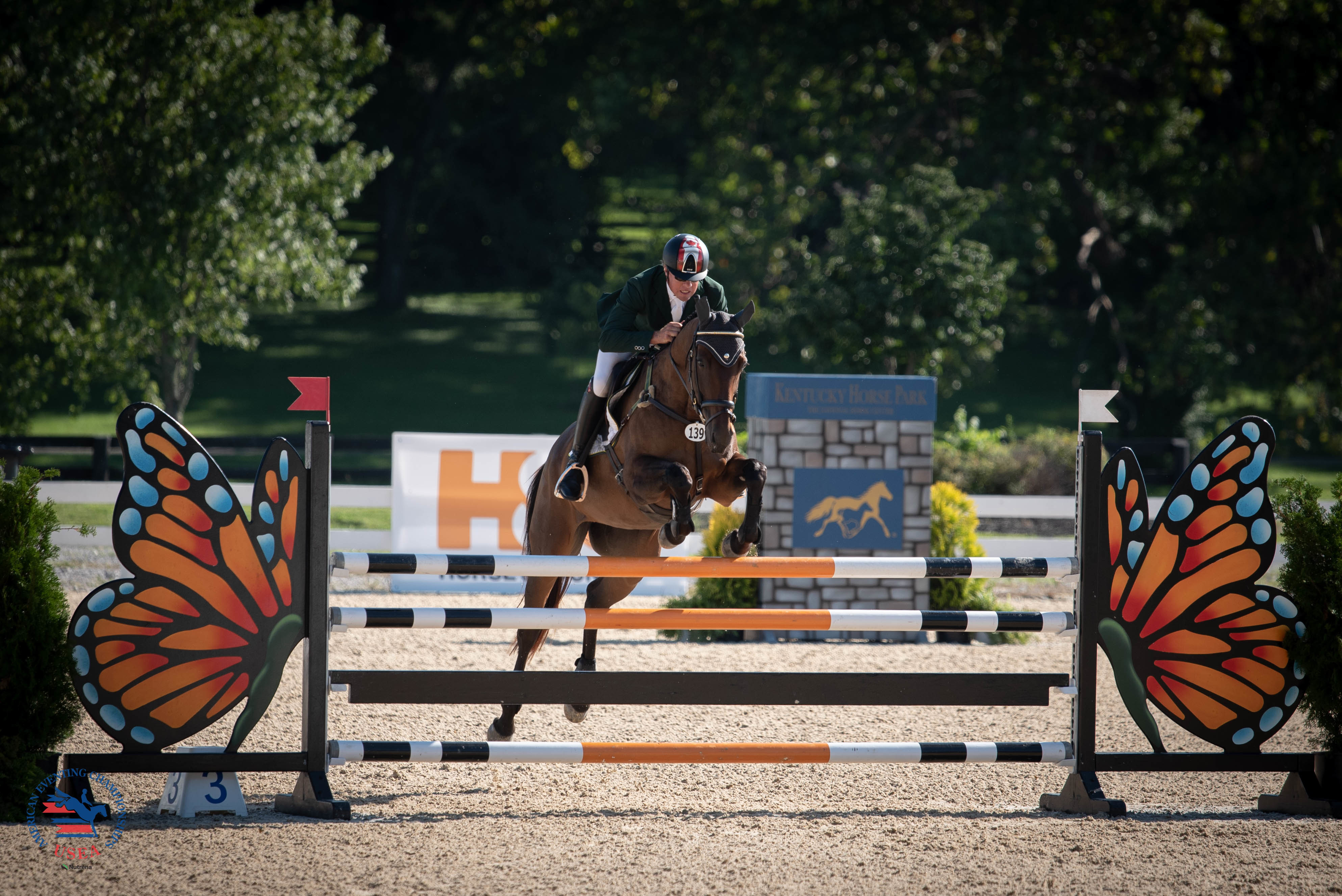 Karl Slezak rounded out the top three on the 8-year-old Irish Sport Horse horse mare (VDL Arkansas x Taneys Leader) Hot Bobo by also producing a fault-free show jumping round for a final cumulative score of 30.7.
"We got this mare as a 4-coming-5-year-old and she had only done a couple of Novice events at the time but once we got her she moved along really quickly," Karl said. "She is really just the best— she is lovely to be around in the barn and she tries her absolute best. I expected her to be a lot more impressed with the environment but she was in such a work mode.
"I was thrilled with the cross-country phase this weekend," he continued. "She was absolutely spot on and proved to me that she is up for the task. I have several horses that do not have much Thoroughbred in them and she actually does, so, there are several more gears in her that enable her to go faster."
Bates USEA Preliminary Rider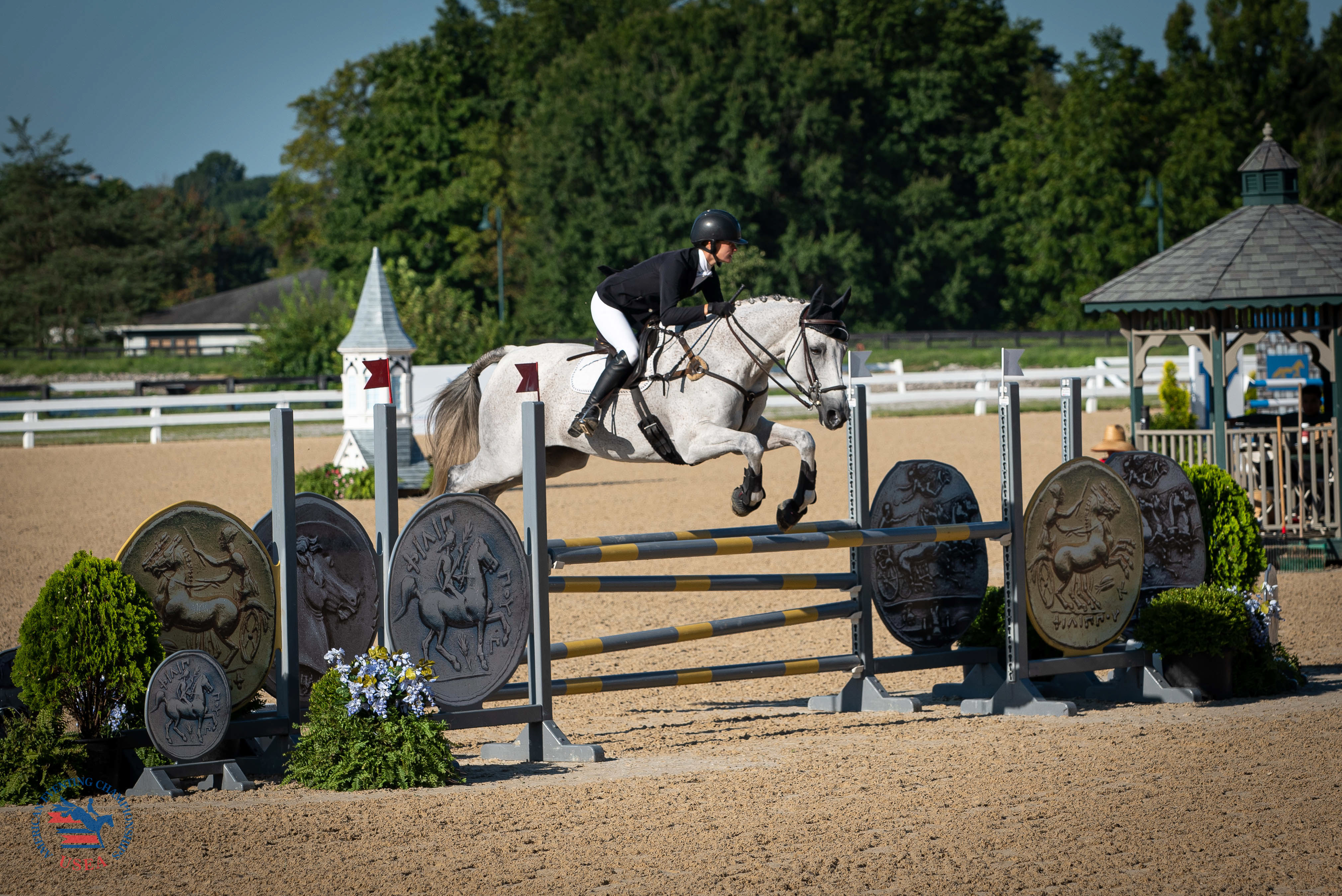 At the finale of the Bates USEA Preliminary Rider division, Sophie Miller claimed the first tricolor ribbon of the competition. She and Laurie Cameron's homebred mare Quarlotta C (Quite Capitol x Merging), a 12-year-old Oldenburg, produced a flawless round in the Rolex Stadium leaving all rails standing and clearing the timers with room to spare.
Sophie, who was in third following the two prior phases, kept careful consideration of both the fences and the time to step out of the ring on her original 35.5.
"I was really happy with her today," said Sophie. "She came in the ring and was a little bit lit up today with the atmosphere, but I think it actually worked in our favor for time. She can be a little bit lazy and casual sometimes but I think she grew an extra hand from all the excitement, so I was able to just stay back and out of her way while she carried a good pace."
The victory was extra special for the pair as it was Sophie's first time being a part of the AEC.
"It is just so awesome to be here amongst all of the top horses and riders in this sport," she enthused. "It was really wonderful to be able to jump in the stadium and just be part of such an electric environment."
The pair have had a busy season of preparation, only starting at the Training level at the beginning of the year but feeling confident after successfully winning their very first Preliminary event in Aiken, South Carolina.
"We competed in two Training events down in Florida before moving up to our first Preliminary which she won," Sophie added. "She also had super runs at Pine Top and Stable View, and we were even able to squeeze in a two-star event this year so it's been a great year and I'm so looking forward to doing more now."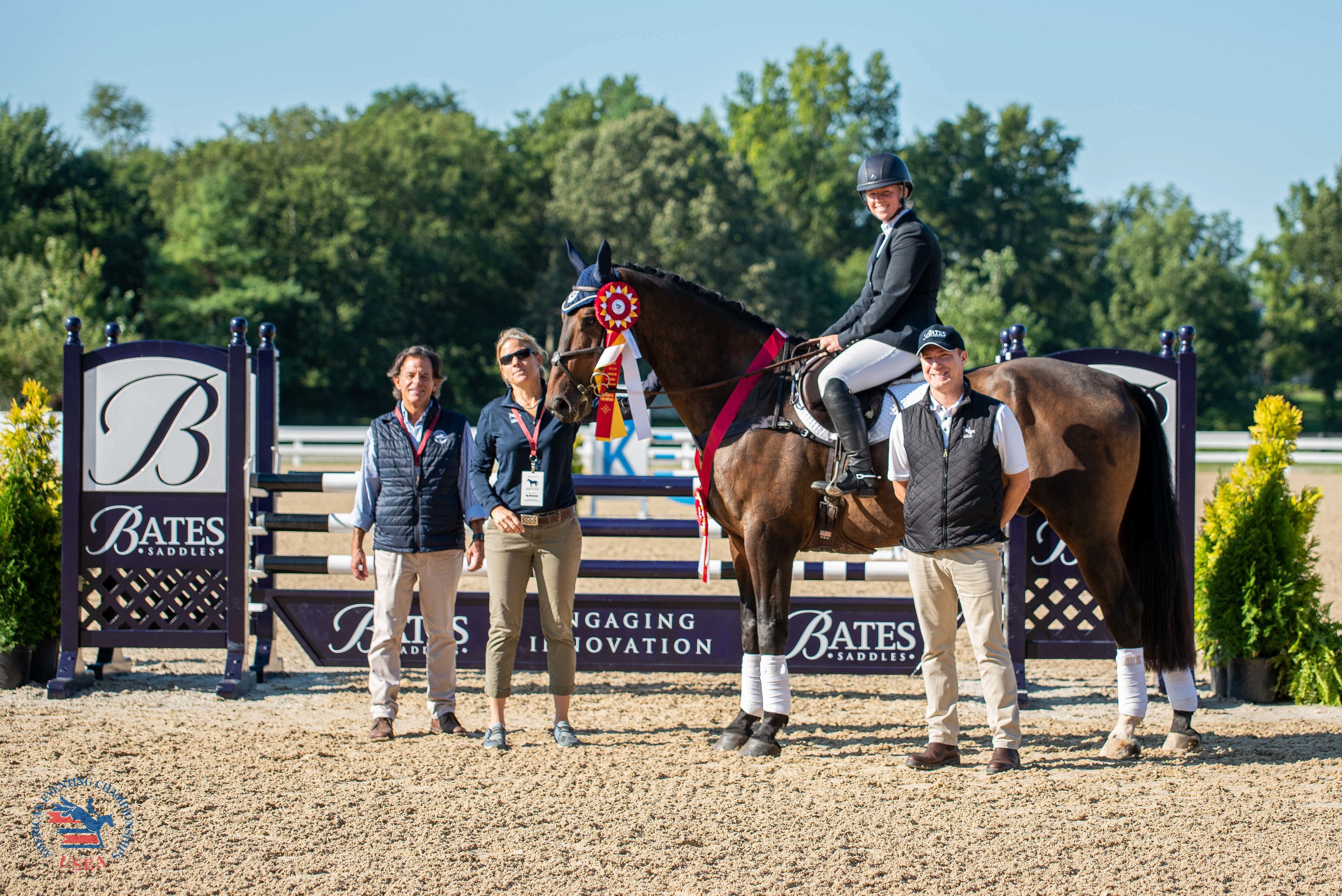 Sallie Johnson and her 7-year-old Irish Sport Horse gelding (Finnanloon Flight x Finnan Scarlet) Fermhill DiCaprio made an impressive leap from seventh place to second by crossing the finish without adding any additional penalties to their prior score of 35.8.
"To be honest, I didn't feel like that was my best piece of riding," said Johnson. "My nerves definitely got to me, but my horse is amazing; he just absolutely tried his heart out and was careful enough to leave all of the fences up."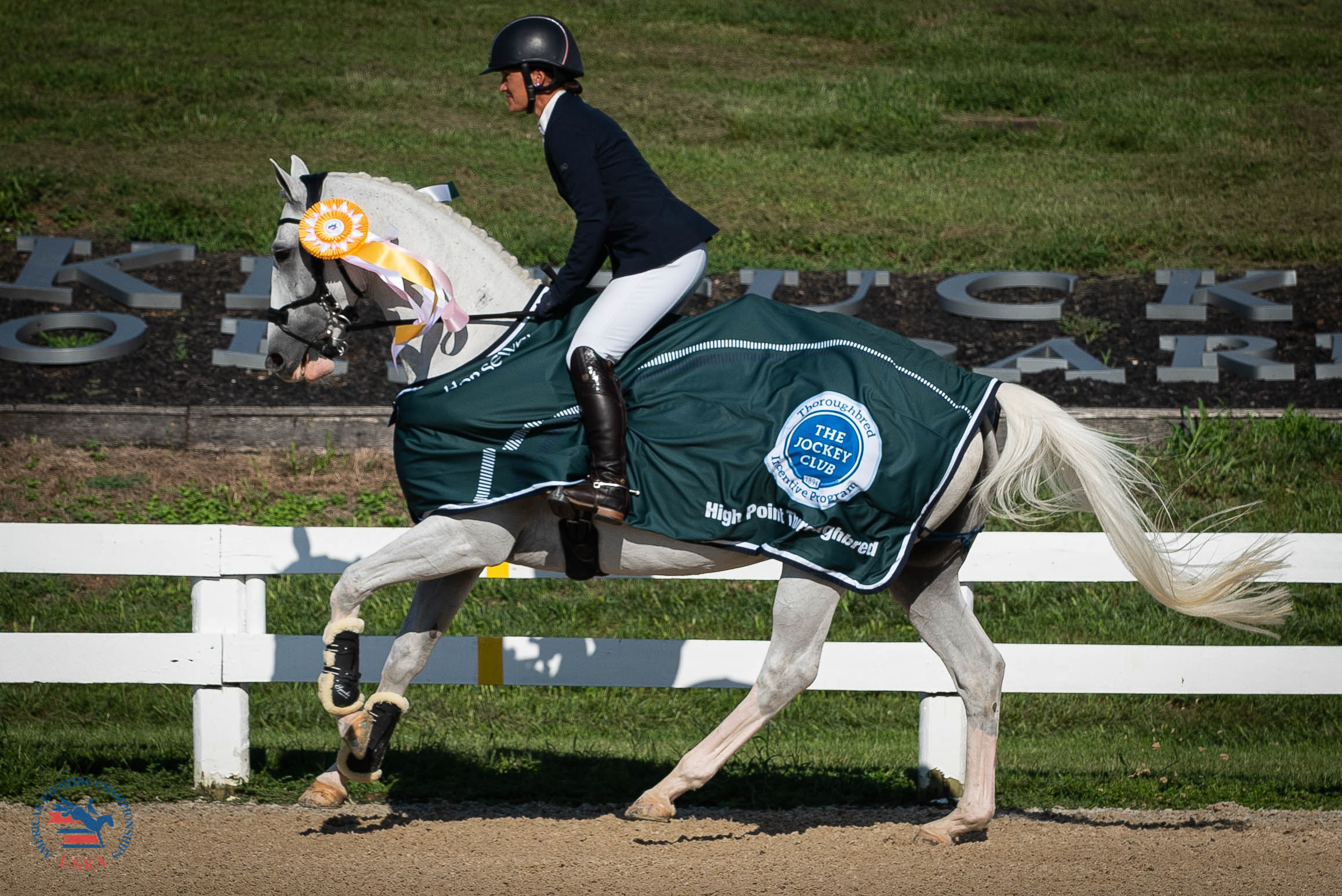 Rebecca Hunt and Snowflake Lane joined Miller and Johnson in a clean show jumping round finish to advance from the 13th position and round out the top three on a final 37.2. The 9-year-old Thoroughbred mare (Dunkirk x Correoso) mare was also the recipient of the Thoroughbred Incentive Program (TIP) high point award based on cumulative points acquired over the previous days of competition.
"I got my mare straight off the track as a 3-year-old and it has really been a journey since she is 9 years old now," Rebecca said. "She is very special to me."

Bates USEA Preliminary Junior/Young Rider
Determined to hold on to her pinnacle position on the final day, young rider Vienna Allport fearlessly navigated the show jumping phase with DHI Zatopek B to maintain her previous score of only 28.3 for the win.
"We had a bit of a hard rub at the first fence, but other than that the round felt great," explained Vienna. "He was a bit of a live wire with the atmosphere, but he has a lot of experience so while he was forward, he still felt like he was riding great and jumping amazing."
Vienna is no stranger to the competition at the AEC, but both the Preliminary height and the partnership with her gelding are new developments for her.
"I came straight off a large pony to him so it has been an adjustment, but he has all of the experience," she stated of the 17-year-old Dutch Warmblood gelding (Lando x Scaramouche B).
In an impressive feat, Cassie Sanger snatched up the remaining podium positions with Caroline Martin's Danger Mouse and her own Redfield Fyre respectively. Cassie had taken over the early lead of the division with the experienced 13-year-old Dutch Warmblood gelding by Kannan, Danger Mouse, after the dressage phase but dropped into fourth the following day with an unfortunate eight time faults. The pair picked up the pace today to make their way to second place with no penalties in the show jumping.
"Danger Mouse is an absolutely incredible horse, and I'm so lucky to have him as I'm coming up the levels," Cassie emphasized. "He is used to the energy and excitement here because he has done it at the upper levels so many times that as long as I can help keep him from getting tense he will perform great."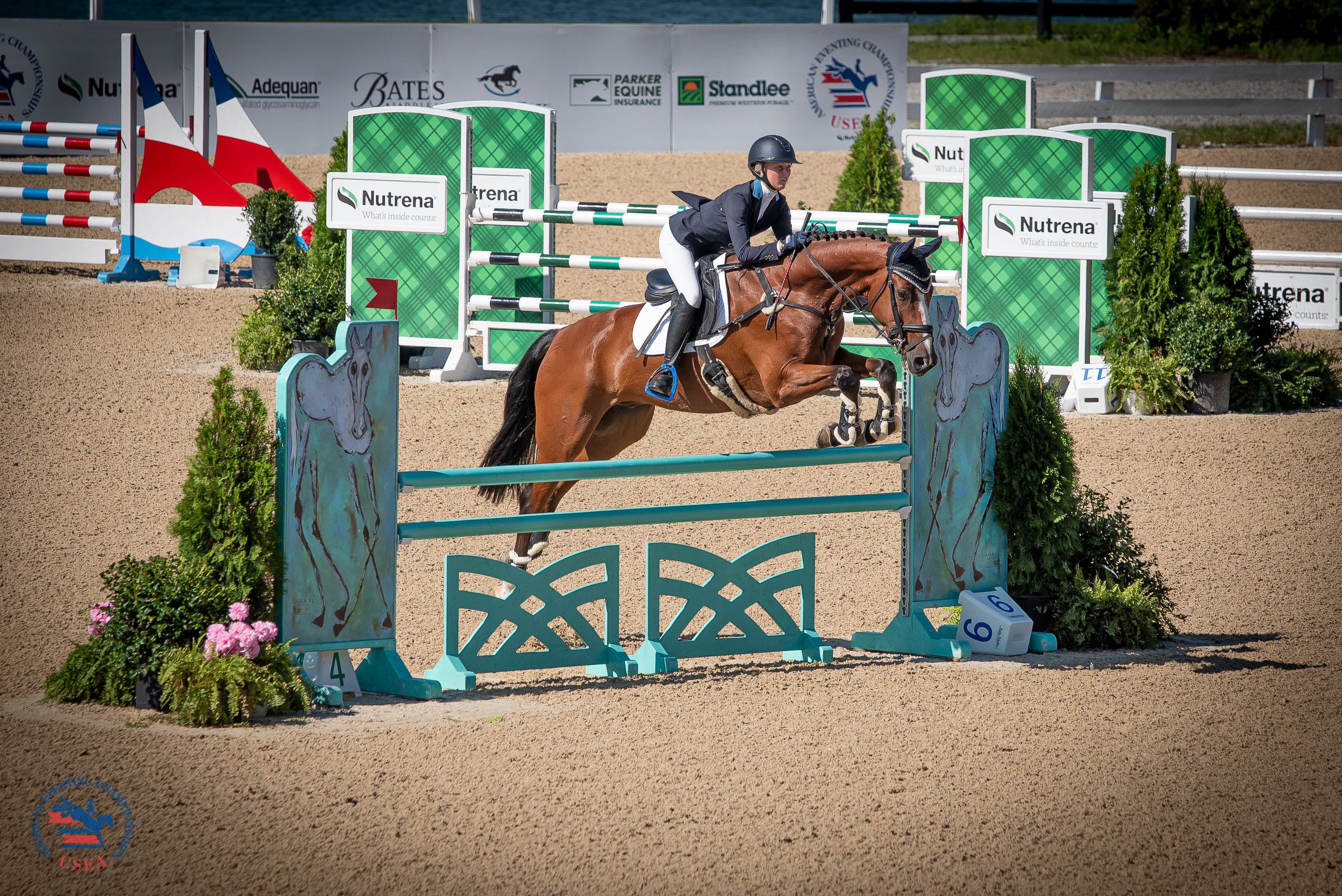 On a roll, Cassie then calmly piloted her self-produced 8-year-old Warmblood gelding, Redfield Fyre, across another clean round which was efficient enough for the third-place honors.
"This is Redfield Fyre's first season doing the Preliminary height so he is quite green but nothing really phases him," she said. "I have produced him up the levels and he has really gotten so much stronger this year so as long as I ride well he is definitely able to produce a clear round."
Elle Kay Lane and the 17-year-old Thoroughbred gelding (Silver Charm x Do It) Double Dare earned the TIP award in the division as the top placed off-the-track Thoroughbred.
Bates USEA Preliminary Amateur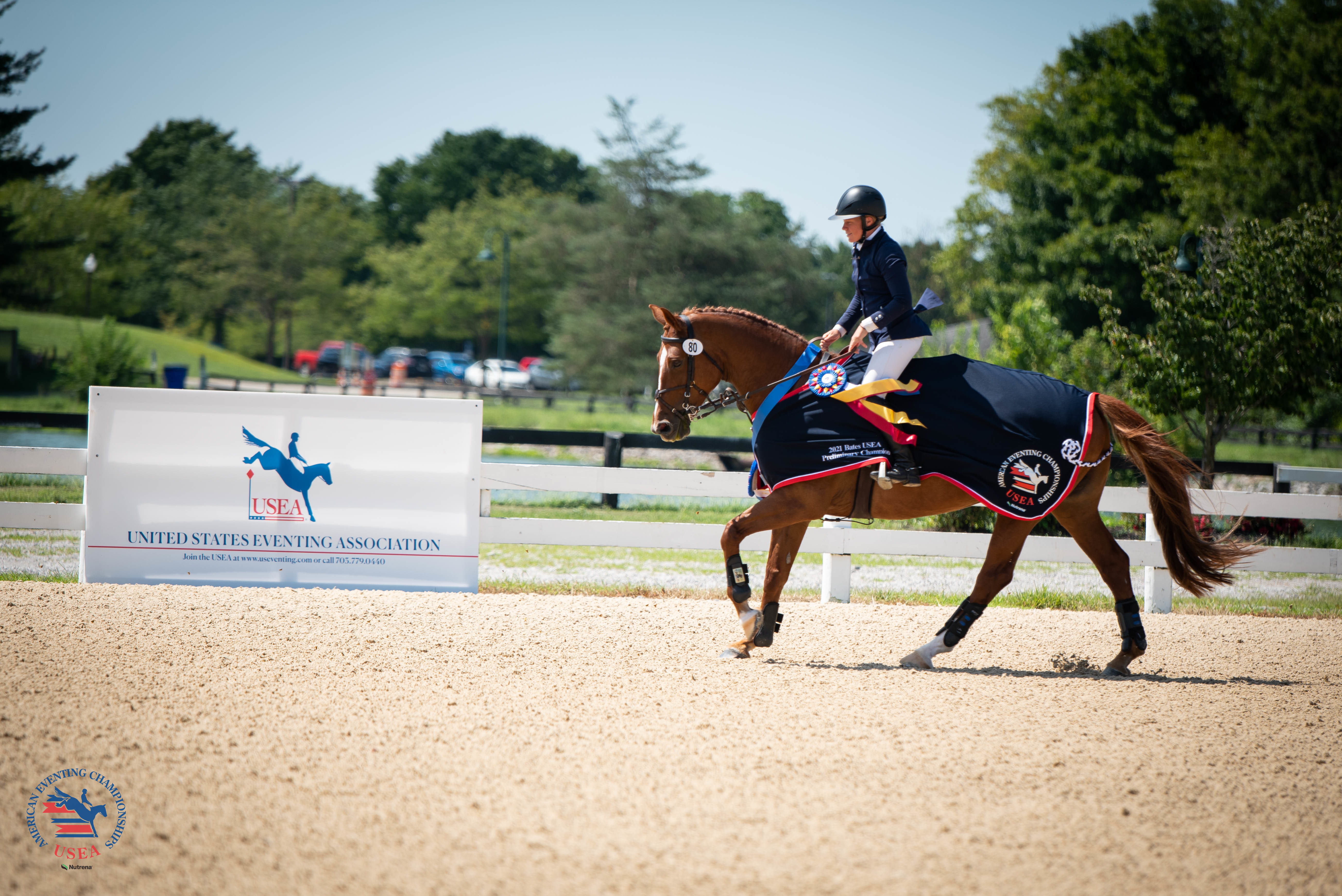 Holding tight to her lead from the combined dressage and cross-country scores, Arden Wildasin defended her title as the Preliminary Amateur division champion, this time with Southern Sun. She and Sarah Wildsain's 11-year-old Irish Sport Horse gelding (Boherdeal Clover x Birdhill Lady) moved up in the placings from third to first after the previous day's cross-country efforts and performed a tidy round in the show jumping phase to land on a final 24.2.
"Today's show jumping phase was definitely nerve-wracking and we had had the technical error of not quite finishing under the time yesterday," she detailed. "I really rode forward today especially because he can be a bit spooky if allowed to look around, but he was really right there with me the entire time today which was an incredible feeling to have after the years we have put in together."
As for the gelding's future, Arden plans to continue to compete him up to whatever level he is most comfortable, stating that he would tell her when he had reached the end of his comfort zone and she would always base her plans off of his best interests.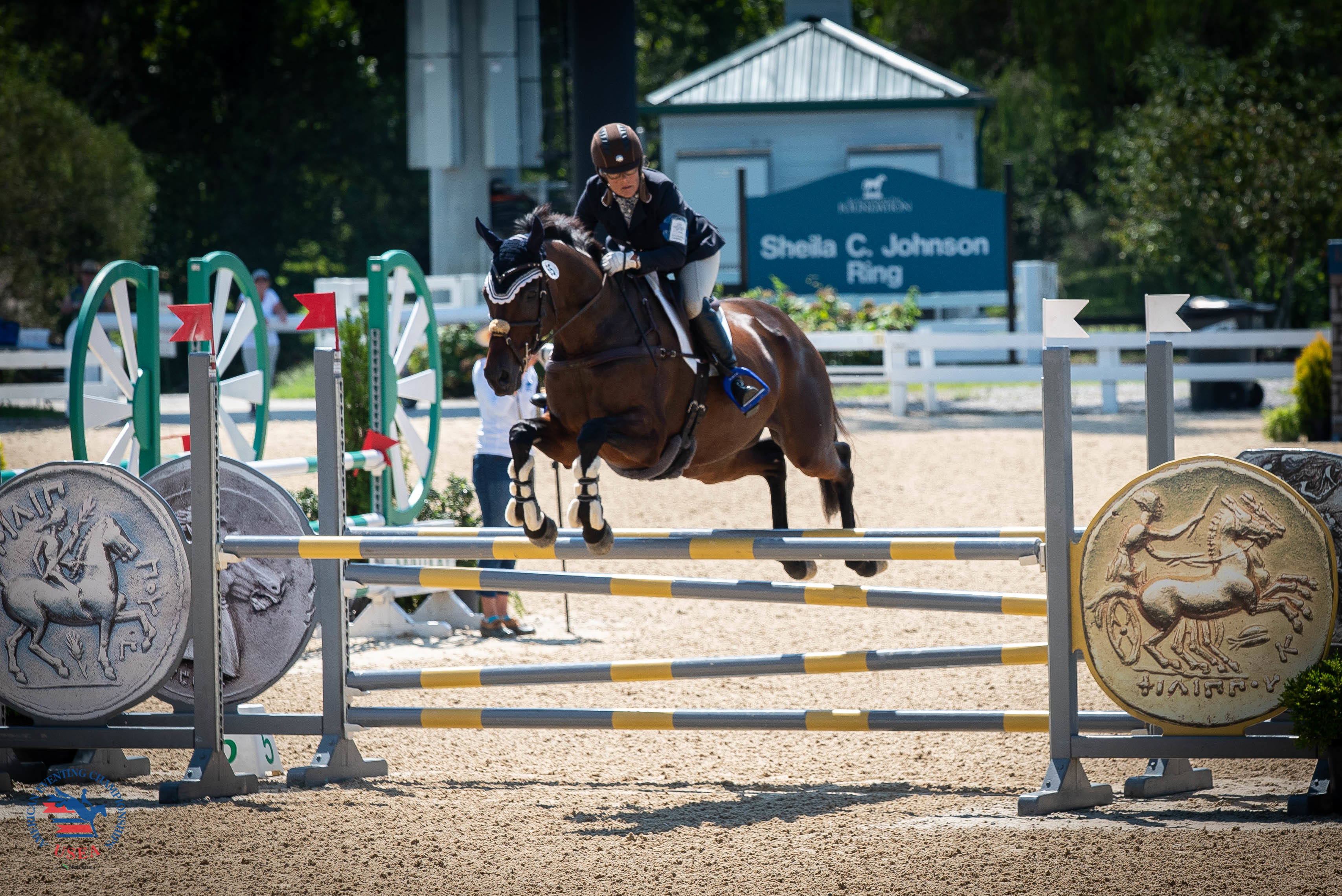 Lisa Borgia moved up from third to second place to earn the reserve championship ribbon after a flawless round left her and Silmarillon on a total of 27.4
"He is extremely honest, but he has a little bit of first-fence phobia," Lisa said of the 8-year-old Thoroughbred gelding (Joey Franco x Lil Mo Rhythm). "I was really pleased to see the first fence was as inviting as it was and that gave me a lot of confidence coming into the round itself. Overall, he has been phenomenal this weekend from his dressage test Tuesday in the pouring rain to his performance today."
Silmarillon was also the TIP winner of the division with the lowest score of 27.4.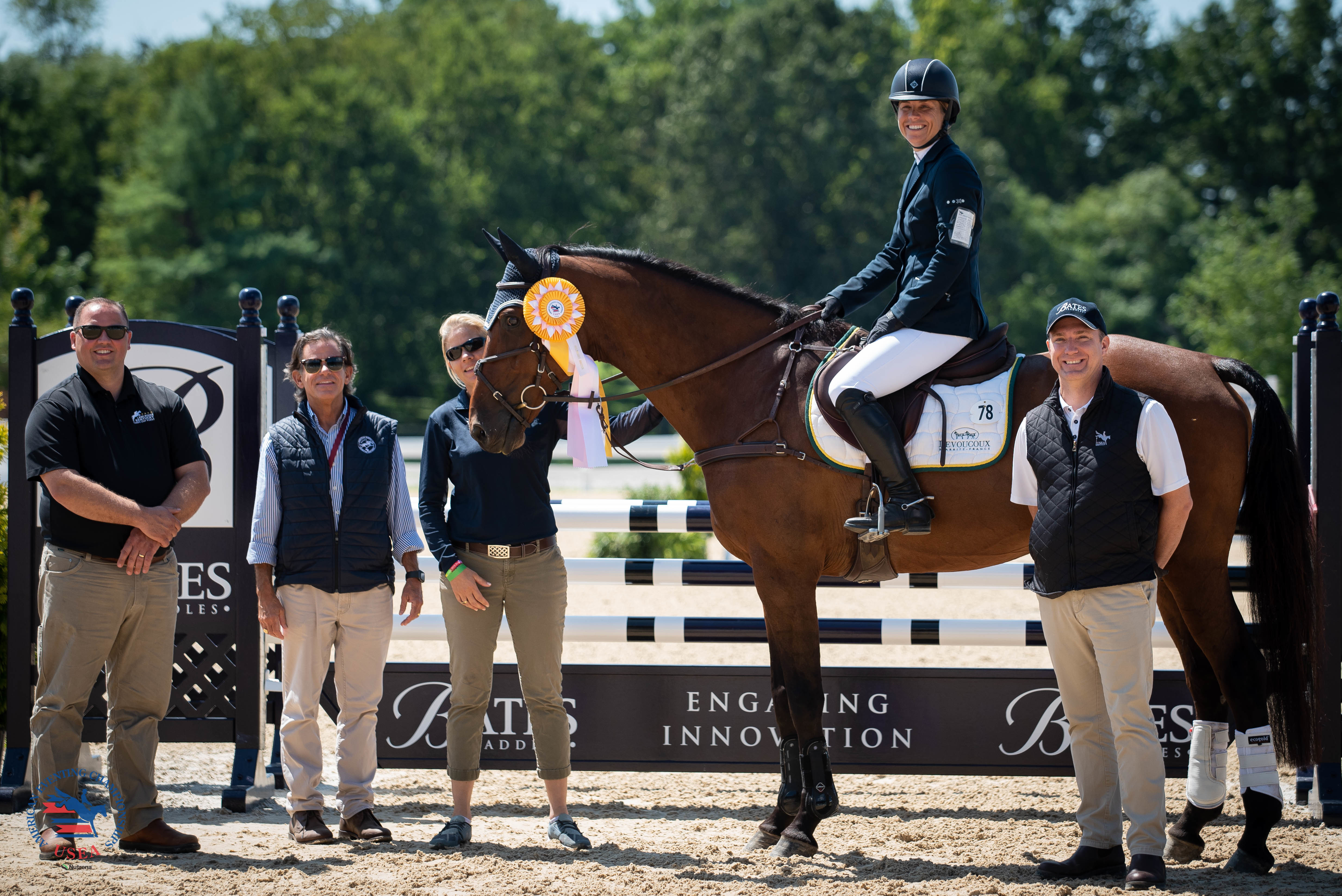 With one unfortunate rail in the final phase, Michelle Koppin and the 8-year-old Holsteiner gelding (Carass x Z-Whitney) Calcourt Valley dropped down to the third place position on a finishing score of 29.6.
"I am disappointed about the one rail we had but otherwise I feel like we had a pretty solid round today despite that," Michelle affirmed. "He jumped super and unfortunately I think just took a peek at the grandstands and got a bit flat on fence four. Even so, he gave me the best feeling to be able to jump around in this big ring with how little we've done so far and being relatively new to each other. I'm very blessed he is such a genuine horse."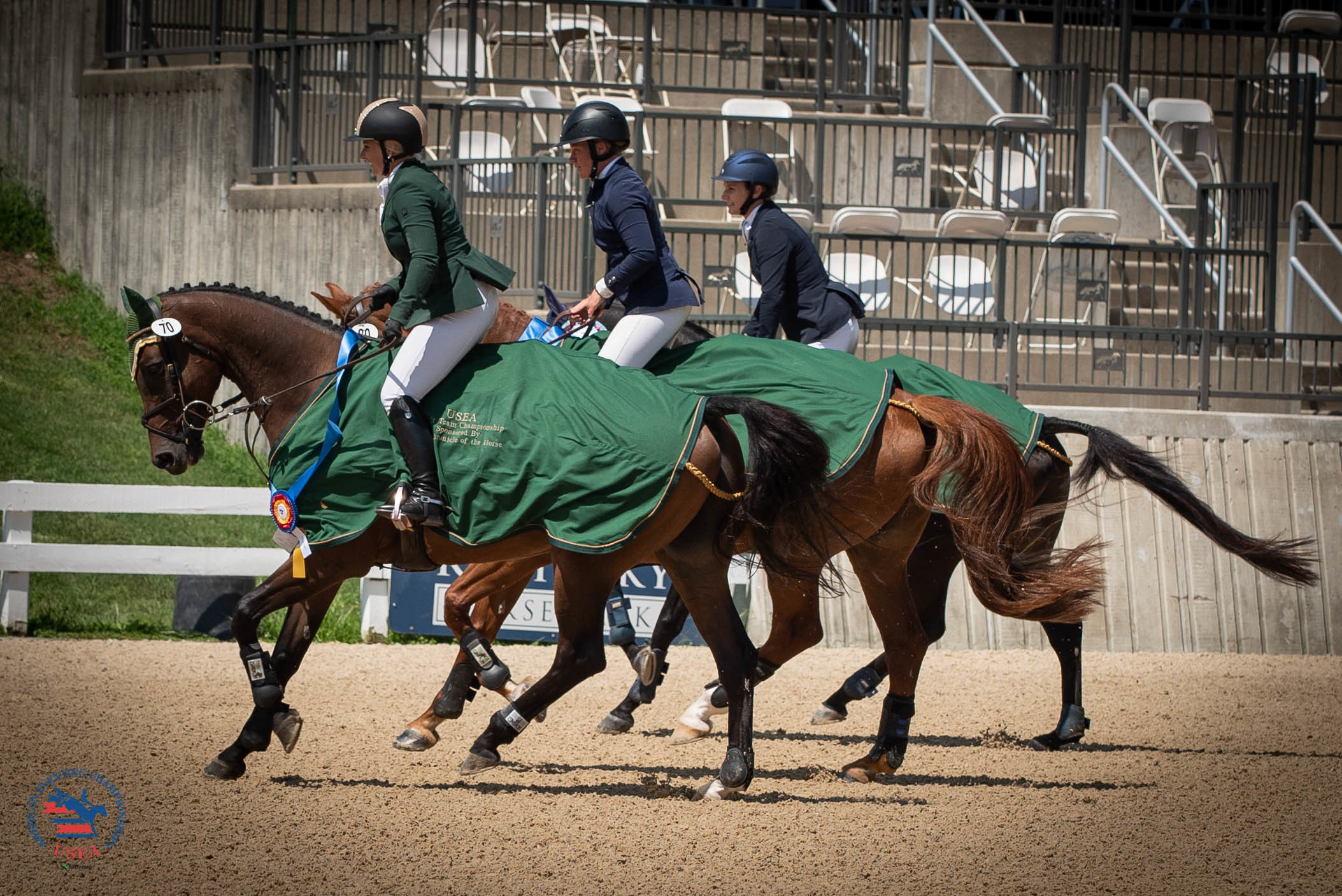 Arden managed to manufacture a double-victory in the Adult Team Championships as team Wild Kat Nellies consisting of Arden Wildasin with Southern Sun and Tokyo Drift, Wisti Nelson and Mr. Barron, and Katlyn Hewson-Sleazak with Fernhill Choco Royale totaled a final team score of 95.9 for the win.
Bates USEA Preliminary Horse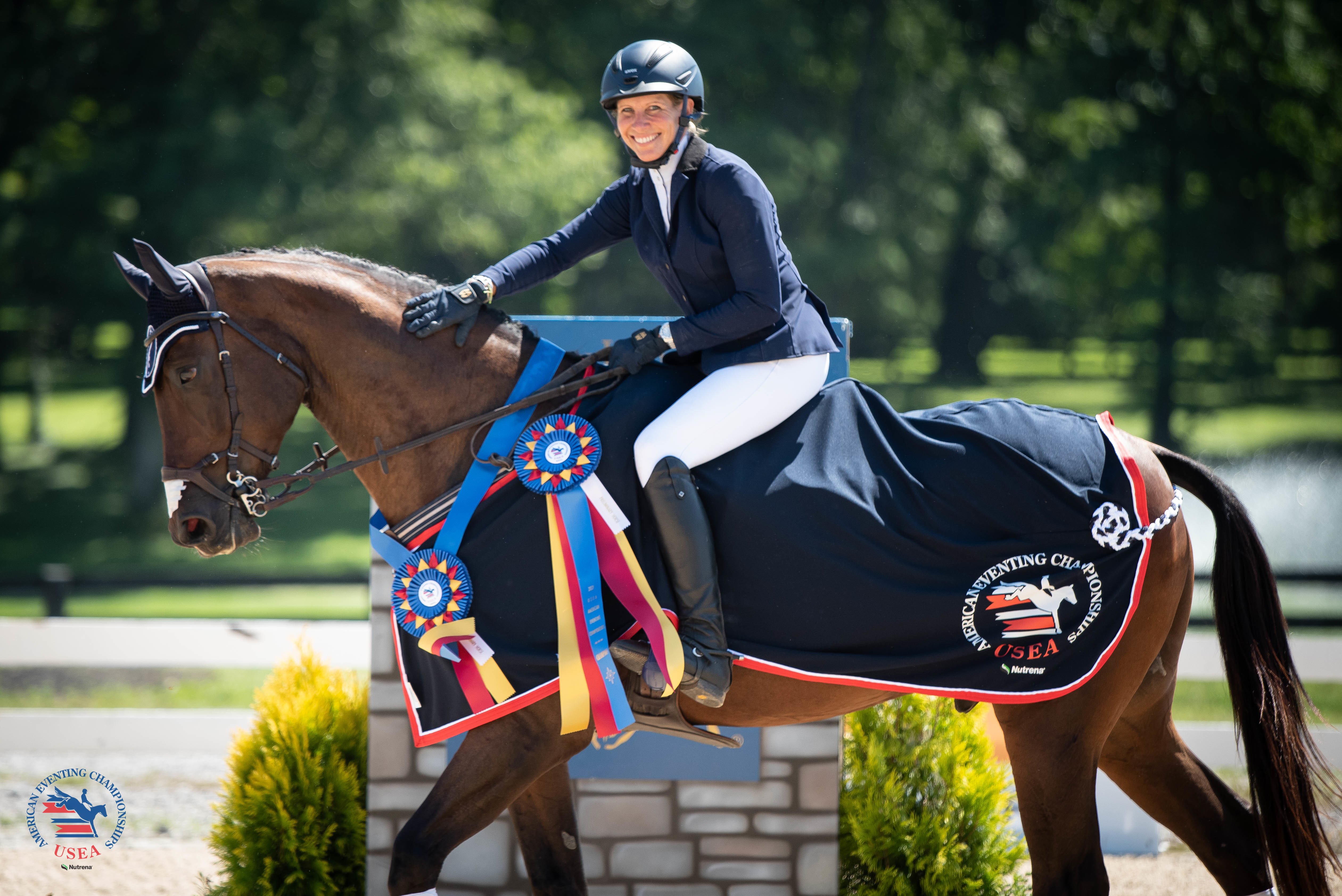 Seasoned professional Liz Halliday-Sharp and her talented mount, Shanroe Cooley, held the lead all the way to the very end in the Preliminary Horse division. From the start, the 6-year-old Irish Sport Horse gelding (Dallas x Shanroe Sapphire) set himself apart from the crowd, picking up a lead of almost two points over the rest of the division with 28.5 and maintaining flawless performances in the remaining phases.
"He is an incredibly unique young horse in the way that he is not phased by a big atmosphere or energy," said Liz. "This was a huge class and obviously I came here hoping to do well but it's even nicer to have been able to lead from the start."
No stranger to producing top horses, Liz has big goals for the Ocala Horse Properties' gelding. "I think the world of this horse and there is no doubt in my mind he has a really big future. Richard Sheane of Cooley Farms looked me dead in the eye when I got him and said 'you aren't going to want to sell this one' and he was definitely right."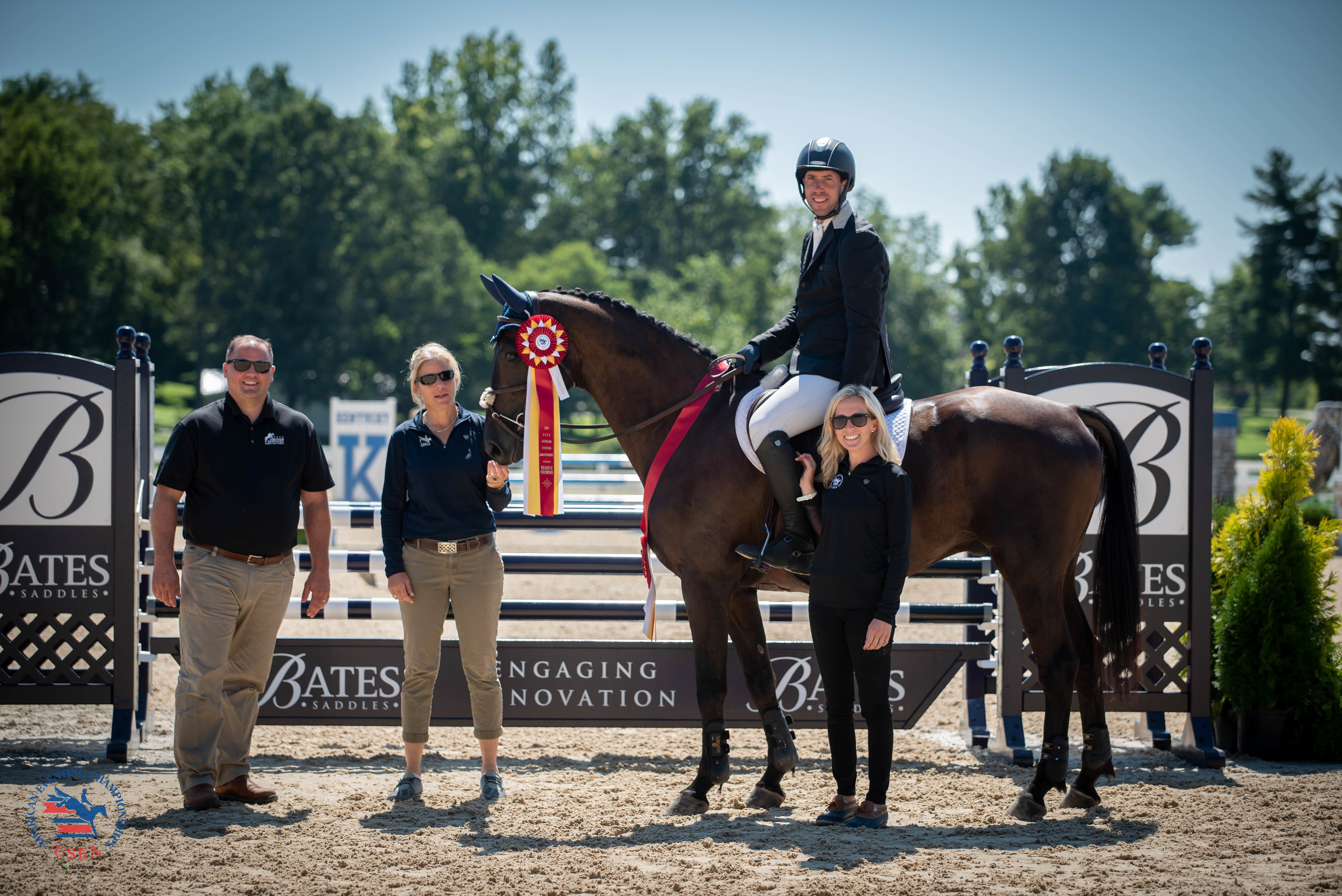 Martin Douzant piloted the 6-year-old Swedish Warmblood gelding Olympus (Ferro x Kallisto) up to second place from the sixth position by clocking in under the time allowed with no jumping faults to maintain his original score of 30.4.
"We have had Olympus since he was a 2-year-old so he has been a part of our program for a long time now," Martin stated. "It is so rewarding to see him being successful at this level now
After a successful upbringing with Douzant, plans are in the works for Olympus to return to owner Gillian Kingsbury at the end of the season.
"I am so thrilled, this has been a wonderful way to finish our partnership and season," Douzant finished.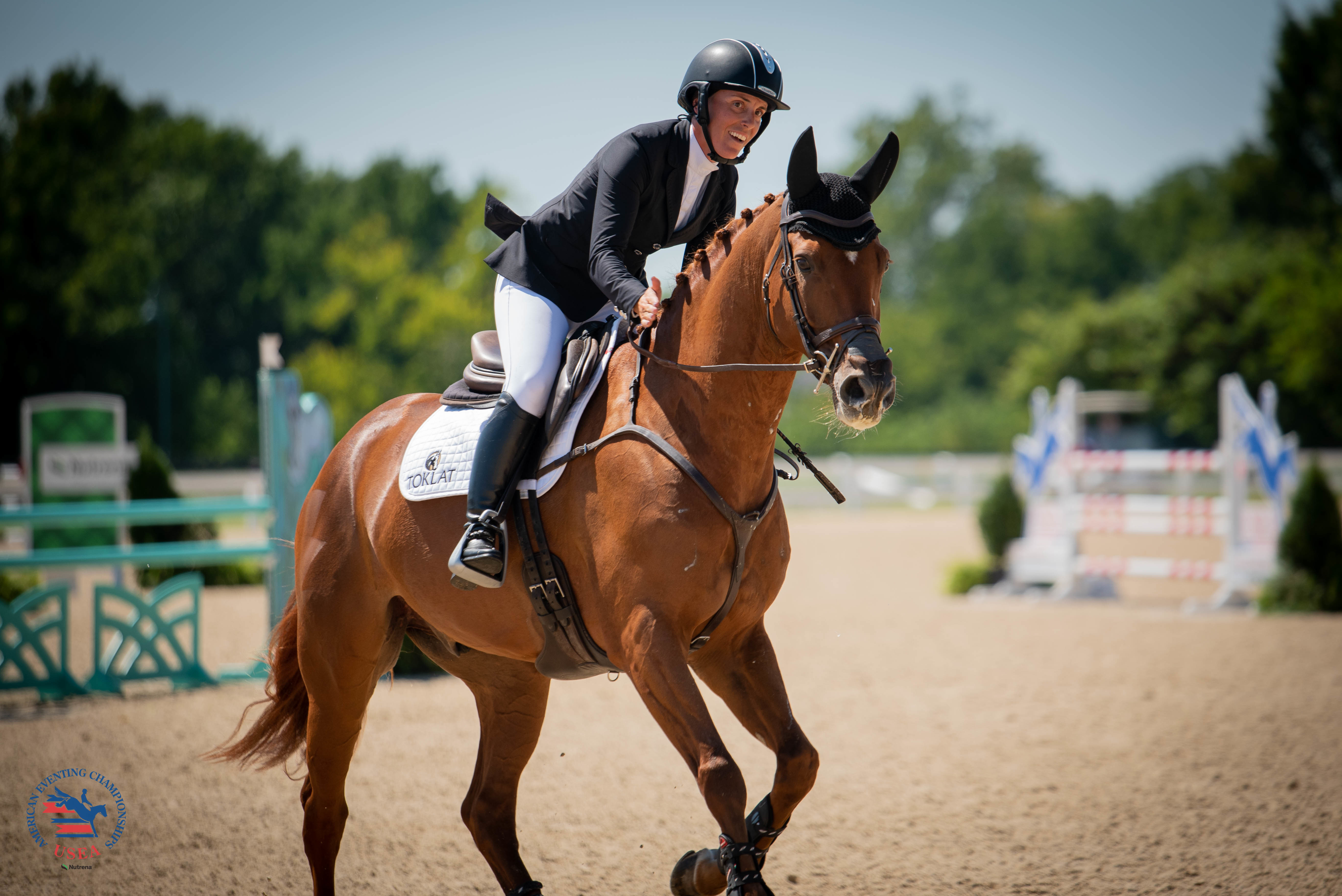 Dana Cooke and FE Quattro made the biggest leap of the division, trading in their position at the 12th spot to take the yellow ribbon. She and Diana Crawford's 7-year-old German Warmblood gelding rounded out the top three fault-free scores with a final penalty of 31.4.
"I acquired FE Quattro basically the first week he got to the United States as a 5-year-old and he has quickly proven to be a very fancy little guy," commented Dana. "He has taken a little bit of time to mature mentally but he really stepped up this weekend and was quite good everywhere."
Dana added, "I think he has hopefully a good career ahead of him to return to this event and then potentially to be on the team for the Canadians at some point down the road."
Vetoquinol USEA Modified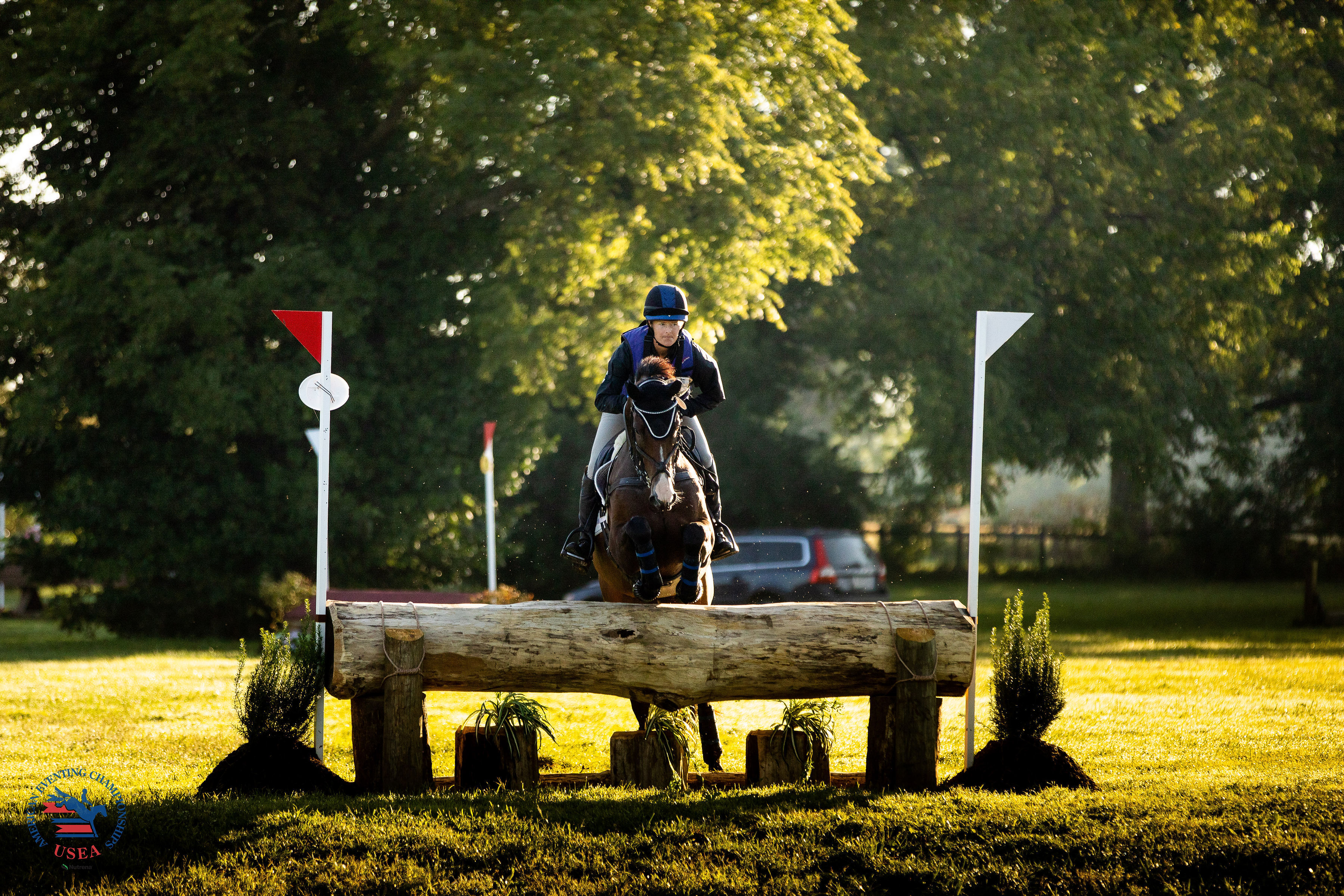 Though Julie Wolfert says dressage is Namibia's best phase, the 5-year-old Thoroughbred gelding (Tizway x Kitty Tracks) stepped up to the plate on cross-country Thursday, achieving a double clear round to hold the lead of the inaugural Vetoquinol USEA Modified Championship.
"He was pretty good out there. Yeah. I mean, he was stellar — foot-perfect. Probably his best round ever," said the Bucryus, Kan. resident of her ex-racehorse. "There were a few jumps still early on that you really couldn't see until about two strides away because of the sun. And so I was a little worried you wouldn't read it, but he was on game. It was really great exposure for him."
Wolfert and Namibia carry a two-phase score of 25.2 into show jumping.
The top three remain the same after the second day. Fall Creek, Ore.'s Audrey Ogan and Second Amendment, a 6-year-old Dutch Harness Horse (Colonist x Allie) owned by Ogan, added nothing to their score of 27.6. Martin Douzant, of The Plains, Va., keeps third on a score of 28.5 aboard his own Beall Spring Seahawk, a 6-year-old Swedish Warmblood by Shakespeare RSF.
Training Amateur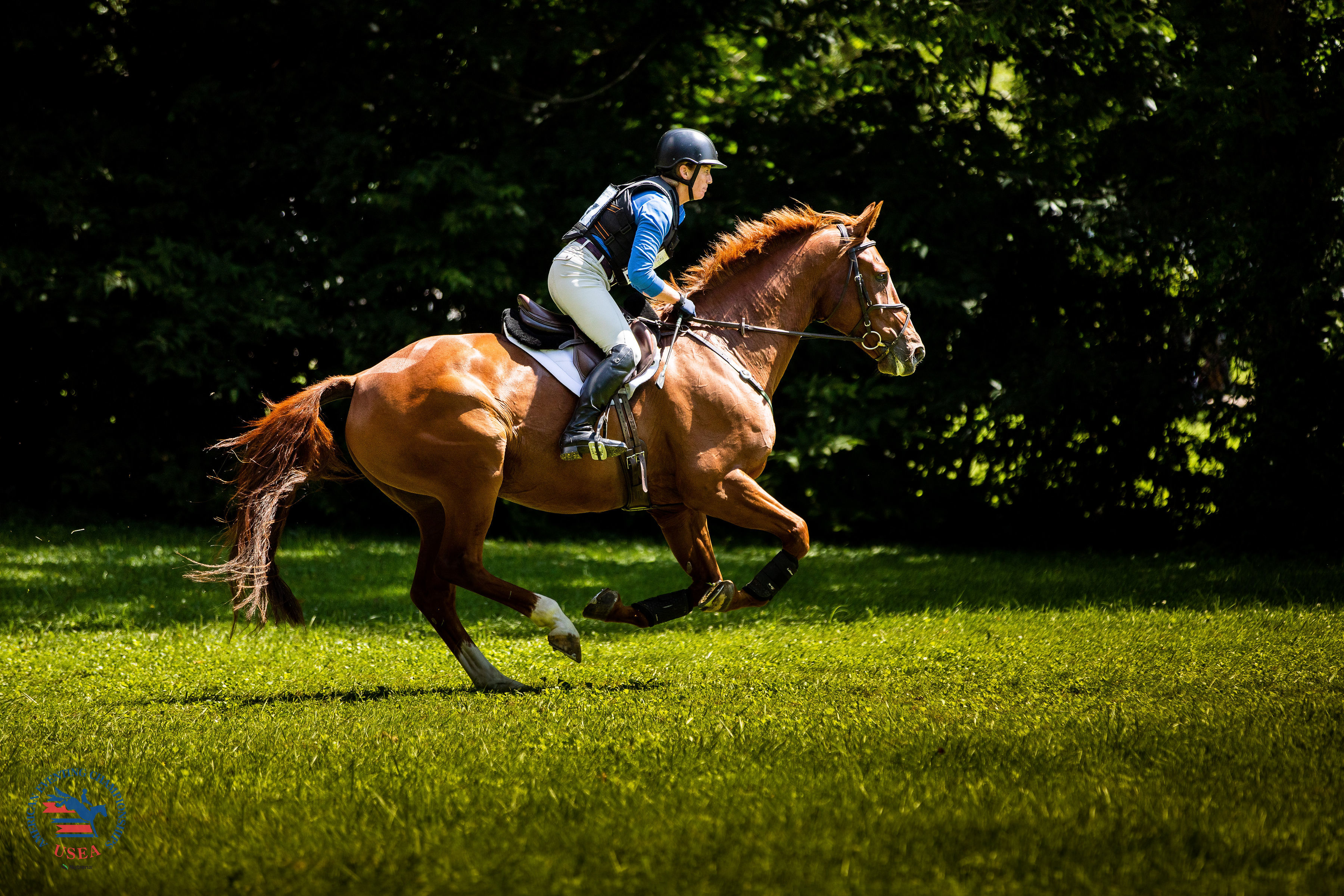 Lisa Niccolai almost didn't make the trip from East Thetford, Vt. due to concerns about the weather following Hurricane Ida, but after Thursday's cross-country, she's pretty glad she did. Piloting her own KC's Celtic Kharacter, a 7-year-old Zweibrucker gelding (Kharacter C x Tessa), she steps into the lead of the USEA Training Amateur Championship.
Lisa has had the big-bodied chestnut since he was 3, and now she feels like the partnership is rock solid. "That's made a huge difference for us to like. We've done everything together. So we know how he's going to respond to things, and he's really stepped up this year and kind of said, 'I get it. I understand the game now,'" she said.
The pair went fault-free to stay on their dressage score of 27.6. "We've had trouble making the time in the past. And I was a little nervous about that, but he was beautiful galloping, and he just opened up and had a great time," she said.
Tracey Corey and Katherine Rivera share second place on the identical score of 28.3 with both having gone double clear on cross-country. Corey, Ocala, Fla., is piloting Byrnwyck West, a 15-year-old Thoroughbred (Devil His Due x Heirloom Wish), and Rivera, Hempstead, Texas, is partnered with her 7-year-old Irish Sport Horse (Dream Boy M x Highland Lady C) Hvl Hocus Pocus.
Training Horse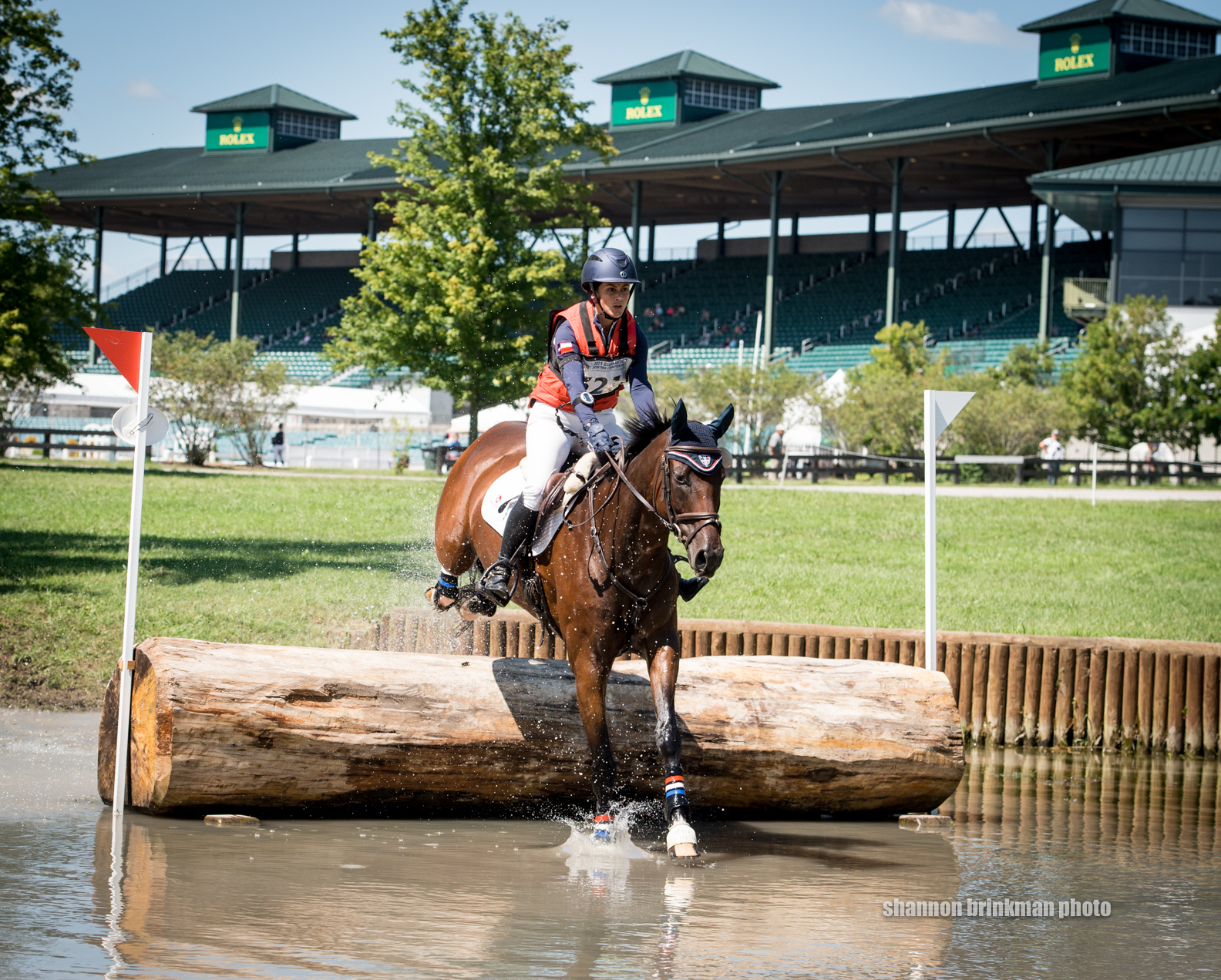 Laurent Lambert and Biscotti, Elizabeth Rader's 9-year-old Rheinland Pfalz-Saar gelding (Beniditto x Hey Nurse) held on to their first place position in the day's cross-country phase. Confidently navigating Derek di Grazia's turf track inside the optimum time of 5 minutes and 31 seconds, Lambert held on to his dressage score of 24.3 and will attempt to do so in tomorrow's show jumping element.
Both Lauren Nicholson and Lynn Symansky successfully piloted their mounts to an uneventful finish over the track to hold on to their second and third place titles respectively. Nicholson is aboard Jacqueline Mars' 7-year-old Irish Sport Horse gelding (Windfall x Ferari) Windchase Starfire in tomorrow's show jumping phase while Lynn Symansky rides Linda Graves and Alice Lawaetz' 7-year-old Oldenburg gelding Bounce 6 (Balou Du Rouet x Fillana).
Junior Training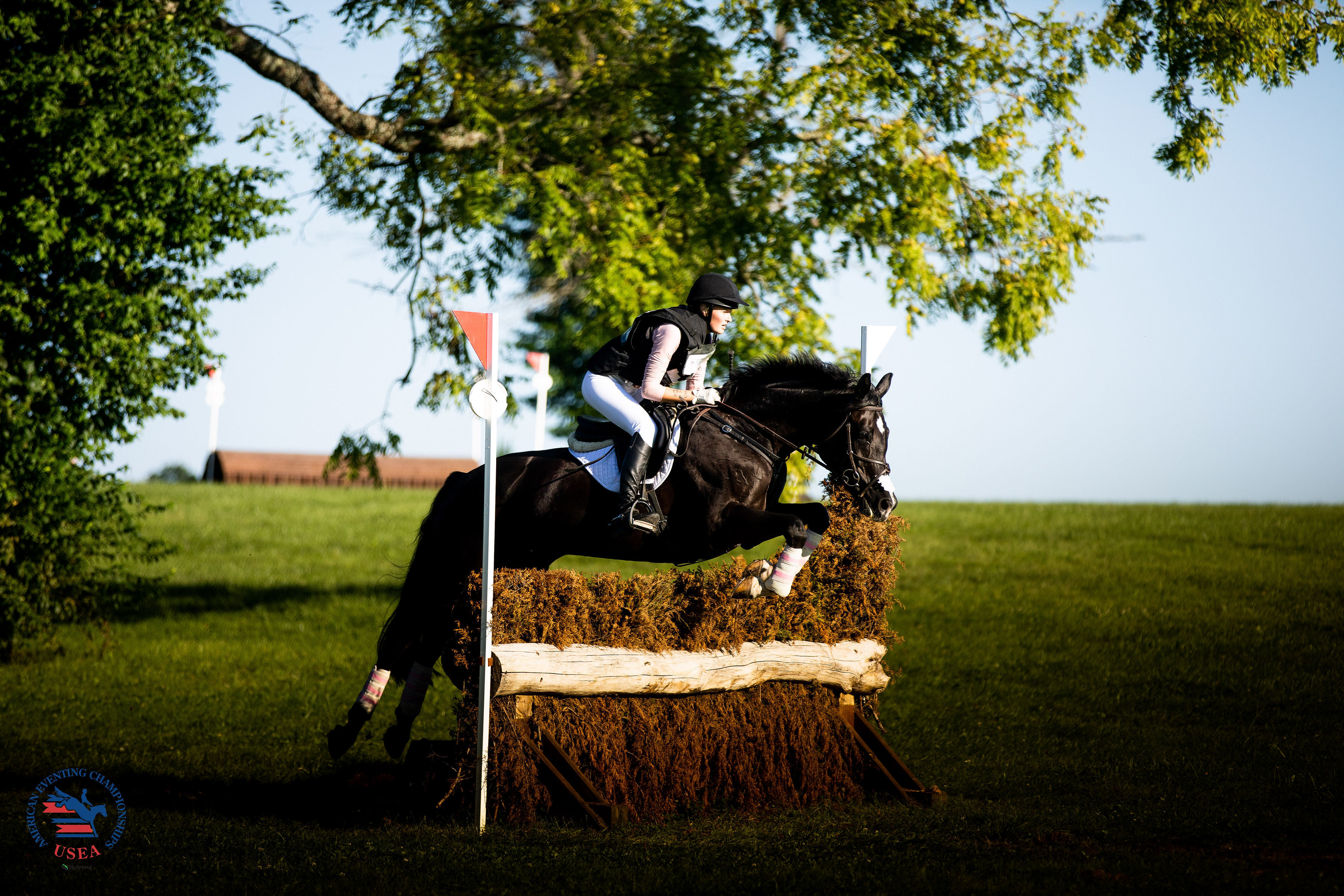 Yesterday's leader in the Junior Training division Shelby Murray and Laurel Ritter's 9-year-old Oldenburg mare (Rotspon x Chatari) Reverie GWF added 0.4 to their original 22.0 but managed to maintain a five point lead following cross-country.
The runner-up was previous third-place holder Isabella Novak and Jessica Novak's 10-year-old Irish Sport Horse gelding (Cobra x Don Diamond Girl) Dreamliner on a total of 27.2. Riegelsville, Pennsylvania's Juliana Cassar tied with Novak for the title on her own 11-year-old Holsteiner gelding.
USEA Training Rider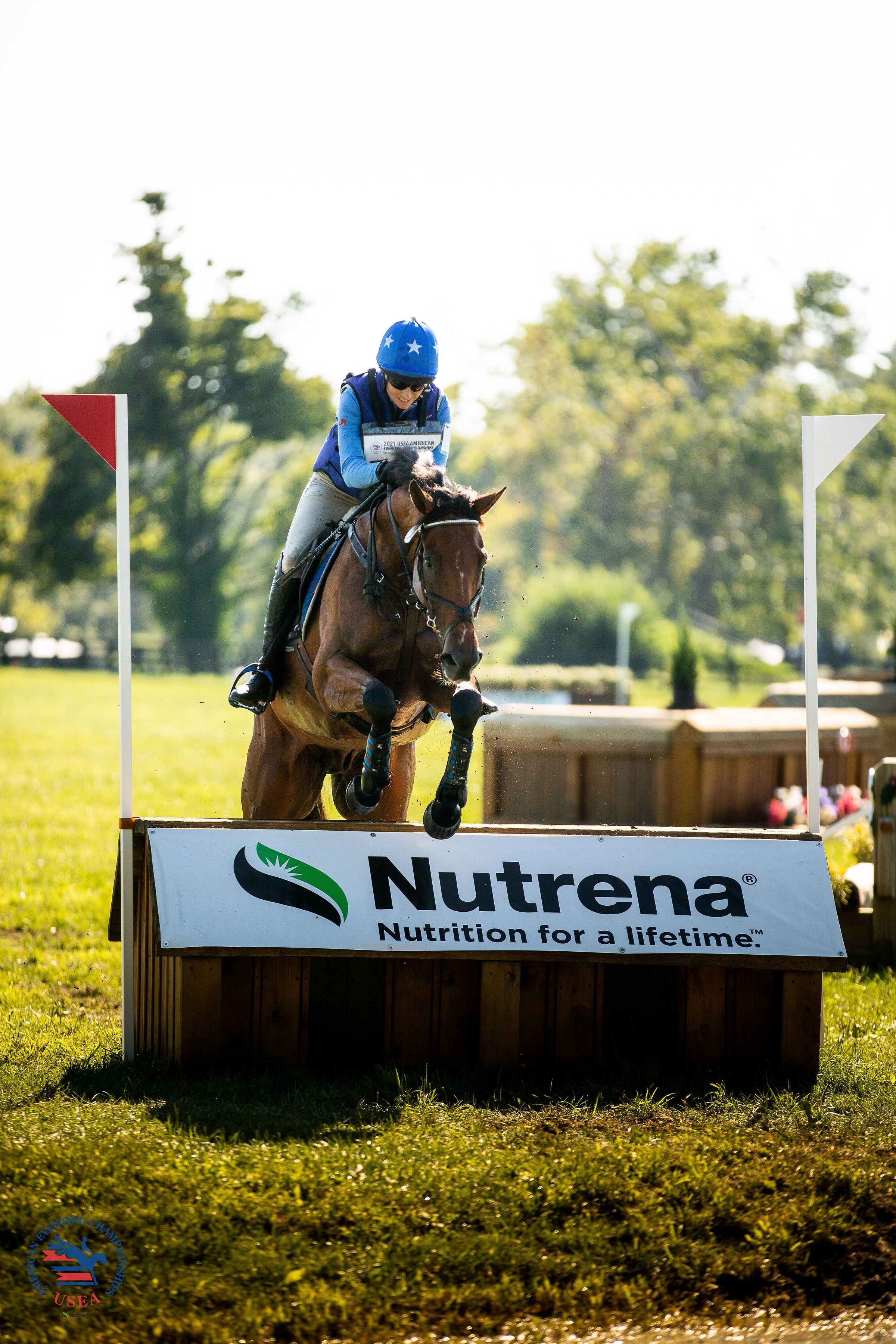 Amanda Ruane overtook previous class leader Lauren Alexander in the day's Training Rider division with her own Castle's Boy. Ruane and the 9-year-old Thoroughbred gelding (Windsor Castle x Ladies) made it through the track without fault to hold on to their original dressage score of 29.7.
Katie Sisk and the 5-year-old Hanoverian mare (Rapture R x Demonet's Darling) Long Legs Lenore elevated their position from third to second after also producing a fault-free effort over all obstacles and finishing on 30.7. Amanda Smith and Martha Lambert's 7-year-old Thoroughbred gelding (Majestic Warrior x Gaslight Gossip) landed in third with 31.1 penalty points.
Tomorrow the attention turns to the Rolex Stadium as the Modified and Training riders finish their weekend with show jumping.
#AEC2021: Website, Schedule, Stabling, Ride Times, Live Scores, Live Stream, Program, Live Stream, Course Maps, EN's Coverage, Twitter, Instagram
Comments