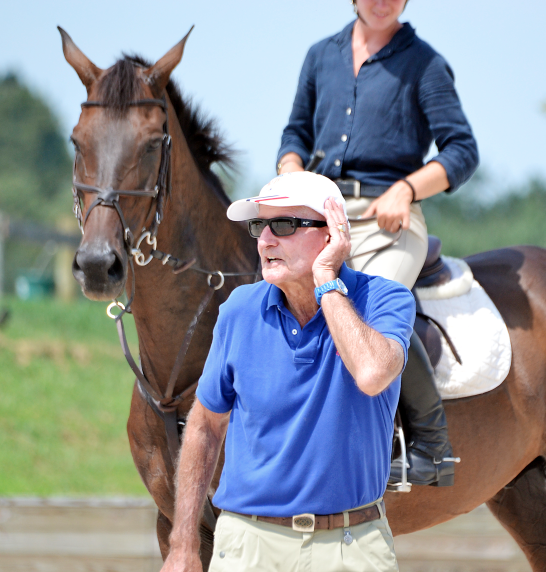 The George Morris Horsemastership Training Session at the Palm Beach International Equestrian Center in Wellington, FL wrapped up yesterday. If you didn't have a chance to tune in live for five days of fantastic education and entertainment all at once, the USEF Network is replaying the sessions at this link.
Horse Nation did excellent daily recaps of the Training Session. We'll show you a brief overview here, but I encourage you to scoot over to this link and read Amanda Uechi Ronan's complete coverage, which includes video clips, her favorite daily exercises and lists of the best new George-isms.
George started off by focusing on flatwork the first day, with transitions and lateral work being the main exercises. "Basic dressage, we can't ever learn enough. It makes the horse ready to listen," George said.
Beezie Madden, who George said is one of the best in the history of the sport, made an appearance that day to teach and demo. She stressed that while the mantra is usually "more leg" what it should be is "more effective leg."
Day two was gymnastics day, which was the opportunity for the rider to concentrate on what their body was doing and remain still and quiet while the horse learned to think about the exercise and be quick with their feet. "Keep the pace and position," George said.
On day three, "George was throwing down truth bombs like nobody's business," Amanda writes. Correct total body position was the only option, and tough combinations left some riders struggling to find the perfect distance. "There is not a bad distance. There is a difficult distance," George said.
He didn't want riders fiddling around with their distance right in front of the fence. "Get there, see the distance, do nothing."
Day four is the day I'm sure the riders diligently practiced for ahead of time. This was they day the left the stirrups in the barn, and George still expected correct, effective positions."Practice doesn't make perfect. Perfect practice makes perfect."
No stirrups at #GHM2015 today. Wonder if GM does a little evil chuckle when he gets up on this day…

— KJ (@eventer007) January 2, 2015
Spectators were treated to multiple stirrup-less demonstrations from George. As he worked with each horse, he took note of their personalities and habits. He reminded riders that each horse is an individual, and according to their individual needs you'll ask for varying degrees of improvement as you train them. "The physical and mental nature of the horse takes precedence over training."
On the final day of the training session, the work from the previous four days was put together as riders jumped full courses. I tuned in for about 10 minutes and the one thing George said over and over was "fix your stirrup."
If you ever read George's "Jumping Clinic" column in Practical Horseman, you'll know he likes the stirrup to be lined up on the ball of the foot with the toe pointed out 15 to 45 degrees. And it should stay there.
George has a reputation for being, erm, tough on his pupils (he calls it "particular"). And yet, when mistakes were made (rails, refusals, etc.) they were not met with shouts and insults, but were presented as learning opportunities. "That's okay…mistakes teach us!" he said. By that logic, it's comforting to know that George Morris must have made a lot of mistakes along to way to get as good as he is now.
"I like horses. Most all horses. I like very few people." -George Morris #GHM2015 — §table Relationship (@DatingMyHorse) January 2, 2015
To summarize, Amanda writes: "I've been watching these training sessions since 2011, when they first appeared on the USEF Network. I think this year had one of the most varied group of riders and horses ever presented, both in rider skill level and types of horses. George transformed his teaching style to suit the needs of every pair with remarkable ease. Timid riders heard the phrase, 'Be aggressive!' all five days, while more confident pupils heard him constantly say, 'Soft, soft, soft… get soft.'"
Join Horse Nation Monday night, January 5, at 7 p.m. EST for a roundtable discussion about the sessions featuring celebrity guests and reader participation. Send in your questions/comments through the Google+ event page or Twitter @Horse_Nation.

Comments