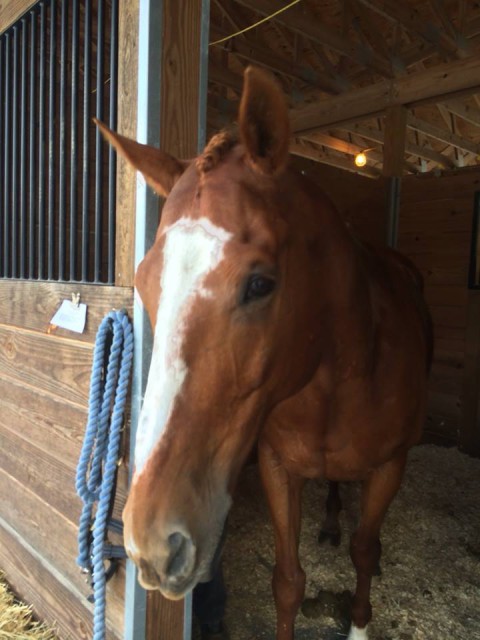 The action is underway at Chattahoochee Hills, where dressage kicked off this morning on what looks to be a beautiful day down in Georgia. The EN team is on a break after covering Rolex, Badminton and Jersey Fresh, so we'll be keeping you updated on what's happening via live scores and social media. Our friends at the USEA are also live tweeting and posting photos and updates, so be sure to follow along with them for coverage of the CHC International CIC3*.
Jessica Bortner-Harris and Win the War and Jon Holling and Proper Timing are currently sitting in equal first place on a score of 55.1 in the CIC3* division, followed by Alex Green and Fernhill Cubalawn in third on 56.3, Zach Brandt and Cavallino Cocktail in fourth on 56.5, and Will Faudree and DHI Colour Candy and Kim Kojima and High Time in equal fifth place on 57.5.
On a not so happy note, Zach Brandt's truck, which contained most all of his gear for the show, was stolen this morning, and he had to scramble to find clothes to ride his test with Scotty. Shout out to Ellie van Gemeren for lending her tall boots, Jon Holling for lending his shirt and tie, and Lizzie Snow for lending her shadbelly. If anyone has any information on the whereabouts of Zach's truck, please let Chinch know so he can unleash his tiny fury.
In the CIC2*, Bonner Carpenter and Basco lead on 51.2, followed by Sarah Dunkerton and Matapeake in second place on 51.7. Andrew Palmer and Tatendrang, last year's winner of the CIC*, are in third on 52.5, with Katherine Rivera and Royal Lufttanzer and Jennie Jarnstom and Penelope rounding out the top five on the same score of 52.8.
Buck Davidson and Be Mine set the early pace in the CIC* A division and held on to lead on a score of 46.6, with Sara Beth Anton and Blitz Volvo closed behind them in second place on 47.6. Nobie Cannon and Bust A Groove round out the top three on 49.2. Dressage is still underway in the CIC* B division, with Bill Hoos and RF Akarlos leading at the lunch break on a score of 43.8.
The international divisions will show jump tonight under the lights — a tradition that began last year with the launch of CHC International — so stay tuned for much more from Chatt Hills. Check out live scores here and the Chat Hills website here.