So, I was going to write a serious post–no, honestly, I was. It was going to have something to do with a British show jumper having a rotational, and the donkey parasailers getting let off the hook on animal abuse charges. What? The Russian justice system failed again?!? Shocker of the century. But then I realized that we should get to the
second half of voting to pick our Ecogold XC boots finalists.
This post contains the second half of the finalist photos, and accompanying paragraph explanations, with a poll at the end to vote for your favorite. The two photos with the most votes will move onto the final round. Since there are so many submissions, and since this second group seems to be a little linger winded, only a portion of this post is showing on the homepage. Just click the link below to see the full post. Vote wisely because a set of 4 indestructable Ecogold XC boots are on the line. Clear as mud?
In no particular order:
(1) Fridge Fun
I am a 33 year old full time mother of an almost 3 year old and a die hard eventer. My little girl has had 3 open heart surgeries so my competing has slowed down and I have spent a lot of time at home over the last 3+ years. My kitchen has become my office – especially my fridge. My fridge talks to me – and yes I am crazy but I do not care – have a good look at the pictures and quotes and maybe it will talk to you too. I will often catch myself staring at the fridge for 15+ minutes (probably more but I won't admit that). The pictures and quotes motivate me and inspire me to pursue my dreams no matter what is thrown at me. I have managed to continue riding three horses and compete training level with the daily advice and guidance from the fridge. Actually not only does the fridge talk to me – I sometimes talk back to it. Conversations with the fridge – ya.
bonus photo
My mother always said that if I wanted to do something challenging that I had to get my ducks in a row – see top of fridge – ducks in a row. Top middle is Jimmy Wofford. At first glance I thought that he was smiling at me but after many times staring at him I now know that he is actually laughing at me and saying in his head that he thinks that I am a crazy girl for actually trying to read all of his articles, books and recommended books! You can only imagine what George Morris is saying. My husband and I are at the bottom – check out the look on his face – sheer "holy crap what have I gotten myself into" face!! There is much, much more to see on the fridge. Everytime I see it I look for details not seen before, say strange comments to it, or go and get my riding pants on as I was severely procrastinating that day. On one final note – I attended a David O'Connor clinic last year and learned the O'Connor '5 necessities for a top rider' – I wrote them on a random piece of paper and put it on the fridge. I read them every day, several times a day and whisper to the fridge, "Oh, Mr. David O'Connor wait to you meet me – I have IMAGINATION your final and most rare quality of a top rider – just look at my fridge!!!!"
(2) Breyer Cubicle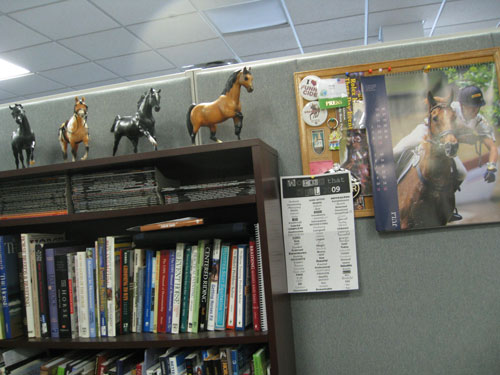 Even though I work for an equine magazine, where everyone already knows I like horses, I STILL feel the need to decorate with them everywhere! In addition to my corkboard (check out the Rolex bumper sticker and beloved Kentucky Derby ticket stub), there are also show photos of every horse I've owned since I was 13 on the other side. The cubicle life can be drab and dull, especially when you look out the window and see glorious riding weather. But my shelf full of Breyers and horse books, including my treasured copy of Jim Wofford's Training the Three-Day Event Horse and Rider (tucked in there before Centered Riding), always cheer me up. I also have a weird and wonderful European cross-country calendar – it doesn't have the days of the week, but the photos are gigantic, so I hung it up there to proclaim my passion for eventing.
Click the link below to view the rest of the submissions…
(3) So Far, So Good
I work a late editorial shift as a news editor in DC, which means I'm at the barn by the crack of dawn to ride before commuting downtown to work each day. Of course, my city-dwellin', late-sleepin' co-workers think I'm crazy, but they do not know the sound of horses munching hay in the morning, the calming solace of an empty barn aisle, the satisfaction of setting a jump course while most of the world is still asleep, and — perhaps best of all — the luxury of having the indoor alllll to oneself to practice the many intricacies of Training Test B. It makes for long days, but the prospect of sitting in a cube for 9+ hours becomes much more bearable when you've already nailed your trot lengthenings. (A pro-tip for fellow cube-dwelling eventers: do NOT use MTG before work. No matter how careful you are, you're going to get some on you, and no matter how many showers you take, you're still going to smell like bacon. When you're only separated from your boss by a measly few feet of particle board, 'Does anyone else smell bacon?' is not something you want to have to answer to, especially in a corporate environment. Truth.)
Without further adieu, here are the equine-related contents of my cube: L to R: (2) Calendars — Beth Collier's eventing calendar was received in a volunteer goodie bag at Morven's Spring HT & the other, geniously entitled "MAJESTIC HORSES," was a Christmas gift (you can't see it, but the Area II event calendar is scrawled in there in it's entirety — totally work-relevant); plush horse toy sent as a 'thank you' by a client who runs an equine adoption program; So Far, So Good: The Mark Todd Autobiography (metro commute reading material — Mark Todd is the MAN); Small photo of Elvis Costello (perhaps irrelevant, but Costello is also the MAN); assortment of teas accompanied by mug depicting paint ponies (paint ponies make the best games ponies, no?); the wall of inspiration — two photos of Phillip and Connaught at Rolex alongside two pictures of me and my mare, Prima, at the 2009 AECs (a daily reminder of why I work such late hours); and finally, my desktop background, Edgar Degas' Race Horses (an old favorite).
(4) Cute Pony
When my boss hired me, she had never even met someone who owned a horse. Everyone I interviewed with thought it was "cute" that I had a pony. "Oh, how cute – do you see him on the weekends?" Two years later, my boss has added "do you own a horse?" to her list of interview questions! Is that even legal?? Isn't there some kind of law to protect horse owners from discrimination?! My boss says its like I have a 2 year old child that will never grow up – he'll never drive himself to school, never be more careful and not get hurt, never go shopping for his own food or clothes… Actually, my work is very understanding of my horsey life – I get up at 4:30 every morning to ride before work, I work all through the winter holidays so I can take odd days off all spring/summer/fall for clinics, shows, vet appointments, equine massage appointments, teeth floating (you should have seen their faces when I tried to describe that process!), and on and on. They think I'm insane. I'm pretty sure I am insane. But my job is priceless because it funds my furry money pit (named Katchi) who I love more than anything in the world. And even when I can't see him all day as I'm stuck in my office, I look in his eyes, check his legs, consider his muscle tone – yea, I have a few pictures hanging about. I also have a print out of the USEA online omnibus (Area II pages, hi-lighted with notes and stars), an index card with the dates and locations of the last of the remaining Preliminary Three Day events, a chart of sunrise/sunset times to keep me motivated in the winter when riding in the dark cold morning gets real depressing, and a special calendar with all my tentative clinic and show dates – immediate access to the most important dates in my life so any work events can be carefully scheduled around them! There's also an index card with a hastily scratched quote that made me laugh so hard a few months ago, I almost cried, "I'm so busy, I don't know if I found a halter or lost my horse!" And for inspiration I have a "tree" of horsey quotes that was given to me by a great horsey friend. When work is just too much, I take a moment to read these quotes. They keep me going. Here's one to share: "If your horse says no, you either asked the wrong question or you asked the question wrong." I wish everything in life was that simple.
(5) Surf and Redmond
I am a resident – a 4th year psychiatry resident to be precise – which means that I work long crazy hours at the hospital and live a life that is nowhere near as glamorous at the residents on "Grey's Anatomy" or as side-splittingly funny as those on "Scrubs". Now that I'm a senior resident, I've been given the gift of my very own office in which to see my patients – and, along with it, the ability to decorate my office however I please. Of course, crazy horse-lady that I am, my office became a place to display photos of my horses as a reminder to myself that I do indeed have a life outside the hospital…and that I should hurry up and get my work done so that I can get out to the barn and spend some quality time with my boys.
In my pre-medical-school life, I was a photographer – so the first thing that you notice on walking into my office is the number of large matted and framed equine photographs displayed on my walls. To my patients and co-workers, these are likely little more than pretty or artistic wall decorations – but they mean so much more to me. The black and white print of a curious bay gelding leaning over the fence, ears pricked, mane blowing in the wind is the face that Surf Guitar, the gentle giant, greets me with when I walk down to the pasture to bring him in after work. The sepia photo of a small chestnut with a huge crooked blaze running down a hill is a reminder of my retired boy, Sprite, who would fly across the field to the gate when he heard me whistle for him. The wistful horse gazing out of the back window of his stall is Huey, who was always left in for me to ride after work, since once you turned him out, good luck catching him again until his next meal. All of these prints serve as reminders of some of my favorite moments with my boys while I'm stuck inside, counting the minutes until I'm free to run off to the barn.
Across from my desk are 3 framed portraits of my 3 current boys – Surf Guitar, Huey, and Redmond – hanging their heads out of the windows of their respective stalls. Each has his own unique look – Huey, with his classically elegant thoroughbred head, keeping an eye on the comings and goings in the farm driveway – Surf Guitar, with his quirky roman nose and ever-present cribbing collar – and Redmond, with his out-of-control pony mane and irrisistable "feed me cookies" face. As different as the boys appear, they all have one thing in common – to paraphrase Jimmy Wofford – they all have faces I'm thrilled to see peaking out of their stalls in the morning, waiting for breakfast.
My office hides a number of other horsey surprises as well – the omnibus on the bookshelf, wrinkled dressage tests and spare hair nets tucked in a desk drawer, post-its with to-do lists of calling farriers and vets, paddock boots shoved under the desk, and of course, all of my favorite eventing and equine websites bookmarked on the computer.
However, with all of the visible and invisible horse influences in my office, choosing what to take a picture of was simple. On my desk is a simple double frame containing 2 close-up photos – on the left, a photo of Surf Guitar's nose, on the right, a shot of Redmond's eye, ears and forelock. They are pictures that instantly transport me to the barn – where I can imagine scratching Surf's nose (his favorite place for scritches) or being stared down by Redmond, who is always convinced that I have one more cookie in my pocket that I'm just not giving him. These 2 photos make me smile every time I see them – even when I'm on the phone fighting with an insurance company or when it's late, I'm tired, and I still have a stack of charts to finish before I can go home for the day. They are reminders of the life I have outside of the hospital…and as a resident, that's an important thing to be reminded of.
(6) Florida Horse Park
It's safe to say I am more than a little obsessive about horses. Growing up it was my dream to own my own farm, teach lessons, train a few young ones and compete. I'm lucky enough to work at a place where I can still have time to do all of those things and make a career "in horses". (Have to thank my dad for that one!) I work in marketing at the Florida Horse Park. It's tough to work in an office all day and know that a delightful field, perfect for a good gallop, is on the other side of my wall. In order to keep myself from being distracted by the trail riders sauntering across the field outside my window, my computer goes there instead with the pictures of MY divine beasties off to the left. They are my reminder of, "hey you, get to work because you have to pick up feed tonight!" On the other side is a picture of my husband and I at a show here last year. The look of amused tolerance on his face is unmeasurable as is his baffled appreciation for what I do in my spare time. That one also reminds me that I feed more than just the horses when I go home. 😉 Betwixt and between all the competitive photos are a few Thelwell and Fergus cartoons reminding me life is far less serious than I tend to make it. So, back to work for me, because I really do have to pick up feed tonight! ::crossing fingers it doesn't rain::
(7) From The Red Horse
Hi there. I'm riding with Mom. This is her "office" and most of the time, where she is when she's working. I'm the Red Horse, and I'm the picture on the phone — she also has a picture of the other horse she loves and works to pay for, Sparkle Pony, on the outside of the phone. She calls people and makes appointments to take pictures of their crashed cars and trucks, and while she doesn't have a cubicle, or a desk, she doesn't have a way to keep our photos in front of her while she drives. So she puts us in her phone and takes us with her. Most of what she does, she does for us, and we know that, so we don't give her too much grief at night when she rides us after work. Sometimes work makes her so tired she can't ride us, but will still come out and wash our flymasks off, groom us, pack our feet and put our flyspray on, or in the winter, she gets up in the dark to take care of us, thank goodness for those barn lights or we would have to be seeing-eye horses when she rides at 6:00 a.m.. What we are most proud of, however, is what we do — we are "event horses." We are lucky, I guess, that she saved us both from fates off the track after we couldn't race any more. The Sparkle Pony has had plenty of adventures with Mom, and even a championship or two (last year we heard he was Open Training Level Champion of Area II). I haven't done as much, but I will someday. I've gone cross-country schooling and jumped a gigantic ditch on my first attempt (Well, it sure looked gigantic to me).
Mom works hard to schedule our lessons, exercise, and other stuff around what she does all day long. Thanks, Mom — and we're as close as your cell phone if you need us. — The Red Horse
(8) Student's Desk
This photograph is of my desk at Governor's School at Virginia Tech. While other students brought pictures of their family and friends I have images of the horses in my life and a baseball cap with the logo of the barn where I train. On my computer screen is the research paper I am supposed to be writing, on perennial grasses as a source of biofuel, but next to the word document is the eventingnation website. I have been away from horses for three weeks (I return home this coming weekend) and I miss it so much. However, thanks to my photographs I am able to look at "my babies" whenever I want, and somehow due to this I have managed to maintain a small bit of sanity.
Pick your two favorite photos and the two photos with the most votes move on to the final round.
—-
—-
Comments