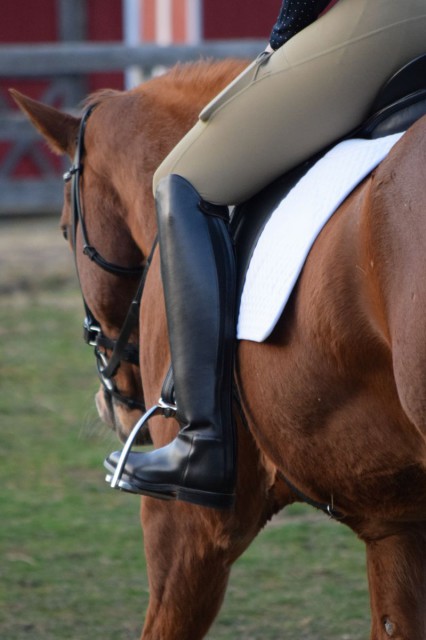 Monday? … Monday? … Monday? Yes, it's here again. Which just means that it's time to unveil another Fab Freebie here at EN! I think we are all getting a little jittery and anxious for Rolex (or at least I know that I am). I'm here to help you get in the mindset and pumped up a little early so you can start anticipating Rolex kicking off with dressage.
This week, one lucky reader will be "born to shine on the centerline" as they practice their own "dressage skillz" Schrammo style when they take home a pair of Ariat's newly released Cadence Dressage Tall Boots. I've been riding recently in the Cadence boots and have found them to be oh-so-very suited for that express purpose; you can read all about my experience here.
The Cadence Dressage Tall Boot departs from the design and styling of many other boots from Ariat's collection in that it has been born and bred for the dressage ring. Cadence boasts a full grain leather upper, and it features a reinforced outside calf, which creates a sturdy feeling calf that lends the legs the extra support needed.
Along with the reinforced outside calf, the Cadence also includes features such as a full length back zipper, a high cut Spanish topline and a square toe, which all help keep a traditional look that is simply elegant. There is also a full length elastic gore panel on the lateral side of the boot, which helps to provide a close and comfortable fit.
Keeping true to its Ariat heritage, the Cadence also features the ATS foot bed and Duratread outsole, which means that the Cadence boots have been designed to offer all day comfort and stability while holding up to life around the barn and in the saddle by offering an outsole with maximum wear resistance.
Ariat's Cadence Dressage Tall Boots have a retail price of $429.95, and you can find them here.
A special thanks goes out to Ariat, for providing the prize for this week's Fab Freebie.
Disclaimer: Information given in the Rafflecopter widget, including email addresses, may be shared with the corresponding sponsor at their request. You will also be signed up for our weekly EN eNews email newsletter, if you aren't already. Don't worry — you'll just wonder what you've been missing out on — and you can unsubscribe if you don't want it.