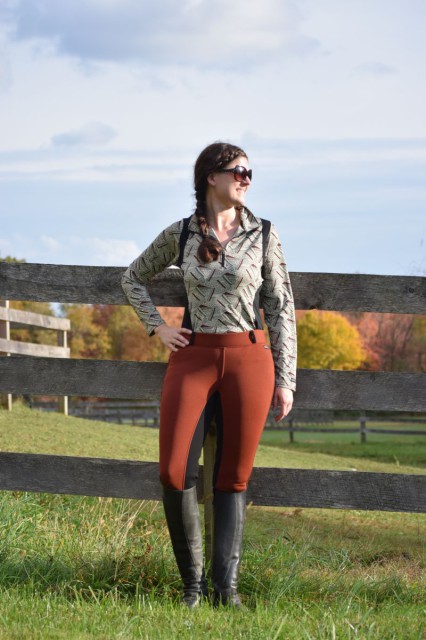 If you've been experiencing a recent drop in outside temperatures like me, don't let yourself get down about it. Instead, take the falling temperatures as an opportunity. Challenge yourself to outfit yourself effectively so that you can ride and not mind those chilly temperatures — not even a little bit.
So for this week's Fab Freebie, one lucky reader will take home a pair of Sit Tight N Warm Fullseat Winter Breeches from Kerrits. I've recently been wearing a pair of Sit Tight N Warm Winter Breeches in order to combat the dropping temperatures and windy weather (and you can read all about my experience here).
The Sit Tight N Warm Fullseat Winter Breeches are made out of Polartec Windpro fabric, which boasts a four-way stretch for freedom of movement. The Polartec Windpro is also highly breathable while being resistant to both wind and water. And the tough exterior is paired with a soft and comfortable fleece lining that wicks away moisture to help with heat retention.
And as for the Sit Tight part of the name, well, the Sit Tight N Warm Winter Breeches also feature a GripStretch Suede fullseat, which includes panels that have been specifically placed in order to provide a secure grip. The GripStretch helps to provide a technical grip without restriction.
The Sit Tight N Warm Fullseat Winter Breeches are machine washable, and they are made in the USA. They are available in four colors, which include Bronze, Black, Cadet (blue) and Pepper (pictured). Each of the four colors have a retail price of $129.00, and you can find them here.
The Sit Tight N Warm Winter Breeches are also available in a knee patch version that has a retail price of $119.00, which you can find here.
A special thanks goes out to Kerrits for providing this week's prize for one of our awesome readers.
So you know the drill. Use the Rafflecopter widget below to enter, and then check back in our Friday News & Notes, where we will announce our lucky winner. Good luck!
Disclaimer: Information given in the Rafflecopter widget, including email addresses, may be shared with the corresponding sponsor at their request. You will also be signed up for our weekly EN eNews email newsletter, if you aren't already. Don't worry — you'll just wonder what you've been missing out on — and you can unsubscribe if you don't want it.
Comments