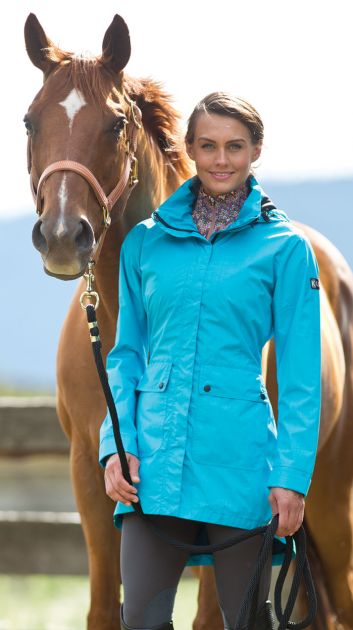 Happy Fab Freebie Monday! What better way is there to start off the week here at EN than with another giveaway? This week, we're helping you celebrate the shower-filled days of spring by keeping you dry and oh so very stylish — because one lucky reader will be taking home a Split Tail Rain Jacket from Kerrits.
During my quest to find a rain jacket suited for life in and out of the saddle, I had the chance to try out the Split Tail Rain Jacket and was happy to find that it helped to keep me sheltered from the wet weather while looking totally fab. In fact, you can read all about my experience for yourself right here.
While the Split Tail Rain Jacket looks like a fashion friendly jacket at first glance, it is much more then it appears to be — because it has been designed with the rider in mind. The bottom hem of the jacket offers a nice amount of coverage, as it hits about mid-thigh length in the front. And in the back — an on-trend high-low hemline dips lower in the back of the jacket to give a little extra protection against the elements.
But the back is where things get really interesting — the back hem of the Split Tail Rain Jacket lives up to its name because it has two "tails" that drop down and are kept together by two hidden magnets. And when you are ready to set out on a ride, the two tail magnets can be separated from each other and attached at the elastic waistline in the back of the jacket — which is an easy way to keep it clear of the saddle!
The Split Tail jacket has a full double zipper in the front, as well as a row of snap closures as well — which provides multiple closure options. And it also features two generously sized storage pockets with a top flap closure that snaps shut. The pockets also have slanted side openings to a separate side compartment for your hands.
An adjustable hood can also be pulled up to keep you stay dry while the rain is coming down. There are two elastic pull tabs that help to adjust the hood, so that you can get a fit that is customized to your head. And if you don't wish to use the hood, it can easily be stowed inside the jacket.
The Hydrotek fabric of the Split Tail Rain Jacket is nice and lightweight feeling, and it is also both waterproof and windproof. And it is also breathable so that it can offer protection against the elements, while helps to prevent overheating on warmer days. The fabric is also abrasion resistant and quiet so as not to be the cause of an exciting ride.
The Split Tail Rain Jacket is available in a more traditional Black, and also in Sunset (orange) and Peacock (blue). The jacket has a retail price of $109.00, and you can find it here. Entries will close at midnight EST on Thursday, and we'll announce the winner in Friday's News & Notes. Good luck!
A special thanks goes out to Kerrits for providing this week's Fab Freebie giveaway!
Disclaimer: Information given in the Rafflecopter widget, including email addresses, may be shared with the corresponding sponsor at their request. You will also be signed up for our weekly EN eNews email newsletter, if you aren't already. Don't worry — you'll just wonder what you've been missing out on — and you can unsubscribe if you don't want it.
Comments