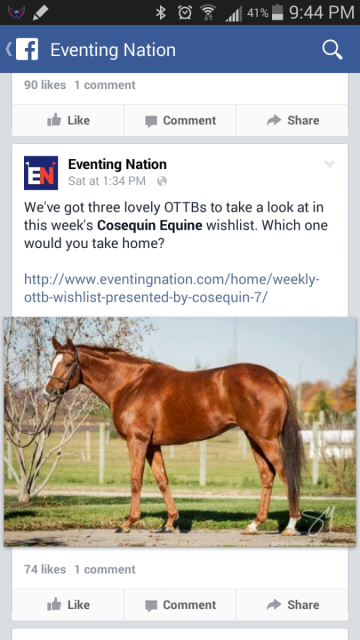 As a typical horseman that is connected by my cell phone to social media, I find myself perusing the Facespace on the regular. Sometimes while hacking to the ring, sometimes while in the tractor mowing the fields, and then occasionally wasting time while the horses eat.
This particular time was hanging out at a schooling dressage show while my wife's youngest student was warming up for her very first test. As I scrolled down my news feed, I noticed a post from Eventing Nation from the previous day. It was Eventing Nation's weekly Cosequin OTTB wishlist.
There was a great picture of a Thoroughbred chestnut mare with chrome who struck my fancy. Now, I believe we all glance at these horses featured on the wishlist, pick apart their conformation, talk about how they remind us of a particular upper lever event horse or a horse from our past.
After giving it our attention for the moment, most move on to the next article with a fleeting thought of "what if?" A few others look harder; we may watch the videos posted, ogle the photos, read the mini bio, maybe even study their stats on Equibase. Even fewer actually go as far as finding that horse's race videos in the archives.
And then there's me; I took it to the next level. With a little encouragement from my wife, Nicki, I filled out the application, was approved, talked with the trainer, and am adopting the horse that was showcased on EN's wishlist because I felt something in my gut that this horse may have what it takes to become a great event horse.
And that's where I come in. I'm a 30 year old adult amateur competing in Area II. Located in Woodbine/Woodsboro Maryland, I am the facility manager of a large eventing farm, Sunset Hill at McCuan Farms, which some of you may recognize as Kate Chadderton's base in Maryland.
This is my first year competing at the recognized levels, finishing the year off at Training level on my horse Serendipity. You may ask, "what the hell does a 30 year old AA know about training a horse?" Well, I have been working around horses since high school.
I started my equine life off as a aspiring hunter/jumper and played to my strong suits as the maintenance guy/farm help to afford my newly found addiction to horses. I worked for a few hunter barns then moved on to a few dressage barns. Then I met my to be wife (Domenique "Nicki" Carson) at the local tack shop.
She was my first introduction to the wild world of eventing. After tagging along to the AECs a few times, I had found my new calling. The only thing I was missing was a horse. After years of searching, I decided I couldn't afford to by my next event horse, so I found an unraced Thoroughbred mare, Serendipity, aka Beans, who I picked up for free from a local breeder.
At the time she was three and my first young horse, my first mare, and the first horse I would have to train. With the guidance of Nicki, I have turned Beans into a great young event mare with loads of potential.
Fast forward to this past summer I decided to challenge myself with a Trainer's Challenge. I applied and was accepted into the Days End Farm Horse Rescue's 3rd Annual Trainer's Challenge.
I was assigned a seven year old unbroke Thoroughbred mare, Jaybird, and given 90 days to train her as far as I could, and then showcase her at Days End Farm's Fall Festival. Between these two great experiences, I not only reinforced my knowledge of how to start a horse, but I gained a true appreciation for the Thoroughbred.
Dancing Ruth comes from New Vocations out of their Marysville, Ohio location. She is a 2008 mare who raced six times, with her last go-round back in the spring of 2013 at Indiana Grand Race Course where she finished sixth, her third best career finish.
She came to New Vocations after having seventeen months off at her owner's farm. After a few weeks in training with New Vocations, she was ready to be adopted. This mare is eye catching, and that is why I believe Eventing Nation added her to their wish list.
The adoption process with New Vocations is very easy. You first apply to be an approved adopter, which is straightforward. Once accepted, you maintain your status as an approved adopter for two years, and they encourage you to take your time adopting one of their horses.
When you find a horse you like, you are instructed to contact the trainer at the location that has the particular horse to ask your most thought out questions. The trainer then figures out if you are a good fit to the horse you are inquiring about.
If everything still seems copacetic then you sign on the dotted line, transfer money, and finally figure out how the hell you are going to get this new horse home and which stall you will hide her in so no one else finds out.
So Nicki and I set out next week on our 14 hour round trip journey to Marysville with the ultimate goal to bring home Dancing Ruth which expands my equine collection (always wanted one in red; red really brings out the blue in my eyes, don't ya think?).
My plan for this blog is to document my journey from adopting an ex-racehorse to taking her to her first event. This may take a few months or a year. Only time will tell. Please feel free to comment or ask questions as I am an open book.