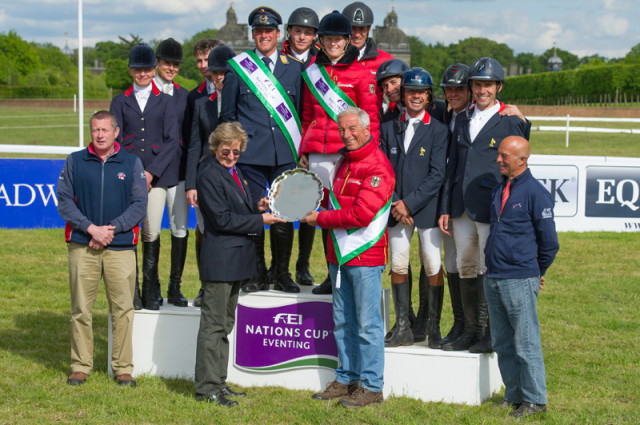 Germany made its first appearance in this year's FEI Nations Cup™ count with a win at historic Houghton Hall in Great Britain this weekend, which is the third of eight competitions on the Nations Cup calendar. With 11 points now on the leaderboard, Germany is fifth in the series behind Australia and the Netherlands who are tied for third with 14 points.
"We are very happy to win here in England," team manager Hans Melzer said in a statement. "The three boys were all clear inside the time, which meant that Sandra [Auffarth, the team anchor], on a younger horse, could afford not to rush and let the horse find a rhythm."
Germany has twice won the Nations Cup series, but they have some ground to make up having missed the first competitions. However, this is the first time they have won at the British event.
"The facilities here are super and the cross country was really fun and encouraged forward riding," Hanz said. "The ground was perfect after the rain."
The host country finished second out of the six teams. Great Britain now leads the Nations Cup leaderboard by one point over France, who finished third at Houghton Hall. France was second after dressage in the team competition, but Alex Gomez, who was fifth individually after the first phase, had an unfortunate run-out on cross country with Rien Qu'un Crack. Both Great Britain and France have competed in all legs of the Nations Cup so far this season.
Individually, German team member Andreas Ostholt finished second on So Is Et behind Frenchman Lu Chateau and Propriano de l'Ebat, who led throughout the competition in the huge CICO3* division with 67 starters. Third place went to European champion Pippa Funnel for Great Britain riding Billy the Biz.
Germany filled out the top five individual placings with Britain based Niklas Bischorer and Tom Tom Go 3 in fourth and the very experienced Dirk Schrade and Hop and Skip in fifth.
The three-man Australian team was unfortunately eliminated from the team competition when Andrew Hoy and The Blue Frontier failed to finish cross country.
The Nations Cup will now move to Strzegom in Poland, the location of the 2017 FEI European Championships. While the United States is not yet on the Nations Cup leaderboard, the USEF is accepting bids to host an FEI Nations Cup in the U.S. next year, which will drastically improve our chance of impacting the series.
Find full results for Houghton Hall here and the complete Nations Cup leaderboard here.
Dates for the 2015 FEI Nations Cup series are as follows: Fontainebleau (FRA), March 19-22; Ballindenisk (IRL) April 23-26; Houghton Hall (GBR), May 28-31; Strzegom (POL), June 25-28; Aachen (GER), August 11-14; Montelibretti (ITA), Sept. 17-20; Waregem (BEL); Sept. 24-27; and Boekelo (NED); Oct. 8-11.