We're just THREE days out from the $50,000 Grand Prix Eventing at Bruce's Field, presented by Taylor Harris Insurance Services, and the official charity teams and organizations have been announced!
The Ride for Charity has been part of the GPE since the inaugural event in 2019, and the tradition will be kept alive at the 2023 rendition with six teams competing to benefit a wide array of local organizations.
GPE riders are divided into teams, with each team representing a participating charitable organization. The top three finishing teams will earn a prize check for their respective charity.
This year, we have:
Team Red – Horse Creek Academy with Captain Colleen Loach riding Vermont and FE Golden Eye. Teammates include Kendal Lehari and Audacious, and Colleen Rutledge with Covert Rights.
Horse Creek Academy was founded in 2002 under the name Midland Valley Preparatory School in Graniteville, S.C. A small institution, it started with a low number of students in grades 4K-6 set up in small portable units. MVP soon expanded to include education in 7th and 8th grade, offering a complete middle level education based in its philosophy of choice in education and individual attention. In fall 2013, under new direction, the MVP administration and executive board saw that it was difficult for the nurturing faculty to carry out its important mission in such a small space. The school was created to give parents and students a worthy choice in free public education, so they decided that an expansion would provide the means to do so. Plans to buy a new facility started taking shape at the beginning of 2014, and the purchase of a property in Aiken, housing an unfinished school, was made in April of that year. Once plans were in motion to purchase the new facility, the decision to change the name of the school was made. Midland Valley Preparatory School became Horse Creek Academy to signify both the school's journey into the horse country of Aiken, S.C., and its roots in the Horse Creek area.
Team Orange – Aiken County Pony Club with Captain Liz Halliday-Sharp and teammates Shannon Lilley and Ideal HX, Sydney Elliot and QC Diamantaire, and Woods Baughman with C'est La Vie 135.
Aiken County Pony Club (ACPC) was founded in 1998 by Sporting Days owner Joannah Glass, and has grown in leaps and bounds over the past 20+ years. ACPC is incredibly lucky to be based in one of the most exceptional equestrian locations in the world – Aiken, SC, with access to Olympic coaches, notable equestrians and horse trainers, and exceptional facilities. Each member plays an important role in our club, and we have riders of all abilities – from those learning to ride to those with Olympic dreams (and every one in between). Our club is part of a greater network of equestrians and sportspeople through the Regional and National Pony Club Organizations. Through Pony Club our members compete in Pony Club competitions (known as rallies), which require the kids to work together as a team, in the spirit of great horsemanship.
Team Yellow – Brothers & Sisters of Aiken County is led by Captain Doug Payne with teammates Sharon White and Claus 63, Buck Davidson, and Mary Bess Davis and Imperio Magic.
Brothers & Sisters of Aiken County is a program for Aiken County Public School System children that that helps them to develop educational and leadership skills. The program, which has summer and after-school programs, focuses on assisting children with their math, reading and writing skills. The agency was founded in 1982 and serves children in grades K-12. Additionally, the agency prepares youth to graduate from high school, prepare for post-secondary education like college or assist with entering the workforce. Before moving to its current location on 132 York Street, it was housed at the Smith-Hazel Recreation Center until 2000. The agency is funded by the United Way of Aiken County. There is no charge to attend the program, but those interested have to apply. The agency also offers summer camps, youth and parent conferences, mentorship and etiquette classes.
Team Green – Aiken Equine Rescue brings Captain Emily Hamel with Corvett along with teammates William Fox-Pitt and Vincent Chase, Dan Kreitl with Carmango, and Sara Kozumplik.
Equine Rescue of Aiken, (aka, Aiken Equine Rescue) was established in 2006 with almost 80 acres of land. We have eight pastures, thirteen paddocks, office building and a maintenance barn. Since its founding, Aiken Equine Rescue has become the largest horse rescue farms in the southeastern United States. We have placed over 1,500 horses into adopted homes and rescued many horses, donkeys, and mules. At any given time, between 50 – 60 horses reside at Aiken Equine Rescue. We provide each with food, medical attention, and personal care until we find them an appropriate home. With your help, we can change lives. Aiken Equine Rescue has a 2022 GuideStar's Platinum rating – the highest distinction of information disclosure to the public regarding a nonprofit's activities. The Rescue ranks in the top 0.1% of charities nationally.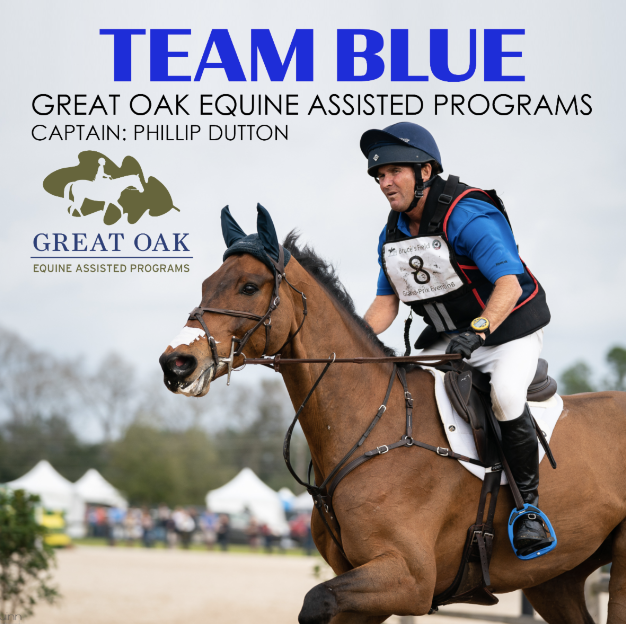 Team Blue – Great Oak Equine Assisted Programs has Captain Phillip Dutton leading a team of Amanda Beale Clement and Carlson 119, Will Faudree, and Erin Kanara with Campground.
The genesis of Great Oak starts with the story of a boy, Alan Corey IV. Alan enjoyed adaptive riding on Long Island, New York. More than 20 years ago, while visiting his father in Aiken, he asked if there was a similar program available. When the answer was "No," he questioned, "Why not?" That is when Specialized Therapeutic and Recreational Riding (STAR Riding) was born.
Today under the protective branches of a Great Oak, that dream is carried forward by a dedicated group of passionate individuals and reliable horses under the professional affiliation of PATH (Professional Association of Therapeutic Horsemanship). The future holds so many possibilities for unbridled success. Our advantage is our knowledge and experience. We leverage our assets in a state-of-the-art facility that is supported by generous contributions from many of our local patrons and students. Over the last 15 months alone we have served over 200 unique individuals through creative programming, dedicated volunteers, certified instructors and our fantastic herd of award-winning GO Ponies. Great Oak now manages a facility that allows for transformative growth through equine assisted activities in all seasons.
And last but not least, Team Purple – Tri-Development Center sees Captain Boyd Martin with Tsetserleg and Federman B, along with Ryan Wood and Cooley Flight, and Sarah Kuhn with Mr. Cash van de Start.
Tri-Development Center of Aiken County, Inc. is recognized across the state as being a leader in the provision of services and support to our fellow citizens with disabilities. Our strong advocacy has resulted in more resources and opportunities being made available to people with disabilities in our area than can be found in many other areas of the state. At the same time, we are equally committed to the prevention of disabilities whenever possible. A concerned community, excellent staff, and a determined clientele have brought us to where we are today. The continued efforts of these groups are certain to open even more doors and result in increased opportunities in the future. Responsibility is taught, shared, and expected. Physical and psychological needs are met. Communities and citizens see themselves as competent and are willing to become involved in the lives of people with disabilities. Our vision is that the citizens and communities will realize that they have the capacity to befriend, care about, work alongside, and learn with and from people with disabilities.
Do you have a favorite team you'd like to support? With the Ride for Charity Online Popular Vote, you can cast your vote for $5/vote, with 100% of the proceeds going directly back to the charitable organizations.
Join the action in person (buy your tickets here) this coming weekend, March 3 & 4 at Bruce's Field in Aiken, SC, or enjoy the Horse & Country live stream to be sure not to miss out! EN's Sally Spickard and Shelby Allen will be on the ground providing all the action you can handle and then some, so keep it locked right here on EN for much more from Aiken all week long.
$50,000 Grand-Prix Eventing Festival at Bruce's Field (Aiken, SC): [Website] [Tickets] [Entries] [Live Stream] [Ride for Charity] [Volunteer] [EN's Coverage]