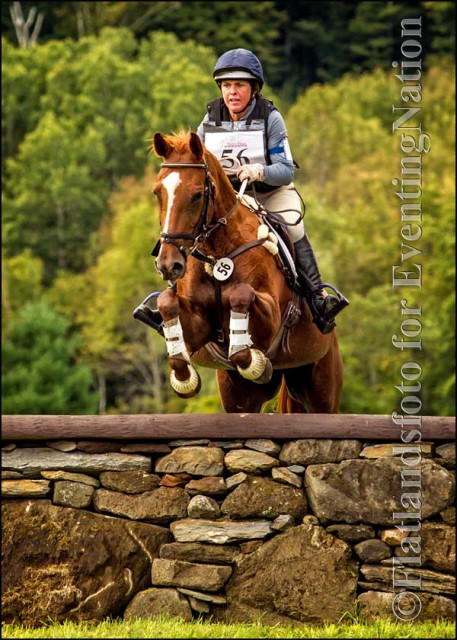 Fall in New England has officially arrived: leaves are changing colors, frost has appeared and pumpkins are the primary ingredient in any drink or food item. With the changing of the season comes our favorite fall event at GMHA: The September Horse Trials this past weekend. The event ran Beginner Novice through Preliminary and the event ran very smoothly.
Even though finger tips were freezing and down jackets were seen everywhere, competitors, spectators and volunteers seemed as cheery as ever. Tough Area 1 riders are never afraid of a little frost and freezing temperatures, in fact we embrace natures challenges and push forward. I mean, who doesn't want to go jump cross country any day, anytime, any temperature?
I was beyond thrilled to take the cheeky chestnut, aka "Vinnie" to our second prelim this weekend. He was star, as always, jumping around that LARGE Prelim course like it was nothing! The second jump on our course was probably the biggest and widest fence on course, followed shortly after by a fairly massive brush which rode really well. Two trakenhers (one fun sized and one REAL DEAL sized), several skinny/wedge/brush fences, and a decent drop into water were also on course.
All in all, the course rode really well and I was ecstatic about my ride…what an amazing horse!  We were definitely slow on cross country, but clean which was my goal. Thank you GMHA and volunteers for putting on an awesome last event for 2014!
Of course the most amazing, most friendly, most upbeat photographer in Area 1 was there to catch all the excitement. Thanks Joan! Here are some of the winners:
Our favorite Horse Pesterer was also hanging out at GMHA this weekend and caught my friend Daryl Kinney and Rosie's Girl (owned by Denny Emerson) on their second Prelim course together. The pair finished third in their division. Rosie's Girl's sire is by Deputy Minister out of a Secretariat mare, and her dam, a full sister of Courageous Comet, is by a son of Fappiano, with Bold Ruler on the bottom.