Before  we wave goodbye the dressage phase of Rolex 2013 and usher in an exciting day of cross country I wanted to share some of the pictures I took, mostly from the warm-up arena.
William Fox-Pitt's test on Chilli Morning was stupendous. As William remarked later Chilli has incredible presence but it's coupled with very correct work, a calm confidence and of course the trademark Fox Pitt stamp of excellence.  Chilli is so relaxed, I watched him work in – gorgeous, but I've also seen him hacking out and being walked in hand and he appears to be a model citizen, rare enough in any horse let alone a four star fit stallion. Jenni remarked yesterday that he should he win this weekend he will be the first stallion to win the official Rolex CCI4*, and we now think he may be in fact the first stallion to ever win any four star at all should that happen.  (Note: Darren Chiacchia rode the Holekamp's Trakehner stallion Windfall to victory in the 2004 "Modified Format" Rolex…the first short-format event, which ran alongside the official traditional-format CCI4*).
Andrew Nicholson and Quimbo, 2nd after dressage
Look at our gal Allie, hanging with the big boys! So incredibly proud of her, and crossing everything for a wonderful ride for her today.
The always incredibly popular Mary King is in 5th place currently with Fernhill Urco
Marilyn Little rode through what must have been shocking pain from her separated shoulder, and shares 5th place with Mary
Becky Holder and Can't Fire Me, who looked so good on this cross country course last year, are handily placed in 7th.
However, if there's a prize for best turned out and 'Teddy' doesn't win it that's daylight robbery!
Buck Davidson is riding three horses (above on Mar De Amor, 20th) and coaching, and is still one of the most polite and friendly riders on the circuit
Shandiss McDonald and her gorgeous big bay, Rockfield Grant Juan, 9th after dressage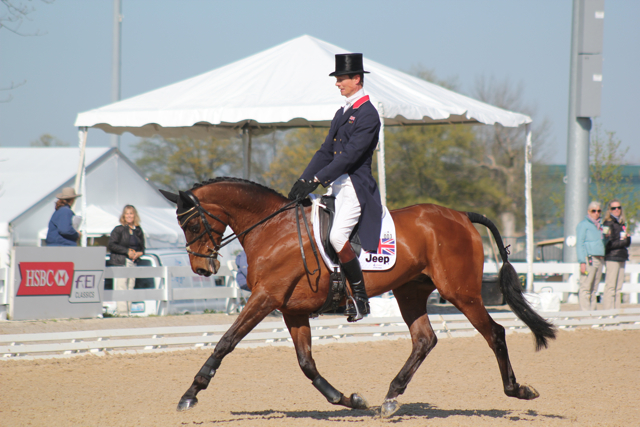 William Fox-Pitt and Seacookie in 10th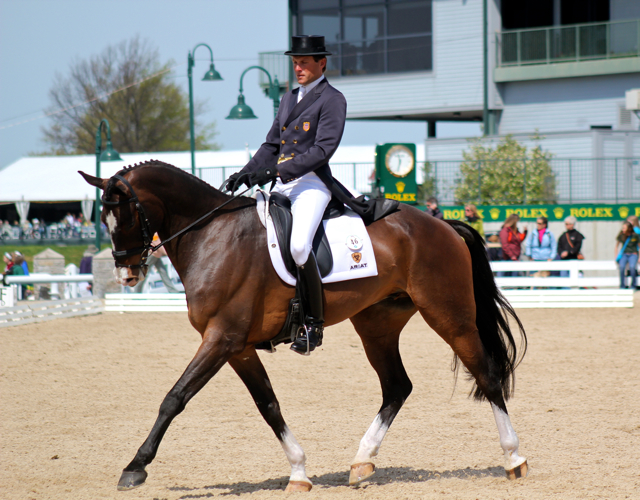 Boyd Martin and Trading Aces
Jonelle Richards and The Deputy, 16th
Donner and Lynn Symansky, 19th
Hawley Bennet-Awad and Canadian Team manager Graeme Thom walking down to the dressage
Caitlin Silliman and Catch A Star, 17th
Jake and Jester
Phillip Dutton being comforted by his daughter, Olivia
Ok, we're done with dressage and now it's on the meat and potatoes of the competition – the cross country. Hoping for good rides for everybody – kick on and be safe! Go Rolex Kentucky Three Day Eventing!
Comments