This time of social distancing and quarantine can feel scary, confusing, and strange – but it's also important to adhere to these measures in order to keep yourself and those that you love and care about safe and healthy.
By self-quarantining, we are able to help protect ourselves and others from the coronavirus, and it allows us to help "flatten the curve" of COVID-19 cases. However, self-quarantining can also lead to a far lesser problem: boredom. And a serious one for many equestrians facing cancelled shows, events, and lessons: financial loss.
In order to help combat both of these, we've compiled a list of five ways to help you safely make the most of this time.
1. Spend quality time with your horse(s). – If you keep your horse at home or if your boarding facility is still allowing visitors, take advantage of the extra time to ride, get outside in the sunshine, love on, groom, and care for your horse.
There is currently no evidence that horses can spread or contract CO-VID19, which Palm Beach Equine Clinic explains further in this blog post.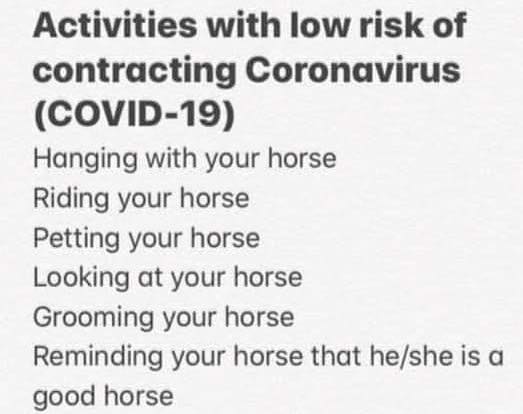 2. Implement new cleaning and social distancing protocols at the barn in order to allow operations to safely continue. – While we do advise spending as much time with your horse as possible during this time, we also recommend only doing it safely. Now isn't the time to organize a trail ride with 10 of your barn friends or to plan a clinic since your spring horse show was cancelled. Instead, whether you're a barn owner, boarder, or lesson student, it's important to implement or follow some important new protocols.
Here are a few suggestions:
Adhere to the CDC's recommended six to nine feet of social distancing between you and others. That means limiting riding close together and not stopping to chat closely in the tack room or barn aisle. For barn owners or trainers continuing to provide lessons, Tara Swersie from Event Clinics recommends scheduling 15-minute blocks between lessons to help limit the number of people present at any time.
Along the same vein, group lessons should be limited to no more than four people – and possibly fewer depending on the size of the ring.
Clean and sanitize! Wherever you can, try to greatly reduce the number of shared items or surfaces such as whiteboard markers, pitchforks, and brooms. For places where it's more difficult to reduce common contact, such as door knobs, crossties, light switches, or stall doors, incorporate frequent sanitization of these surfaces into your daily routine.
3. Try a new workout. – While going to the public gym isn't advised (and currently in most areas isn't allowed), there's no reason not to work on your fitness during this time. Many fitness trainers and programs are currently offering free or greatly discounted online workouts, and YouTube workouts – like this Yoga For Equestrians routine with Yoga With Adriene – are always a great option.
If yoga is your thing (or if you'd like to try to make it your thing during self-quarantine), Yoga With Adriene has a great, free 30-day program, and CorePower is offering free yoga on demand.
If yoga isn't your thing, Les Mills is also offering a 30-day free trial of all workouts on demand, like the program's popular Body Pump class.
Here are a few easy-to-try-at-home CrossFit workout ideas, and the Fit Equestrian has programs specifically tailored to riders available for purchase here. The US Equestrian Learning Center even has a few workout videos!
BarnManager is a cloud-based software solution that provides horse owners and managers with the tools they need to streamline and simplify their daily management responsibilities. The program offers digitized record keeping for the many facets of horse care and has developed intuitive and simple business tools to make small business management accessible and easy. Want more daily news, tips, and motivation from BarnManager? Follow on Instagram here and like on Facebook here!
Comments