Ladies, line up and take a number – EN have an early Christmas present for you! While Sport Horse Nation may not have brokered any of the recent Olympic prospect deals that have been burning up the forum pages lately, I was tempted to post this article on our sister website, because it's subject, Harry Markwell, will surely be equally as popular as any of those London-qualified horses once his profile hits EN. I predict a flurry of activity at the EN switchboard, and all the chinchillas are on high alert, being brought in to work overtime!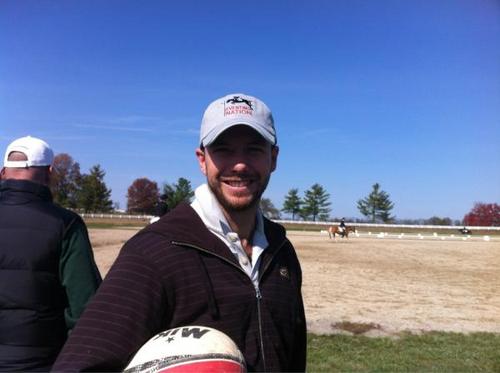 Harry Markwell is the total package; to borrow and butcher the phrase from Coren Morgen, as a horsey gal, "Would you rather" date a) a vet? b) a vet, or c) a vet? How about if he was also a well-rounded, experienced rider? Tall, attractive and had a killer Aussie accent and piercing blue eyes? Would hard-working put you off? What about athletic and sporty? Still interested, then read on….
Harry finished vet school in December in Australia and is currently a surgery intern at
Hagyard Equine Medical Institute
here in Lexington,Ky, honing his skills; because of the Southern Hemisphere time lag, he got a jump on the season and started the year early, beginning his internship last February instead of July,
"It's been really good, but very tough when I started. It was probably the hardest two months of my life when I began, because it was the busiest time of the year (foaling season in the Bluegrass, and the middle of winter) and I walked in on an established group of interns and everyone was set in their practices, but I found my feet and I've really enjoyed it. We basically work as assistants to all the surgeons, we have primary case responsibility to the surgeon but not to any clients of our own, and in turn the surgeons teach us and give us the opportunity to work alongside them. I do solely surgery and rotate amongst the four surgeons; there are surgeries done here that many people will never see in their lifetime, and it's a place where they do things differently to many other hospitals. It's a private practice, it's very efficiently run and it's a great place to learn. The reason I wanted to come to Hagyards is because it's got such a strong reputation and it sees so many cases; it has the largest surgery caseload, and with veterinary medicine the more experience you have the better vet you'll be."
Harry is one of 8 surgery interns picked from over 20 applicants. Since being in the US he told me he's trying to follow the football over here, but will always be a rugby and cricket fanatic. However, he does have some eventing history too….
The early days: Harry on Superman
"Our family have always bred and trained our own Australian stock horses. My father was a very well-known horseman in Australia, and when he was in his twenties he used to go to an event on a Saturday, and then go to a camp-draft, ( a Western competition similar to cutting and reining) with the same horses on the Sunday. They were quite successful horses, and our family's always been strongly involved in the Pony Club in Australia, and it's the type of riding that my parents have tried to instill in me and our whole family – to be very rounded horsemen, being able to choose what discipline you want to compete in, but also being able to master the core basics of dressage or camp-draft, and having done pony club, being able to ride any horse in a complete manner and take that into your chosen discipline."
Nicholas Markwell
Harry grew up near Brisbane on the East Coast of Australia, and his family bred mountain ponies crossed with quarter horses and thoroughbreds, very similar Harry tells me to the classic stock horses in Australia, a hybrid breed. Since then, his family have bought a cattle station and re-located to Central Queensland.
Horses at home on 'Culcraigie'
It was here that they bred and started Ladybrook Remington, fondly known as Remi. Remi was out of a TB mare, who had bred good campdraft horses in the past, but Remi turned out to be a giant and grew to 17hh. Although he had the makings of a great campdraft horse – fast and athletic to follow the cow, he was just too big. Harry and his brother took him to some dressage and show-jumping shows, and realising his talent sent him to Shane and Nicky Rose in Sydney with a view to selling him on. However, Remi did so well with them, they cancelled plans to sell and he ended up going all the way to three star level, and despite being what Harry calls "a bit of a hit and miss horse", he was Shane's reserve for the Beijing Olympics. Remi was retired at the farm last year and is now on loan to one of the neighbours doing show jumping at some of the local horse shows in rural Queensland.
Shane jumping Remi
Harry's ideal horse would be an all-rounder, "and from my background in the Outback of Australia, I'd have to say I'd want a horse that you could ride all day and round up the cattle on, put over a few jumps if you so desire, and polish up and not be too embarrassed to take to a show on the weekend. I think a lot of horses can fit this criteria, but one thing you can't teach a horse is how to gallop and be a horse, and that's why I really do like the thoroughbreds."
Harry campdrafting on Blue
"Being here in Kentucky, and working as a vet in the heart of the industry has really showed me how lucky we are to be to be employed by the industry. It's nice to work in a place where horses mean so much to the region's history and the people. The biggest thing I've noticed is that the thoroughbred farm managers and staff really care for their horses just as much as the sport horse owners, and everyone wants to do the right thing by the horse."
When Harry finishes his internship in July, he'd ideally like to get into a surgery training program here in the US, but if that doesn't work out he'll probably return home to Australia where along with working as a vet, he hopes to pick up riding again; his dad apparently reports that there are plenty of horses waiting to be broken at home, maybe there'll be another Remi among them!
If you haven't already begun to fall a little bit in love with Harry, let me help you out
I'd like to thank Harry for his time, and good humour – he was the perfect interviewee, if only I was younger and not saddled blessed, I mean blessed, with two such wonderful children! Thank you also to Hagyard Equine Medical Institute where we conducted said interview, and to Dr Laura Werner for making the connection. I'd like to wish Laura many congratulations and best wishes on her forthcoming nuptials, Mazel Tov, and Go Eventing!