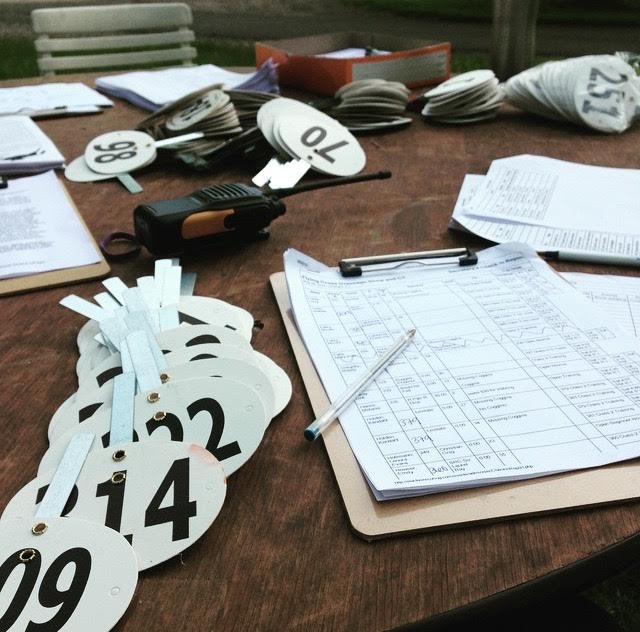 My journey to becoming a show secretary started with a push, and is growing into getting offers beyond my dreams.
Firstly, I give the upmost credit to all event show teams. The people BEHIND the scenes, the people who make horse trials, mini trials and even schooling shows … it takes a literal village to run these shows.
These groups of mainly volunteers put in countless hours before, during and after shows to make sure each rider who attends has the opportunity to have the time of their life. Because ultimately, that is the entire reason we all put the hard work into it, right?
When I first started thinking about getting more involved in the organization side of events, I thought to myself, "How hard can it be?" Wow, was I wrong.
Being around the eventing circuit for a few years as a groom, owner, shoulder to cry on and cheerleader, I thought it would be fun to get more involved on the backside of the events. Little did I know that I would get pushed (literally) into becoming a show secretary.
Volunteering at a local mini trial, I was talking to my friend about how fun it would be to get more hands-on in horse show management. I am fairly smart, with an Equine Business Degree and a Masters Degree behind me, so I felt pretty confident when I was approached about doing my first Mini Trial. I had successfully brought my first four-star clinician in early in April to our farm, and that went well. So, my first thought literally was, "It's 85 riders. I've got this, right?"
Was I ever caught off guard. I had no idea what the heck I was doing and quickly realized how much work goes into a show.
I'll be the first to admit that that show was a bit of a disaster. The pinny numbers were not in order, my labels on the dressage tests didn't print out as I wanted (so I had to print and re-label them the morning of the show), and it was sheer trial by fire — teaching myself to score, learning the system, and making sure that results were being sent out in a reasonable time. But somehow we got through it and lived to see another day.
I thought for sure that my organizer was going to pull out her offer to be the secretary for her horse trial only three months later. But thanks to a lot of meetings with a seasoned secretary (my fairy godmother), the event went off swimmingly, and then the next mini trial was easy as pie. Hallelujah, it's getting easier.
After my first year of being a secretary, I received a dream offer to become a secretary at a Kentucky Horse Park horse trial, and I am just blown away. I figured that those "dream" events would be so far out of my realm that I would have to work a lifetime to be able to get the opportunity to work at the KHP. I can't thank those organizers who entrust me with their shows enough, and all of the competitors who show up with smiles on their faces ready to play the game with their horses.
So when you are picking up your packet at your next event, make sure to take time to say "thank you" to the stressed-out secretary behind the scenes. I promise you, it will make their day.