The jury is out, and the consensus is: "It's big!" Both international stars and local rookies all agree — this year's Maryland 5 Star is not like the ones past. "It's right up there with the toughest in the world," said our current world #1 rider Oliver Townend, and overnight leader after finishing dressage. "It's definitely a five-and-a-half star [now]. The combinations are very serious."
Walking the course felt like a personal feat in itself, and the terrain has definitely been used to the very best of its advantage. "It's going to be relentless from the moment you start to the moment you end," Zach Brandt remarked. Stamina is going to be a real serious player, and it's not just one or the other — it's long, it's uphill, it's tight, and it's twisty.
In nearly every combination, Ian Stark described the distances as "a committed two" or "a committed four to a committed three". Basically, if you've been waiting for your boyfriend to propose for the last eight years, this course may not be for him — but let's hope tomorrow's 5* horses aren't as committment-phobic.
After scattered discourse around last year's track here running too slow, Ian has really taken every possible opportunity to use up the rider's time this weekend. With twists and turns in every section, several time-consuming loops, and the constant need for riders to sit up and balance their horse rather than galloping at a fly fence, we wouldn't be surprised to see Ian cackling in a corner of the field come Saturday.
"Various people have come to me over the last few years and said to me that the time should be unobtainable," Ian remarks. "I don't agree with that — I think if a time is unobtainable, horses are under pressure permanently, so it's got to be attainable.
"Having said that, I'd be quite happy if nobody gets the time on Saturday," he laughed. "I'd like them to get around and be safe… but a few time faults for the lot wouldn't do them any harm."
The start box has been moved back just a bit this year, hidden behind a small grove of trees, and will lead you right to our first obstacle — literally the first five-star fence (I'll see myself out).
"The first two fences are an introduction and to get them going," says Ian of the appealing mulch flower box and steeplechase rolltop. While being kind from the start, these fences may lull the horses into a false sense of security after leaving the start box, given what's ahead.
Off to a quick start, we already approach our first of four water complexes — the Maryland Sports Commission Splash. These incredibly wide log tables are set on either side of the water, but the fences themselves still won't be any old walk in the park.
"Wide" is the second word of the day, and Ian sets that standard here right off the bat. "[It's] the same fence as last year with a big maximum height and spread, with brush over top," Ian says. "It's just a lovely big fence to gallop up to that."
And then in to the arena! With a smattering of brush and corners set on a nice loop, Ian seems to have made this 5ABC combination the first spot in which he decided to shake up the time. "Last year, I had one fence on one side of the arena and then a double on the other side," he explains. "I decided to make it all on one side, let them come in and make their own turn. They've got to be thinking about the time this year — so the tighter they go, the better it is for them, but then it's a bit risky." After their first four fences being wide and expansive, these skinny corners and brush are a great opportunity to get our first balancing moment — as in the balance needed to not barrel right into the walls of the stands.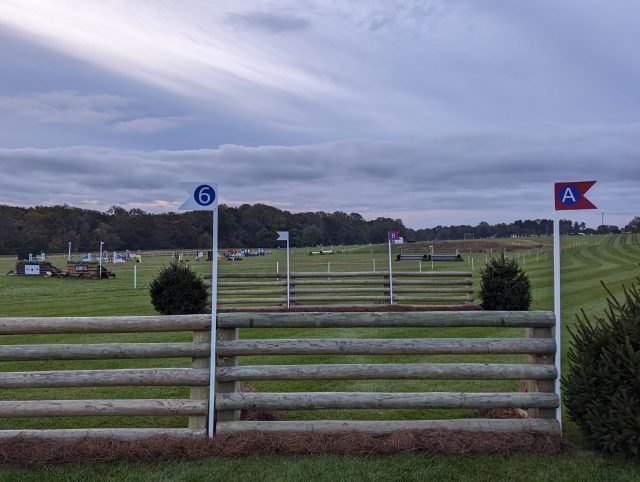 After booking it out of the arena, which will likely have a generous amount of atmosphere for the horses to sneak a look at, we have to slow back down right away for this set of rails — again, sneaky Ian finding ways to take up time. "The obvious place to put the timber fence is on the timber track," he laughs. "They've got to slow down their approach — it's slightly downhill, they're pretty vertical, and they're frangible, so that is already slowing them down and makes them set up a bit more. Two strides through that, and then they gallop on as bravely as they like."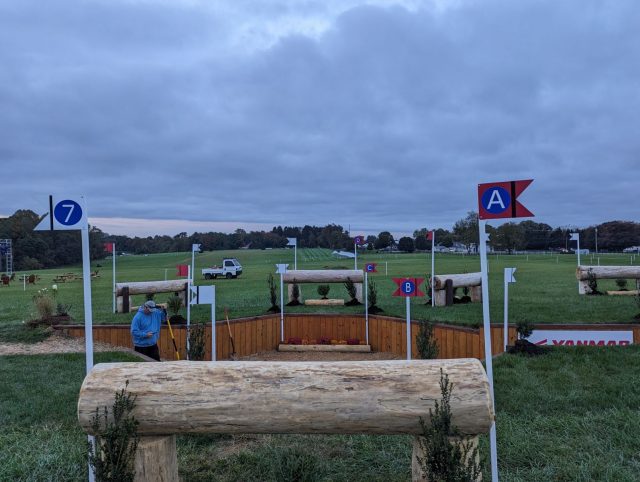 We now approach the star of the show: the highly-anticipated sunken road 7ABCD combination. The amount of jumps strewn about in this field cannot be overstated — the entire area looks like an abandoned log mill with chunky logs just thrown around in pandemonium (eight entirely different efforts available for the 5* alone, and another eight for the 3*). "Riders are kind of out of the habit of riding sunken roads," Ian explains of his new addition. "I gave them a heads up earlier in the year by putting sunken roads in in different places, and also the same with bounces into water. I've done that at different places this year and I didn't tell the riders, but to try and let them sort of get the feel of it."
The straightforward and fastest option sees a bounce down, one perfectly-compressed stride, up and out of the sunken road, then another bounce over an identical log — perfectly symmetrical. "I didn't want a frangible device here," he notes, "because I think with a bounce into the sunken road, horses slow themselves down with their back feet and I didn't want riders getting 11 penalties by horses doing what they do naturally. It's big enough but in my mind it's fairly straightforward."
Here, veteran 5* rider Erin Kanara says Ian's given the riders opportunities to use the course's layout and progression of questions to prepare in a more natural way for the next fence. "So he's got these verticals that's on a very short two-stride, and I think that's going to kind of back the horses right up so when they see the Sunken Road, they're already going to be thinking that way," she elaborated.
Boyd Martin was one of many riders to describe themselves as "quietly confident and quietly terrified" in reference to the course, and this new complex is a big part of that. When asked if he foresees any trouble with this particular question, Ian Stark responded that, while new and exciting, he doesn't see it as particularly tricky or mean.
"What I'm hoping is," he explains, "with that left bend right bend, I have helped to set them out. They need to ride it like a coffin canter — if they go in too quick, then they'll get away with the rail and the step. But then the stride at the bottom, you're suddenly jumping too big if they go too fast, and then it's a fumble up the step. We might have the odd horse trip up the step and stop at the rail, but there's a very easy alternative." However, the alternative — looping around to take the second open drop into a longer line — is incredibly time-consuming, with the rider having to make a full 360-degree circle before continuing on.
An open rail frangible oxer comes next at the bottom of a long downhill approach — once again, very wide and open, with an unassumingly large ditch beneath. After this, the riders will get a nice uphill gallop to their second water.
The Brown Advisory Chesapeake Bay sees an overturned waterfall canoe as Fence 9, a feature that several of our riders also saw at Rebecca Farm earlier this summer. While this may be a spooky feature to one or two horses, Ian says he imagines most will be used to it at this point. "I just thought it looked good," he shrugs.
This drop into the pond will face them off to the first of two angled canal barges — complete with tiny tugboat friends — in "a committed three and a committed one" strides, per Ian's measurements (this is the point where we kick that long-term boyfriend under the table while at dinner with your married friends).
A massive "Flying Scot" ditch brush fence (named after the designer himself) will meet the riders after shaking off the water, the takeoff to which has been raised since last year, allowing them a solid gallop approach. "That one gets them up in the air and into orbit," Ian says.
Frangible fence 12 looks quite huge — an oxer wide enough for two stubby spruce trees to be growing between the front and back rails. While it looks to be incredibly tall as well, the rails actually only measure at 1.10 meters, intended to be a gallop fence with a "runway landing".
After a substantial but beautiful jaunt down a wooded trail full of fall colors, we get to our first question to really employ the use of some major terrain with this 13ABCD combination. It's hard to capture just how tall this first "wave" question is in our MagnaWave Hollow (but using a Sally for scale, we were able to estimate the landing side to be at least over 5'5).
With a sharp right downhill turn before heading straight up a remarkably steep knoll to the skinny log perched atop, our riders will have to really be on their toes. "They need to jump that wave in a more show jumping frame of mind, land, then steady," Ian remarks. "If they're out of control, they've got a long way around, but it's a massive circle. The quick way is up that hill… They have ways out, but the time is going to be marching up if they've taken all the easy routes."
After the hilltop log, our riders will then scramble right back down over a skinny brush. This is right about where I'd expect to see my aforementioned cackling Ian hiding in the bushes, or possibly in the nearby ditch with the foxes. "You've then got to be in balance and ready for the brush down the hill — there, I'm expecting clever footwork from the horses," he says.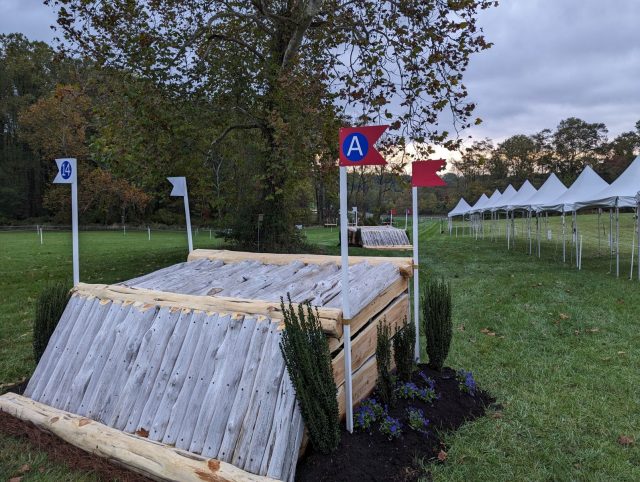 Our next massive tables are mere feet from the tailgating rope lines — which means the horses and riders will really have to keep their focus to keep from jumping an accidental living stage hazard. 14A and B are spaced at "a committed four on a bend, then a committed three on the right" to a 90-degree brush corner (here, we're causally mentioning to the boyfriend how pretty that one venue is and how you've always wanted to get married there… "someday").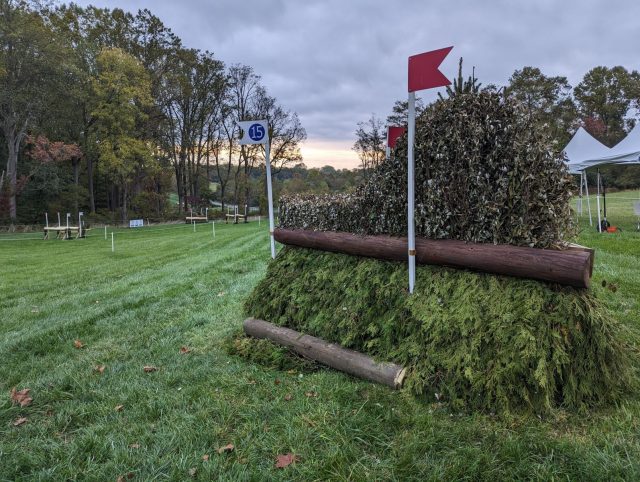 These three jumps are two separate questions, despite the 14AB elements being further apart than fence 15 is from the B element. "The corner is a separate number, so if they're not as organized as they hope, they can circle before the corner… [or] bypass the corner, pull up, and come back and re-present," Ian explained.
Another good, long gallop will take us to an uphill fly fence with this brush palisade, which is admittedly slightly less imposing than it looks — perhaps the tiniest of breathers on this wild, loop-de-loop ride, "a kick-on and recover" if you will. This open area will then require some navigating between intersections and ropes before a rather inviting and friendly step table, surrounded on all sides by a white-girl Instagram moment waiting to happen.
I really like the idea of these two corners lined up alongside the water for fences 18 and 19 — both 90-degree angles but with a 90-degree lefthand turn needed between them. They will need to react quickly and have very precise lines for the second corner to ride well. Our riders will of course have, you guessed it, a rather time-consuming alternate route available to these questions– a spiraling loop involving owl-hole corners and a rolltop.
After "giving them a chance to get their puff back before a go up over the hill", we get a nice flat stretch over the Ruppert Landscape Roll — which has half a garden planted in the tabletop. We'll then give these athletes just a few moments to catch their breath and steel themselves for the dreaded upcoming complex.
Yep, we're bouncing over the crab this year. Our crustacean friend is, however, a bit lower than previously situated, and a little closer to the bank as well. An alternative line would take riders over the smaller 3* crab, but they'd still have to tackle a bounce over the set of logs off to the left — a much larger one at that.
Every rider on property is expressing respectful amounts of caution for this complex, with plenty of concern also surrounding the status of their breeches after hopefully making it out of this particular pond. After a very lengthy climb up to this point in the terrain with over two dozen obstacles behind them, this is the most popular choice yet where we are likely to see some alternate routes chosen. With a large bounce, a huge drop into the water, what looks to be a real climb back out, and two very tight brushes (the distance between which William Fox-Pitt described as "a perfect two-and-a-half"), I wouldn't fault anyone for choosing to navigate the Z-formation alternate route and accept the time penalties.
The complex is surrounded on all sides by bleachers, the Wellwood Restaurant, the Sawmill Crab Shack, and what is sure to be hundreds of onlookers with plates full of crab — the true Maryland experience, if ever there was one.
"They're not going to even see the D element until they're in there," Ian advises, as the riders will need to get a good angle at their approach to this up bank — preceded by a water-filled ditch as well, so no scrambling allowed — with two tight strides to a skinny brush on the hill top, dropping down to a second skinny brush that will likely need to be approached at a dismal angle.
"If they feel disorganized over that step up and the brush, they can swing out left… and come back to D without crossing their tracks," Ian explains, also allowing the riders to zig-zag out and back into the water to take the perpendicular 22ABC line before tackling the mandatory D element.
The Quarry View "Paul Bunyan's Toothpick" at 23 sounds much more confusing than the jump itself is — a very simple log to set them up for the Instagram-infamous question to come.
This enigma of a fence is like an optical illusion. From some angles, it looks terrifying; from others, it makes a lot of sense. Ian clearly knows which is the correct angle to look at it, as he says, "Honestly, it's not that scary. It only is when you stand up at the edge and look at it for five minutes, and hopefully the horses aren't going to do that."
If you stand right where you should take off, were you a horse, this does actually read pretty straightforward — you just jump through the low part! From even just two steps to the side or from behind (which is obviously not recommended), this does feel incredibly massive, so even the slightest miscalculated angle of approach could see some very creative maneuvering to make it over. "As long as the riders have got the horse taking them, as long as they're not off the bridle or a bit slow, I think that will jump really well," Ian says. So, you know… just do it perfectly.
I know what you're thinking — we said the same thing. It's giving Sinclair; it's giving an autumn barnyard that met a Jurassic state fair, had a bit too wild of a party, then kind of vomited out this haphazard line. It's giving exasperated course builders, who at this point just threw up their hands and said, "Screw it. Whatever's left in storage, just dump it on some straw bales — they'll love it." And yes, of course we do. Most importantly, it's giving Eventing Nation vibes. Welcome to our mood board.
Anyway, here's the actual fence! Very fun, the classic Fair Hill Rollercoaster follows our theme — committed and wide.
We'll follow a short line down the Fair Hill Drop, for which we've graciously provided a Sally For Scale — it's a long way down, everyone. We have another Masterclass Moment from Ian here, saying that this steep drop will require "a fairly committed three" (we've now moved on to pointed conversations with the boyfriend about how pretty and sparkly our friend's new engagement ring is).
The riders will then have to angle over the first of two cabins before angling to a rather skinny brush. "If they change their mind, they can go from the House C to House D," Ian explains, "but then they have to circle left on the land in, up the hill to turn back on the track. They can't jump it and turn right." So once again, a little evil-laugh moment from our favorite Mr. Stark — big and time-consuming.
Our last decently-sized fence of the course is another Instagram picnic moment, a table large enough to sleep across (or in true Maryland 5 Star fashion, large enough to dump some steamed crabs all over for a staff party). "I put the table at the bottom of the hill so the riders have got to come down a little bit steady, steady and jump it," Ian explains, "so it's going to slow them down again." He mentioned that the previous tactic of ending the course on a long uphill climb has often proved rather difficult for the horses. This year, he chose to place careful, balancing fences back down the hill to make the time more difficult to achieve.
27AB is a set of airy, frangible oxers just around the corner from the table. "Frangible fences are here to stay, and they think frangible fences at the end of the course are the right place for them, because it makes them slow down and be more accurate," Ian says of the penultimate combination. "They're not difficult, but they just need to keep the petrol in the tank and they need to be accurate."
After the oxers, we head downhill to a very simple brush rolltop in an even simpler personal pond for our final question. "Down to the last fence, and it's in water for the first time," Ian explains. "I've been expecting to be attacked by the riders, but they've all said, 'No, we think it's a good idea.' But again, they can't gallop, they can't wing it. They've got to go balanced down to the water, into the water, and then pop it. What you don't want is a tired horse here. The riders have got to be thinking, right from the word go, of what they're going to have left in the tank at the end."
And there we have it! Clearly, a walk in the park.. a terrifying park perhaps, maybe one filled with land mines or childhood trauma. As succinctly stated by Doug Payne, his favorite jump (and I'm sure many others') will be "the last one". Stay tuned here at EN to watch the action live and read all about it — we're excited to watch this one play out!
You can also view a full map with guided narration from Ian Stark on CrossCountryApp here.
The CCI5* will begin at 1:35 p.m. ET with Ireland's Austin O'Connor and Colorado Blue. All of the action will be live streamed on ClipMyHorse.TV/USEF Network — you can access the live stream here. If you're outside of North America, you'll find the live stream on Horse & Country here.
Everyone have fun out there, and Go Eventing!
MARS Maryland 5 Star: [Website] [Entries, Schedule & Times] [Live Scores] [Live Stream (North America)] [Live Stream (Outside North America)] [Tickets] [5* Form Guide] [Digital Program] [XC Maps] [5* XC Order of Go] [3* XC Order of Go] [EN's Coverage]
EN's coverage of MARS Maryland 5 Star is brought to you by Kentucky Performance Products.