It's the Boyd Martin and Buck Davidson show at the Dutta Corp Fair Hill International CCI3*, with both sitting inside the top six on two rides apiece at the conclusion of dressage. Boyd and Master Frisky clung to their lunch break lead through the afternoon group and will sit in first place overnight on 43.4.
Buck was one of the first riders out in the division yesterday afternoon with The Apprentice, when the first eight of the CCI3* went, setting the early benchmark on a score of 44.0, which held the lead for much of the division. He scored 44.8 with Petite Flower in the final group this afternoon to sit in third place.
Boyd also sits in sixth place with Pancho Villa on a score of 47.4, with Jennie Brannigan and Cambalda and Mackenna Shea and Landioso sandwiched ahead of him on scores of 47 and 47.2, respectively. boyd has four total horses in this division, all of them contesting their first CCI3* this weekend, with Master Friskey, known as "Mikey" in the barn, leading the way in the early going.
A 10-year-old Irish Sport Horse gelding owned by Steve Blauner, Master Frisky is by Master Imp out of a Clover Hill mare, which makes him about seven-eighths Thoroughbred. The horse placed 5th in the CCI2* here in 2012 but had an extended period time off last year after The Fork, when he needed to have a bone growth behind his knee removed.
'Go out and attack it'
"Dressage is the horse's strongest phase," Boyd said. "He's a very good cross country horse and a bit awkward in show jumping. But show jumping is probably my strongest phase, so it makes a good match." Much of the credit for the horse's prowess on the flat also has to go to Boyd's wife, Silva, who schools the horse and has competed him in dressage.
An unassuming plain bay, Boyd said Master Frisky seems a bit ordinary standing in the cross ties, but what he lacks in looks he makes up for in athleticism thanks to the Thoroughbred influence in his breeding.
"He reminds me of my cat at home," Boyd said. "He lays around a bit in the paddock, but when you hop on him, he has a real engine on cross country, but you wouldn't know it because you could put your grandmother on him to take her on a trail ride."
Though all of Boyd's CCI3* rides are new to the level, he said he plans to go out of the start box to be competitive. "This is definitely not the event to say, 'I'm going to have a nice, easy run.' It's too big and brutal of a course," Boyd said. "You have to go out and attack it. This event is the biggest, toughest three-star I've ever competed at anywhere in the world." You can check out photos of the CCI3* course here.
Though Boyd is pleased to be leading and also sitting in sixth place with Pancho Villa, he said he was disappointed that Wayne Quarrels, the member of the CCI3* ground jury at E, marked him what he felt was considerably lower on all his horses in comparison to Christina Klingspor of Sweden at M and Susan Baxter of Great Britain at C.
"Wayne is obviously one of America's top judges coming through, but it's interesting when you look at the scores and there's one judge who is consistently lower on all my horses," Boyd said. You can see the individual marks from the judges here.
The Apprentice grows up
Buck said he was very pleased with The Apprentice's test yesterday. "He's grown up a lot and is much more organized now. I forget that he's only 10," Buck said, explaining he can do things now like half halt before flying changes. "That's definitely the best test he's every done, and there's still more to come," Buck said.
He originally intended to take "Dirk" to Pau next weekend, but ultimately decided that with all the traveling he's done this year with the World Equestrian Games and the fact that he's marrying his fiancé Andrea Leatherman on Nov. 8, staying home seemed like the right thing to do.
"I thought about it and realized it didn't make sense," Buck said. "We're not further ahead if we go to Pau. He's done a lot of three-stars, but he's never gone here." He spoke with Dirk's owner, Sherrie Martin, who agreed to keep him in the States. "At the end of the day, I feel like this is the right place for him," Buck said.
Petite Flower on the 'win swing'?
Petite Flower is coming off a big win in the Adequan USEA Gold Cup Final at the American Eventing Championships last month, and she put in a lovely performance today that Buck thought was the nicest test she's ever done.
Though Buck and Flower are riding the high of the Gold Cup win right now, it's no secret that it's been a rocky season for them, with blips on cross country cropping up throughout the year. "Hopefully we're on the win swing this time," he said. "I think this is a great course. She brave, she's fast, she stays the whole way."
We had a beautiful sunny, breezy day in Eklton, Md., which has helped dry the ground. "I think (the footing) should be absolutely perfect," Buck said. "I think it could be just about as good as we've ever had. It's dried up unbelievably."
Taking care of unfinished business
Buck and Flower pushed Jennie Brannigan and Cambalda out of the top three late in the day after they scored 47 this morning. Jennie has been riding with Jackie Brooks on the flat lately, which she said has really helped her dressage.
"I thought it was a better test than I had last year, and I got a 42 last year," Jennie said. "I was really happy with how the horse felt, so I was a little disappointed with the mark." That said, Jennie said her sights are firmly set on tomorrow when she looks to settle unfinished business with Derek di Grazia's cross country course.
"I felt pretty kicked in the teeth after having the 20 (last year), and I felt kicked in the teeth again after Rolex," when Jennie and Ping missed a flag at an open corner, ultimately leading to a technical elimination. "Talk about having your spirit broken," she said.
So she said tomorrow is about seeking redemption and getting it done. She and Ping are coming off a dominant win in the Advanced division at Plantation Field, so they're primed and ready. We're sending all the EN karma to Jennie and Ping for a good go tomorrow.
In other notable CCI3* tests of the afternoon group, Kurt Martin and Anna Bella and Katy Groesbeck and Oz the Tin Man both put in very solid performances to score 48.6 and 49.4 for eighth and ninth places, respectively. You can watch their tests plus nearly an hour of Fair Hill dressage videos over on our YouTube channel.
Matt Brown holds CCI2* lead
The top three in the CCI2* from the lunch break remains the same at the conclusion of dressage, with Matt Brown and Happenstance leading on 40.1, Victoria Jessop and Desert Mystery in second on 41.3, and Lynn Symansky and Osborne 9 in third on 41.8.
The USEA Young Event Horse East Coast Championships have also concluded, with Will Coleman and Vagabon de Champdoux winning the 5-year-old class on 81.5 and Melissa Hunsberger and Rule of Thumb winning the 4-year-old class on 83.16. We have the full report and awards photos coming your way next.
#FHI: Website, Ride Times, Live Scores, YEH Scores, Schedule, EN's Coverage, Videos, EN's Instagram, @eventingnation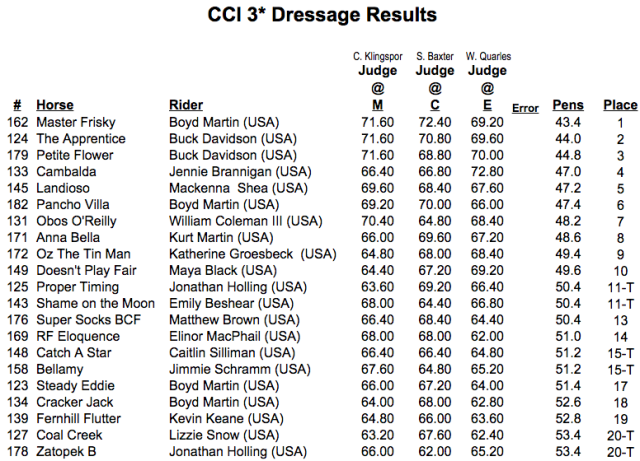 Comments