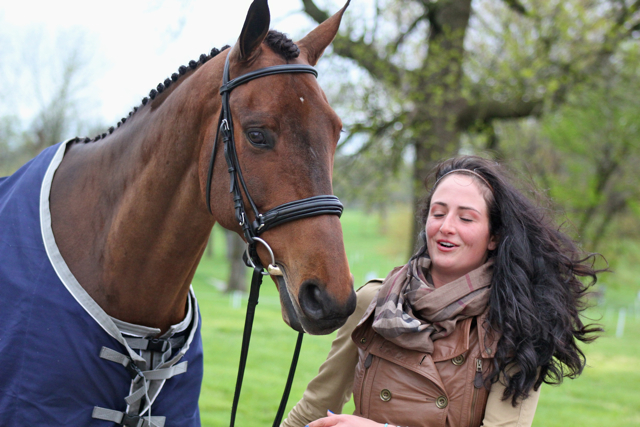 Jennie Brannigan is withdrawing Cambalda from Rolex this morning.  "Ping" was injured on Thursday morning when he got loose lunging and slipped on asphalt.  The word was always that it would be tough to get Ping ready in time, but Jennie's fantastic team did everything possible throughout Thursday and I'm sure well into Friday morning to try to get Ping ready.  The Ground Jury was very nice on Thursday to permit Jennie to reschedule her ride time from Thursday morning until Friday, but Ping just wasn't good enough to go this morning.  Jennie posted the following on Facebook:
This is the absolute worst luck that I can imagine in terms of having to withdraw from Rolex.  It's a heartbreaking moment for Jennie of course, but also for Rolex and all of us fans to not get to watch this highly competitive pair take on the field and the courses this weekend.  We wish Ping a speedy recovery and I'm sure we'll see him back at a big event soon.  Go Jennie and Ping.
UPDATE: Statements from Jennie, Nina Gardner and Dr Kevin Keane (by Samantha)
I spoke to Jennie earlier, and although she teared up while we talked, she is resolute and stoic, "I am really thankful to the ground jury for letting me switch my time, I'm really thankful that Kelly was here and so supportive and knowledgeable throughout the weekend, and all the fans – all those people that reached out. It's heartbreaking but it isn't the worst thing, we'll know more for the future and hopefully Ping will be back to fight another day." Jennie also wanted to make sure she thanked her head girl Jackie Imholte  who is taking such great care of Ping; it's every groom's worst nightmare and along with Jennie, we all feel for her too.
Nina Gardner was sitting outside Ping's stall and could be the personification of the perfect owner, stressing that she would do whatever was best for Ping – be that stay on grounds, ship him home immediately or take him across the road to Hagyard for further examination.  There is obviously a strong bond between her and her rider as they comforted each other with the minimum of words; Nina has owned horses at the top level of the sport for many, many years and unfortunately is accustomed to things going wrong sometimes.  Jennie, Nina and Kevin Keane also couldn't thank the Rolex Kentucky Ground Jury and official vets enough, "They were really innovative in the way they handled it and definitely preserved as many possibilities as they could; we're just sorry we couldn't get to the actual competition."
Dr. Kevin Keane told me that currently Ping is 80% better than at the time the accident happened:
"Ping had a fall onto the gravel section – he has some shallow but linear lacerations across the lateral aspect of his left hip and a couple on his hock. He had every bit of veterinary attention that we could give him under the FEI rules. Of particular note all the FEI officials, Tom Ryckewaert our TD, everyone on the Ground Jury, Dr Kohn and Dr Crump and Karen Wynne, everyone was so fantastic in abiding our request to reposition the horse in the order to possibly give him every chance overnight to improve so that he had a Friday dressage time instead of a Thursday dressage time as the accident happened shortly before Jennie had to get on him to go down to the ring. The horse was lame so we did a lot of icing of the haematoma over the side of his hip, lasering, and everything that we could do to potentially improve him. The agreement was that on Friday morning we would continue re-evaluation, and it was the collective opinion of Dr David Bogenrief who was Jennie's vet in California for many years and kindly came out here to support her, and myself and Dr Kohn that it's in the best interests of the horse and for Jennie, and Jennie's owners Tim and Nina Gardner that we withdraw him from competition. That also gives us the opportunity to do some much more sophisticated imaging on the horse; we'd like to consider doing a bone scan on the horse, a nuclear scintigraphy and we're feeling very, very confident about our exact cause of the lameness. We did ultrasound his pelvis and his femur; we radiographed the horse extensively yesterday and now we have an opportunity to take him off campus and get the scintigraphy so that we're certain that there's no other bony pathology aside from what we've been able to discover. As we said to Jennie, we need to go to Plan B, we need to get Jennie around a big track later in the year. We've had great support from David O'Connor and Jennie's regular coach Phillip Dutton who both agree that with her sights on Normandy, the priority is now to get Jennie and Ping around a big track later in the year. Although what happened here is of course unfortunate, we want to do what's best for Cambalda and see that he arrives in France next year. "
They say that one's true character shines through in hard times and Jennie, Nina and her whole team are certainly showing what classy people they are in the way they've handled this horrible predicament.  I look forward to seeing Ping back out again soon and am full of admiration for the entire crew.  Many thanks to Jennie, Nina and Kevin for talking to me. Go Ping and Jennie and Go eventing!
UPDATE: Jennie just told us that Ping is scheduled for a bone scan at 8am Saturday morning.