Event organizer and EN guest writer extraordinaire Katie Lindsay has written a brief essay about the Wayne Eventing Derby in Area IV.  Katie sent this in to us just before Rolex, and sadly it got delayed until the mayhem died down a little.  We apologize for being a bit late in recognizing the Wayne Eventing Derby, which sounds like it was a great success.  Thanks for writing this Katie and thank you for reading.
—-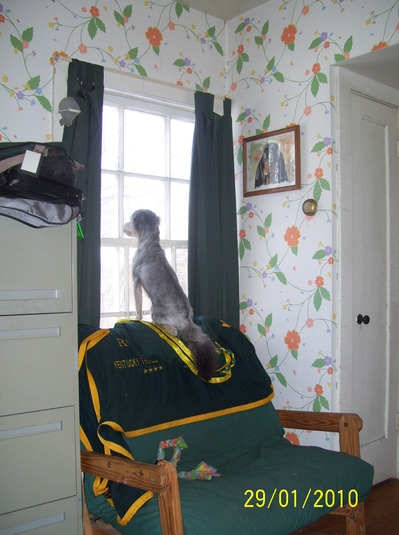 DERBY WITHIN A DERBY
On April 13-15, the third annual Wayne Eventing Derby, fast becoming a popular season opening fixture on the Area IV dance card, added a new division of competition to its schedule. Called a "Derby Within a Derby," it was a class held on the final day of the regular Derby, in an arena adjacent to the "big guys" arena, and run under the same mantra of relaxed fun. The division was limited to horses who had never competed anywhere – recognized events, schooling shows, mini events – and was basically geared toward youngsters, ex-racehorses, and horses of any age who were just starting out.
In Area IV, there are a lot of OTTB's, (Off The Track Thoroughbreds), and homebreds, and The Wayne organizers felt that there was a big need for a place to start these horses in their competitive careers without the stress or high cost of a regular event or horse show. The format and pricing were worked out with an eye to this market.
The D.W.D. was run as follows. Horses were shown as a group in a hunter hack walk/trot/canter format. They then returned to the ring individually to jump a course of 6 fences not exceeding two feet in height. Included were an X to start with followed by several verticals, a flower box fence, and an oxer. The venue was Lamplight Equestrian Center, a well decorated show facility with a "big time" feel to it so there was a lot for these greenies to look at. The owner of a local hunter facility kindly judged it. Horses were allowed to school and familiarize themselves in the morning. As one member of the show committee explained, "This really isn't about competition. Instead, we wanted to provide as positive an educational experience for the youngsters as possible."
It was interesting to observe horses as seen through the eyes of a hunter judge, and the final placings differed from what they could have been if evaluated by someone with a dressage background. There seemed to be more emphasis on way of going, freedom of gaits and potential. It was judged numerically with points for each gait and jumping performance being awarded and then added together to determine an overall score.
From the feedback, this experiment was apparently a success with 12 horses of varying breeds and experience levels entered. One local breeder summed up the general opinion of the concept. "The 'derby in a derby' class was the single most useful schooling tool ever. The affordability, the relaxed atmosphere, the format – all contributed to a great start for our young horses. I'm restraining myself from begging…. more please."
Thanks for reading. Go Baby Eventers!