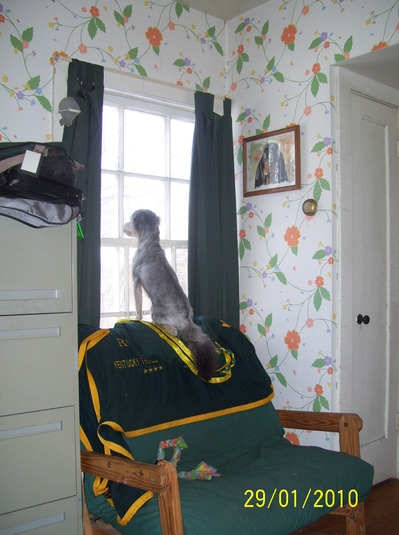 I've spent so many years organizing eventing competitions that I think I have finally achieved "Relic" status. My first gig was in 1980, two years after switching disciplines from hunters to eventers after attending the '78 Worlds in Kentucky, and it's been non-stop ever since. My last National hurrah was in 2009 when I ran the final Maui Jim Horse Trials in Area IV, (CIC 3* through training), and later that same year, the American Eventing Championships at Lamplight Equestrian Center. Since then, I've downsized and find myself happily organizing the Wayne Eventing Derby, also at Lamplight, an informal competition run under nobody's rules except those concerning safety. What a change of pace – from the confines of the F.E.I., U.S.E.F. and U.S.E.A. to derby rules of the road as designed and imposed by us. Yes!!
The reason for this rather tedious intro is to confirm that I have the creds to write about organizing "Then" and organizing "Now." It's changed a lot, just as our world has changed a lot. Some changes are good, others not so much.
At the onset of my organizing "career," there existed in our society a strong commitment to the concept of volunteering. Wonderful people would set aside huge chunks of both time and resources to do all the things that go into prepping for and running an event. We designed our own courses and built our own fences, mowed our own competition areas with our own mowers, housed and transported our officials, and basically did everything. We were very good at scrounging materials for jumps with old railroad ties and telephone poles being the favorites. This was fun, and we were very proud of our efforts. We also avoided spending any money at all, relying solely upon the largesse of others.
As a result, our entry fees were low, in retrospect commensurate with the lack of polish of our finished product. Our expectations were pretty basic too. We relied solely on rain to soften our galloping lanes. The flags and numbers were hand cut, hand painted and lettered plywood that by the second season had warped and faded, and our penalty zones (!) were marked with pieces of lath we scrounged from scrap heaps. I remember the joy of discovering engineering flags that could be poked into the ground without having to drill a hole first. (Yes, we live in concrete clay country!) Water jumps were basically stream crossings with flags (if one were lucky), or non-existent depending on what was available on site. Scoring was done laboriously by hand on huge cardboard charts from the (then) USCTA, program copy was done on typewriters, and postcards with ride times were sent through the mail. Cross country communication was done by a HAM radio club, and safety was a guy with a Motorola bag phone. Computers were things that existed only on entire floors of the Pentagon. Steve Jobs had yet to put the mainstream stamp on our communication culture.
In the mid to late 80's, things started to change. Eventers from all facets of the sport began venturing outside their familiar comfort zones, and they got a glimpse of how the rest of the world was doing it. Rolex and Radnor became the standards to shoot for. Concurrently, the spirit of volunteerism began to weaken. I suspect that there are many reasons for this. People found that the time they could devote to non-paying activities was dwindling thanks to the demands of day to day living. (Funny how life gets in the way of a lot of things!) Leisure time became jealously guarded as societal pressures and demands multiplied.
The farther afield competitors traveled from their own back yards, the higher their expectations became. Better courses, better fences, better footing, better officials, better amenities. The $75 a day official became a thing of the past. Event organizers realized that they lacked both the resources and the knowledge to deal with the ensuing demands, and they also became aware that they would have to upgrade their events, or watch their market share shrink. Concurrently, our governing organizations began imposing more and more demands. I remember how scary it was when I signed the contract for our first big time professional course designer. I envisioned a life on the street corner with a tin cup selling copies of Streetwise to pay for it!
Like in life, growing up was painful and quite scary too. Organizers understood that they would have to spend money – a lot of money – to do the necessary upgrades that would keep their events alive. Where would these funds come from? Individuals were tapped through fund raising pleas, but it became evident that everyone was trying to draw from the same pot, and there really wasn't enough to go around. Fund raising activities were devised, some quite clever. Name a jump. Silent auctions. Benefit parties. Horseless horse shows. Hitting up local businesses. In short, the fun, casual, rough and ready backyard competitions were faced with going pro. Some organizers opted to buck that tide with far from stellar results. A few events were very lucky in attracting major sponsorship. This helped, but it was soon obvious that a fair share of the burden was going to have to be assumed by those enjoying the fruits of our labor, the competitors.
Sadly and somewhat inexplicably, side by side with upped demands and higher entry fees, comes a growing sense of individual entitlement. This is seen everywhere in our society and is not limited to our small sphere. "I paid  $xxxx to be here. Why can't I school now?" "You mean I have to pay for shavings too?" The pitch in and help fix it attitude is becoming more and more rare.
I have no idea where all this change will go. I can only speak from personal experience. Looking back, I see a gradual, annual increase in the number of people we pay to do stuff that previously volunteers would do. I love doing the Derby because it embodies some of the easy going atmosphere of events that happened "Then." Nobody is point chasing or running around after qualifying scores. The scoring system, devised by us, is unconventional and designed to be competitor oriented. Stabling is on a first come, first served basis. That being said, there are several "Now" aspects of the event organizing game that I can not or will not do without, and these are individuals we gladly pay because they ensure a seamless experience for our riders. The world's best Secretary and his evententries.com. Highly ranked National officials. A licensed course designer. A professional announcer. A beautiful, sophisticated facility. Good communications with plenty of rented state of the art radios. Great paramedics. Whatever the cost, I refuse to put on a crummy competition,  and therefore, we do a bit better than break even, but not much.
To anyone thinking of putting on an event, I have a word of advice. Go to as many events as you can and watch carefully how things are done. Don't be afraid to spend money on essential things like cross country course design, jump building, footing, excellent personnel. It's pretty scary to hear an organizer boast of the several thousand dollars worth of flowers they bought while their facility is crumbling and their cross country jumps are held together with duck tape.
And above all, have fun doing it! If it becomes a chore, find another way to occupy your spare time.