After heckling me all weekend in the comment section for not giving Courageous Comet enough attention, Katie Lindsay–event organizer and one of EN's favorite guest writers–came through in a big way by writing her favorite things about the WEGs. As an aside, I have asked Katie to write one of her somewhat degrading but entirely hilarious fake interviews about yours truly so we will see what comes of that. Thanks for writing this Katie and thank you for reading.
—-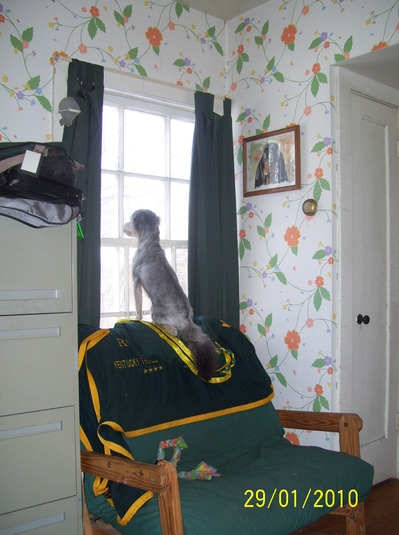 From Katie:
(Home at last after a relatively construction free scamper up I 65 to Chicago during which I had a ton of time to think about the week just past. I don't even know if John wants this for EN after the static I gave him all week. He did say I have a temper! We'll see!)
Canada – I heart underdogs! Shades of the Miracle on Ice in 1980. They weren't supposed to do it, but they did, Determination, focus, talent, lack of Ego.

Courageous Comet – I am the first to admit that I am totally "barn blind" about this glorious horse. He is everything I love about American Thoroughbreds. He and Becky are just flat out class acts.

Cool Mountain – Cool is the fitting adjective. Add intelligent, athletic, talented – and oh yes, a Thoroughbred.

Cross Country Course – Mike E. S. outdid himself. The less experienced riders were able to complete thanks to intelligent black flag options. The top dogs could run for time. As it should be!

The Costello Crew – What a gorgeous course Mick and his gang built, and what a superb Crash Crew (Yay! More "C's!") he put together. The only green grass amidst the Kentucky Browngrass was on the galloping lanes thanks to Mick's ongoing watering and agravating.
Janie Atkinson who is the passion behind Rolex and WEG eventing, and for whom so many of us have spent hours and dollars volunteering our service. This was her last hoorah. She leaves a hole in our hearts and huge shoes to fill!
Jimmy Wofford – If you've not read Jimmy's WEG blog, or anything else he's written, it's a must. "Blackberry Jam," Jimmy? Really??
Watching Boyd and Neville all weekend, my admiration is sky high. Here is a rider first time representing a country – a new one at that – riding a really quirky horse with fierce talent and a brain that seems to work like a toy with little balls rolling around that need to be guided into proper holes – and there they were in the top ten with the big guys. Not sure anyone else could have risen to that occasion with such aplomb! Capital I impressive! Boyd for President!
Absolutely fascinating. I felt as if I'd stumbled into a twisted middle eastern Fairy Tale. The Sheik's tent with chandeliers (and it's pronounced "shake," not "sheek.") The odd trot ups. The science. The GPS on each rider. Those somewhat skanky, lean tough, fit little Arabians and Arabian crosses. The cacophony of languages.
The British hat trick silver in Dressage
"Alf," aka Mistral Horjis- (Yep, I know why he's called Alf!) All the attention was given to Edward Gai's Tortilas who is spectacular, but I really preferred Alf! What do I know?
These folks from the checkpoint guys to the shuttle drivers were invariably cheerful, polite and upbeat – and their feet must have been killing them at the end of their shifts. The lovely guy outside the FEMA village trailer assignment desk who said "We know there are glitches. We are volunteering to make it work – and we will."
Sam's is the iconic greasy spoon a couple of miles from the Park where everyone eventually goes. The best BLT's in the country and a breakfast concoction called a "Spanky," (eggs on an English muffin smothered in sausage gravy) that'll make you smile – and raise your cholesterol about ten points just by ordering it!
I add this for what it wasn't! The protocol volunteers received was terrifying. No food, no water except that in a water bottle provided, uniforms, correct creds. Having a back gate pass, I avoided most of the check points, but I did get to watch the bomb sniffing dogs as I chugged by on my golf cart waved on by Kentucky's finest after a cursory glance at my creds that could have sported a picture of Osama Bin Laden for all they were looked at. I did tell one that I'd left my AK 47 at home, and he seemed disappointed.
Despite a paucity of communication, the organizational decisions by committee that changed hourly, the outrageous prices (two bucks for an order of go? Yikes!), and the budget cutting in weird (to me) places, the great behemoth known as the WEG Eventing phase worked.
Yes, results were disappointing to us Americans – but life goes on. A good friend and fellow cross country Area Steward probably summed it up best at dinner Saturday night. "I stood today and watched fabulous rider after fabulous rider go by on the world's best event horses and had to pinch myself. I am working the World Equestrian Games. Wow!" It was definitely one for the books.