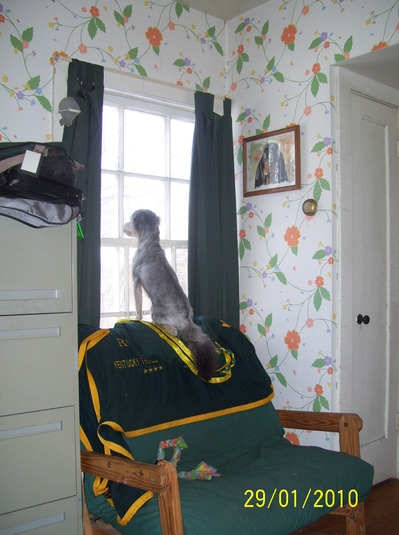 It seems only a few weeks ago that we in Area IV were champing at the bit waiting for the snow to melt and eventing season to start, and here we are already at midseason! That's one of the problems with our middlewestern weather. It goes from impossibly cold to decent to impossibly hot to decent and back to impossibly cold which leaves us about six short months in which to cram all our events, camps, outdoor clinics, schooling days, mini events, etc.
Nationally, entry numbers are pretty much holding their own despite the continuing woes of the economy. One Chicago area veterinarian told me that her clinic is doing pre-purchases for the first time in two years which is a very healthy sign for the horse industry. Last week, Lamplight hosted a 1,200 horse, two week long hunter/jumper show. I expect the Area IV total starter numbers will be down from last year in part because of three event cancellations, two EHV-1 related, and one from a very unfortunate calendar problem. It will be interesting to evaluate whether individual event numbers are up or down. To date, Otter Creek, which since the demise of Maui Jim is the only event in the Area to host a division above Preliminary, ran a slim Intermediate, but pretty much held its own in the lower levels. This is typical both nationally and locally – the higher the level, the lower the entry numbers and vice versa.
There is one trend which is evident both nationally and in our Area, and it is causing quite a bit of distress. This is the tendency for competitors to enter events at the very last minute, often after the published closing date. Rick Dunkerton from evententries.com who is involved either as secretary, scorer or scheduler, or all of the above, for the larger Area IV and national events figures that roughly 25% to 30% of total entries come in the last few days before and often well after closing dates. This is in effect a Catch 22. The organizers want/need the entries, but are burdened by the inconvenience caused by the late entry practice. Riders understandably want to hang on to their money as long as possible before entering. I know several USEA committees are addressing this problem, and hopefully, a mutually equitable solution can be devised.
Organizers who don't have the luxury of permanent stabling, have to provide stall counts to their suppliers as early as possible. They also need numbers in order to hire additional judges as needed and to do scheduling. Competitors on the other hand are often faced with stiff penalties or long waits for their refunds if they withdraw. Then there is the ubiquitous "In case of event cancellation, no refunds will be given" conundrum. All this becomes a kind of lose/lose situation, and one that further adds fuel to the "Them vs. Us" fire that exists in varying degrees between the two entities.
A couple of attempts to effect a compromise between these two factions have been tried with some success. At a large event held at a facility with permanent stabling, a "total refund, entry and stabling, less a $25 office fee up until the Monday of the event" policy was put into place with a lot of success. Riders weren't afraid to enter early and lose all or most of their money if they had to scratch. Obviously, this only works when the organization has permanent stabling. Offering a discounted entry fee for those entering in the first two weeks after opening date worked well for last year's AEC's in Georgia. (In effect, this is the same as tacking on a late entry fee, but doesn't a discount sound much more attractive than a penalty?) The "No Refund" after closing date is harsh, especially in light of our chancy weather and other unforeseen circumstances. Yes, a lot of bills have to be paid before an event takes place, but I believe there is room for some negotiation here. New cross country fences were possibly built and new tracks designed, but they'll be there for the next event and wont have to be paid for again. Organizers should cover their bases in the contracts they make with the officials they hire to determine their cancellation policies so they wont be caught short handed if cancellation is necessary.
It's important to try to "walk in each other's shoes" every once in a while. Things could be a whole lot more pleasant if both sides were sensitive to each other's needs and were prepared to give a little to come up a comfortable solution.