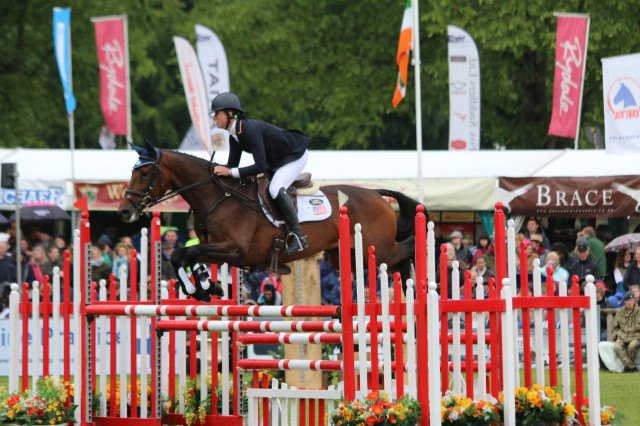 Lauren Kieffer capped off a great weekend at Equi-Trek Bramham CCI3* with a clear round in the show jumping to move up to eventual 7th place, and Veronica also takes home the Angela Cotton Memorial Trophy for the Highest Placed Mare.
There were only 18 clear rounds today and after rattling the first fence, Veronica never looked like she was going to touch a rail. (All final scores are here)
In fact Lauren said she was worried about how fresh she was. "She was wild! We gave her a jump this morning and did a lot just to try and get her rideable again because she was super-keen and here in the warm-up she was a little bit the same.
"We put up a big oxer to try and surprise her and she had the front rail down, and then I did one big vertical and she jumped the snot out of that, so then I just did a tiny vertical and tried to get her rideable! She certainly is not feeling anything from yesterday. She's actually feeling fresher than usual. I think she's liking the weather here!"
Veronica may be the only one; it's been really cold today. Officially the high was 55 degrees but with rain all day it's felt much colder, and my fingers are so cold I'm struggling to type. I asked Lauren if jumping on the grass had posed any problems for her or the mare.
"The grass felt fine. I was a little worried because I can't think of any three days where I've had to jump on the grass, maybe Ocala but that's nothing like this, but the footing was great. I didn't have a huge amount of stud in and even with those rollbacks I didn't feel like I was losing my footing at all and it's certainly not cut up in front of the fences much."
This is Lauren's first event in England and now that it's under her belt she thinks the experience will be invaluable. "I think it's a great event, the course is different from anything I've ever done; I love Ian's courses because they're so bold and brave and encourage forward riding. They're not unlike Derek's in that you can trust them that if you go out and and ride forward it will work.
"The first third of the course is a lot like Kentucky, really open and galloping, the middle third is a combination of very hilly and galloping and the last third is very straight up and down hill, not unlike the old Red Hills but probably even steeper. So that was a little different from anything I've ridden on before but it's an awesome event. It's a tough track. It's certainly a solid track, but the ground and everything is good on them. The horses all seem to have come out of it well and I think it's probably hugely educational to do the Under 25 thing here.
"It's very different here to say, either Boekelo or Pau; I'd say extremely more competitive than either of those. I finished on a 49 on the same score as [Meadowbrook's] Scarlett got in Jersey and she was 2nd, and I'm 7th here but it's way more competitive, just the numbers. I've spent a decade with David drilling that in my head but still, you get it in your head that you're competitive at home but you see it how much more competitive it is over here for sure."
Flora Harris jumped clear on Bayano to finish on her wining dressage score and clinch victory, by far the biggest of her career so far. "I'm overjoyed, I'm so happy, a bit in shock I have to say but I have the most amazing horse and so many people made this possible.
"I know it's a bit of a cliche but it's true – the team that surrounds a rider makes a rider. None of it would be possible without owners, sponsors, trainers….we couldn't do it without them. I just feel very very lucky. I think a win like this is a milestone in any rider's career and Bramham is such a prestigious event, it's a bit overwhelming. I'm just thrilled. I couldn't be happier."
Flora found Bayano in Holland at a dealer's yard as a 5-year-old and has brought him on herself; he's now 9 and this was his first CCI3*. "He felt amazing today, you never know with a horse after their first run round a big track, especially Bramham with its hills and its terrain, it is a stamina test. You never know quite how they're going to come out of it and he wouldn't be an experienced three-day horse; it's only his 3rd three-day but he felt fresh, he felt really on it and he really really tried, I just love him!"
William Fox-Pitt and Fernhill Pimms had two rails down to allow Kitty King and Persimmon to move into the runner up spot with a flawless clear. Kitty was another rider who mentioned that her horse came out feeling better than ever today.
"He jumped his socks off today. He jumped by far his best round at a three-star three-day. He felt the same as he does at a one-day event which they never normally do. He tried his heart out the whole way round the track. It's just lovely to have two such good jumpers because both Ceylor L A N at Tattersalls and him today, neither of them felt like they'd done a three-day.
"In the warm-up it's a good feeling to know that unless I make an error they're going to jump clear. I was very happy with him. He's been knocking on the door at his three stars to get a really good result."
Gwendolen Fer was the best of a large French contingent in third on Romantic Love. The French made a foray to Blair last year to test out the venue ahead of the European Championships there later this summer and came to Bramham this Spring to get another go at Ian Stark's famous cross country on somewhat similar terrain.
Knowing Great Britain they may well have got an appetizer of what the weather may be like too – it's been pretty miserable today, but that can't dampen what's been a fabulous weekend's sport – top class competition, superbly organised, in an amazing venue. Congratulations to all the riders and their various supporters and teams, thank you to all the volunteers and organisers, and we look forward already to next year!
Bramham: Website, Schedule, Live Scores, EN's Coverage, @samanthalclark, Twitter, Instagram
Comments