We're all set for the start of the CCI5* dressage here at the Land Rover Kentucky Three-Day Event. Follow along here and refresh periodically for live analysis and commentary!
LRK3DE: [Website] [5* Times] [5* Scores] [4* Times] [4* Scores] [Schedule] [Live Stream] [Tickets] [EN's Form Guide] [EN's Coverage] [EN's Ultimate Guide]
[Click here to catch up on all of EN's coverage of the 2023 Land Rover Kentucky Three-Day Event]
Want more LRK3DE info each day during competition? Sign up for the free LRK3DE Daily Digest email, which will be sent each day through Monday, May 1. Find all of EN's latest coverage, sponsor promotions and discounts, chances to win daily giveaways, and much more! Click here to sign up.
16:44 That brings us to the end of day one at the Land Rover Kentucky Three-Day Event. What a day!
Top of the leaderboard after the first day of dressage is Tom McEwen and JL Dublin on 22.6 , closely followed by Tamie Smith in 2nd on 24.2. There's a bit of a gap to 3rd – Liz Halliday-Sharp and Deniro Z on 29.
Thanks for tuning in to our live updates – we'll be back tomorrow to do it all again for day two! Keep it locked onto EN for the full report and all the news from the #BestWeekendAllYear.
Go Eventing!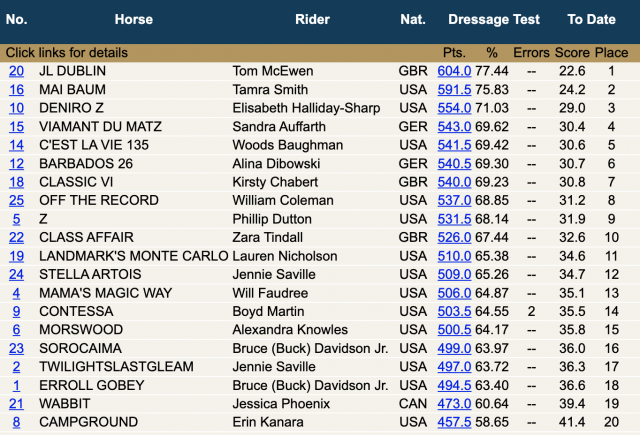 16:41 After a great start, the scores trickled away slightly as the test went on and they end up on 31.1 into 8th place.
16:41 Where will Will and Timmy end up on the first day of dressage? We'll soon see…
16:39 It's a mix of 6s and 7s in the canter so far in what's been a steady test up to now.
16:37 An early halt, that was meant to be at C, drops the scores into the 6s. It's the same story for the rein back but they're back into the 7s in the walk work.
16:36 It's a lovely start for Will and Timmy who are scoring in the 7s across the board so far.
16:34 The last up the center line today is Will Coleman and Off the Record.
'Timmy' certainly looked ready to run at the Horse Inspection yesterday – will he keep it under wraps for the dressage?
His morning yoga should help – like any good yogi, he does his stretches every day, he even has a custom made yoga prop.
Timmy helped Team USA to the silver medal at the World Championships in Pratoni, finishing in the top 10 individually. He's been here twice before – his only other runs at the 5* level – and finished in the top 15 each time.
16:33 Jennie and Stella Artois finish up on 35.4 into 12th place.
16:31 It sounds like there's a plane going overhead but Toddy's keeping it together nicely and shows a lovely halt at the end.
16:29 Jennie's trademark grin isn't perhaps indicative of how hard she's working with this lovely big mare. Toddy's a lot to keep together and Jennie's really doing a great job. Toddy wishes the walk was canter.
16:28 Jennie's taking her time before she goes into the arena. 'Toddy' needed a bit of a toilet break and Jennie sensibly waited 'til she was good and ready, whilst keeping within the time of course.
16:24 Penultimate to go today is Jennie Saville and Stella Artois.
'Toddy' is another one of the six mares competing here.
They were 4th in the 5* at Maryland in 2021 but sustained an injury there which sidelined her for the entire 2022 season, so it's great to see them back here.
Fun fact: Toddy has a series of foals coming along via embryo transfer.
16:23 It's 36.3 for Buck and Sorocaima, into 14th.
16:22 The changes and stretch circle let them down a bit in terms of the scores, but overall Cam did a nice enough job.
16:20 They're picking up some 7s in the walk work, which is impressive for a Thoroughbred who's ready to run cross country.
16:18 Everything's looking clean and accurate so far for Buck. They're scoring in the 6s, but everything's sound.
16:16 Buck's back with Sorocaima.
'Cam' is a Kentucky-bred Thoroughbred who earned over $80,000 on the track.
They completed here last year in his first 5*.
Cam's dressage is improving – as is his show jumping – but watch out for them on Saturday when all that power flies them round the course and up the leaderboard for sure.
16:15 It's 32.6 for Zara and Class Affair – a bit disappointing given all the lovely work they showed, just a couple of blips pulled them down a little bit. Top ten though so far.
16:12 Oh, and just as I was typing that, Socks got away from Zara a little bit. She's got him back now though and she was able to push in the extended canter, which was good brave riding.
16:12 Socks is lovely and relaxed in the walk and the scores are trending in their favor – lots of 7s coming in.
16:10 Socks is looking well on Zara's side today and is working really nicely for her.
16:08 Britain's Zara Tindall and Class Affair are next into the arena.
Former European and World Champion, Zara, comes forward with 'Socks'.
This is their second trip Stateside – they contested the Maryland 5* in 2021.
Zara trains with dressage legends Carl Hester and Amy Woodhead. She'll be hoping Socks can keep his madness under wraps this afternoon and really prove just what he can do.
He certainly looked classy at the Horse Inspection yesterday, shining in the Kentucky sun with his white socks sparkling.
16:06 Phew! Wabbit can look forward to the cross country now. They've got a 39.4.
16:05 Jessie will be relieved that the walk's over and done with. She's doing a great job of keeping a lid on this.
16:03 Jessie's got a lot of horse in her hands in the walk here. Wabbit just wants to run!
16:02 Wabbit's showing off his trot steps and looking very pleased with his efforts. He's looking a bit excited and Jessie's doing well to keep it all smooth.
16:00 And here is Jessica Phoenix and the splendidly named Wabbit for Canada.
Jessie and Wabbit parted ways on the cross country here last year, so they'll be hoping to stick together this time around.
Wabbit's a tough guy who relishes a challenge. Will he tame all that speed and power for the dressage though? We'll soon see!
Jessie and Wabbit have been named to the 2023 Equestrian Canada High Performance National Squad.
15:59 We hold our breath as we wait for his score. It's 22.6 and into the lead for Tom McEwen and JL Dublin!
15:58 The canter work has dropped them down a little bit, but it's still lovely work. There's much praise for Nicola Wilson's training in the commentary box. A huge cheer as they halt for the end of their test and a big head shake from Dubs.
15:56 They're currently trending just above the 20 mark, putting pressure on Tamie at the top of the leader board at the minute.
15:54 Dubs is really showing himself off as the gorgeous mover he is and Tom's really riding for it at the beginning of the test – they've just posted three 8.2s in a row! And now an 8.7!
15:53 Britain's up next with Tom McEwen and JL Dublin.
Top tip: EquiRatings have this pair down as second favorite for the win.
This is the second 5* start for 'Dubs', who was Nicola Wilson's ride before a fall at Badminton last year left her with life-changing injuries. With Nicola, Dubs had amassed an incredible roster of results, including European Champion in 2021 as a ten-year-old.
15:52 It's a 34.6 for Lauren and Patty – a solid enough test from them.
15:51 They finish with a lovely halt but Lauren looks a bit disappointed. Patty's very proud of himself though – he's sticking his head out as he struts out of the arena.
15:48 It's just starting to spot with rain now. Patty's getting a bit spooky but Lauren's doing a great job of balancing him and her accurate riding is definitely helping the scores along, which are creeping up a bit now.
15:47 It was a bit of a wobbly start but 'Patty' seems to have settled a bit better now.
15:45 We're back with Lauren Nicholson and Landmark's Monte Carlo.
Interesting story: Lauren enlisted the help of an animal communicator when she was struggling with Landmark's Monte Carlo's show jumping. Afterwards, she tweaked her routine and saw his confidence grow.
This is their fourth 5* together, and second Kentucky.
'Patrick' was beautifully turned out at the Horse Inspection yesterday by his groom Sally Robertson – so sparkly and white, and he's looking equally gorgeous this afternoon!
15:28 We're off for another short break once we have Kirsty's score. We'll be back with Lauren Nicholson at 15:45. Kirsty's gone into 6th on 30.8. Back soon.
15:25 There's a bit of tension showing in some of the canter work but the stretch circle seems to have done the mare a bit of good and the scores are up again now.
15:24 It's tough to come in after Mai Baum, but so far 'Betty's' doing an accurate test with scores trending just a smidge under 7s.
15:22 Kirsty's come in looking like she means business here. She's riding forward and being rewarded for it with scores in the 7s.
15:19 Great Britain's Kirsty Chabert and Classic VI are next up, then we'll be having another short break.
Classic VI is another one of the six mares competing here.
Kirsty's dad rode 'round Badminton and her mom competed in Grand Prix dressage.
'Betty' is a bit of a quirky mare. Kirsty rarely does any work in the arena with her – instead she hacks around the New Forest, which seems to keep Betty happy, and sane.
15:18 It's into the lead! 24.2 for Tamie and Mai Baum. Go USA!
15:17 They're averaging 7.5 across the board in a test that was an absolute pleasure to watch. The crowd are going wild and Tamie looks delighted with her guy.
15:16 If it carries on like this, Tamie and Mai Baum are going to go thundering into the lead. More 8s coming their way.
15:14 And it's an 8 for the halt at C.
15:12 Well they're off to a super start. 'Lexus' is his beautiful bouncy self and is looking stunning at the start of his test.
15:11 Here's Tami Smith and Mai Baum.
Hot tip: This is EquiRating's field favorite for the win here this week.
They were 9th at Badminton and Pratoni last year and have been top-ten at all but three of their completed runs.
They score consistently in the low-20s in this phase – the question here is, how low can they go?
Will this pair finally bring us a long-awaited US victory?
15:09 It's tight at the top of the leaderboard – Sandra's gone into 2nd on 30.4.
15:08 The scores are consistently in the 7s through the canter work but then a 4.3 in the flying change drops them back a bit. Overall a lovely looking test though and Sandra has a big smile at the end.
15:05 We're starting to see a bit of the atmosphere getting to 'Mat' in the walk. But with all her experience, Sandra's sitting quiet and making the most of the horse that's under her.
15:03 A 7.5 for the first halt is a great start for Sandra. They're looking relaxed and really in tune with one another – a real picture.
15:02 Sandra Auffarth and Viamant du Matz for Germany are next.
This is three-time Olympian and prior World Champion Sandra Auffarth's first visit to the Kentucky Horse Park.
She's swapped her Stars and Stripes cowboy hat for her riding helmet this afternoon.
Fun fact: Sandra's ridden for Germany at every Olympics and World Championships since 2012!
This is a 5* debut for 'Mat', as he's known at home. He went to Tokyo as part of the German team and contributed to Germany's team gold at the World Championships last year.
15:00 A bit of a mixed bag of scores coming in but Woods is smiling and there's a great reaction from the crowds. They're into 2nd with 30.6 – equal with Alina Dibowski.
14:59 And he's off into extended canter! Woods really went for it, but Contendro's come back nicely. That bodes well for the cross country on Saturday.
14:58 Contendro's showing off his beautiful extended trot and elasticity and pulls off a super accurate halt at C for 7.7. All's well so far for Woods.
14:56 Now it's the turn of Woods Baughman and C'est La Vie 135.
Woods originally hails from Lexington so he's on home ground here this week. His granddad brought him to the Park as a spectator around 20 years ago.
Woods made his 5* debut here last year, aged 25, with 'Contendro'.
He'll be hoping to put right the things that have gone wrong for them thus far, but it definitely feels that a great finish at the level is brewing for the partnership. Will this be their year?
Sneaky tip: They're also in my Eventing Manager team.
14:54 Alina's giving her dad the lowdown of how it felt in there by the looks of it. There's high fives with the German coach. It's 30.6 for them. A good start for my Eventing Manager team too.
14:53 Well, Alina didn't miss a beat throughout that test. She looks thrilled – lots of pats for Baba.
14:51 More very accurate work through the walk and everything's very correct. In the commentary box they're predicting another in the 20s – we'll soon see!
14:49 A solid start for Alina and Baba. It's lovely and accurate and looking very much like they're the great partnership that they are. Scores in the 7s coming in.
14:47 Germany's Alina Dobowski and Barbados 26 are next into the ring.
The youngest rider in the field here at 22, Alina was also the youngest rider at the World Championships last year.
She was inspired to come here by her dad's World Championships in Kentucky. This weekend, her famous dad is in the role of groom.
Alina's goal is to enjoy every second and she describes this as a "huge adventure".
It's a 5* debut for both horse and rider but coming off a 4* win in Strzegom, they must be full of confidence.
14:46 Niro reacts to the crowd's cheers as he halts for the end of his test. Overall, a lovely test though, the first in the 20s – 29 for them and into the lead.
14:43 They're putting in a very solid performance here – Liz is riding super accuracy in her riding and Niro's looking to be on her side.
14:41 Niro's showing just how keen he is for the competition this week as he begins his test. He's settled down now though, I bet Liz is breathing a sigh of relief.
14:40 We're back with Liz Halliday-Sharp and Deniro Z.
Fun fact: 'Niro' as he's known at home, loves bananas!
He showed his trademark excitement at the Horse Inspection yesterday – bouncing and prancing round for the cameras. Liz said, "Well, he's ready!" to the jury as they hopped past.
Liz Halliday-Sharp is U.S. eventing's speed freak, having been a professional racing driver before swapping vehicular horsepower for that of the flesh and blood variety.
She was the first woman since 1981 to be named USEA Eventing Rider of the Year in 2020 and between 2020 and 2022, she had the most international wins in the world.
14:25 We're off for a short break now – back at 14:40.
14:24 Boyd looks thrilled with Contessa, and so he should – she's a very exciting prospect for the future and showed lots of promise in a lot of the movements. They've gone into 2nd with 34.7.
14:23 This is a great example of a really experienced rider with a not so experienced horse. Contessa's kicking the boards a bit and is looking very fresh and a bit green in the changes.
14:22 The rein back drops the trending score a bit but Boyd's able to really ride for it in the extended canter for a 7.
14:21 Well those dressage lessons are paying off. This is, so far, a lovely rhythmical test with Contessa showing all her elegance.
14:19 Boyd Martin and Contessa come forward next, the last combination before the first break.
Boyd's debutante at the level is one of only six mares competing here.
Boyd's been going for it in the dressage training ring – he was spotted having a lesson with Bettina Hoy yesterday afternoon. Coupled with his wife, Silva's expertise in this phase, he's coming into this well prepared.
Fun fact: Boyd's famous for his love of icy cold baths, and has a guru, who is a familiar sight at events.
14:18 Well, Gideon's very relaxed as he walks out. Their score is 41.4.
14:17 A nice stretch circle but then Gideon's off again. This is a Thoroughbred who is very excited to go cross country!
14:15 They're trending just below 60% as Erin gingerly makes her way through the walk work and the tension's still there as they go into canter.
14:13 Gideon's come in a bit tense, but Erin's sitting quiet. It means she can't push for the movements but better to go a bit small than bolt out of the arena!
14:10 Next up it's Erin Kanara and Campground.
'Gideon' is track-trained but unraced. He's one of just five full Thoroughbreds competing at Kentucky.
His other job is as an adult amateur ride for owner Marnie Kelly.
He made his 5* debut at Maryland last fall where he finished 15th.
The pair have never had a cross country penalty at 4*.
14:09 There's a big pat for Morswood and Allie's breathing a sigh at the end of that test. There were moments where it looked like hard work, but lots of lovely points and they go into 3rd with 35.8.
14:06 A bit of a quirky first flying change gets a 4.7. Things are looking a bit sticky at times, although the second change is much better.
14:05 They're trending around 65% at the minute, but that's because of a not very square halt at the beginning. He's made up for it at the halt at C though, it was lovely and Hayley agrees it perhaps could have scored a bit better than 7.5.
14:02 And now we have Alexandra Knowles and Morswood.
Allie is based in Lexington and is an A graduate of the Sierra Pony Club.
'Ginge', as he's known at home, was originally produced by Britain's Piggy March, then Ireland's Susie Berry.
They're generally around the 30 mark but can go sub-30, so watch this space.
14:01 A big cheer for Phillip on his way out of the ring. It's 31.9 and into the lead, but we can't help feeling he'd have been hoping for a little bit better.
13:59 A blip in the first flying change sees their trending score drop a bit, but all seems to be well for the next one – the stretchy circle seems to have helped with a bit of the tension that had crept in.
13:58 Phillip's showing us all how to ride a super accurate test here.
13:57 Hawley in the commentary box says it looks like Phillip's come to play. All's looking great so far, lovely and expressive and Z seems to be enjoying himself.
13:54 Next it's the turn of Phillip Dutton and Z.
Z was named USEA Horse of the Year in 2019. He finished 8th here in 2021. He's naturally a bit of a perfectionist, with a try-hard attitude.
Z's been to the Olympics – 6th in Tokyo with the US team – and the World Championships – 13th in Tryon.
Phillip is a seven-time Olympian, winning team gold for Australia in Atlanta and Sydney, and individual bronze for the USA in Rio.
Fun fact: Phillip's been to Kentucky every year since 1998!
13:52 Will's breathing a sigh of relief that test is done. He did a great job keeping a lid on Mason there, who's looking for so ready for cross country. It's 35.1 for them – into the lead for now.
13:50 Mason sure was ready to get back going after the walk work. He was a bit sassy in the first change. Keep breathing Mason!
13:48 All's looking well for Will so far – really positive. They're sitting just over 70% with the early trot work and Mason's looking happy.
13:47 Coming in now is Will Faudree and Mama's Magic Way.
Fun fact: Will's been to Kentucky a dozen times on six different horses.
Will says, "From the moment I sat on him, I knew he was my horse".
Mason is what you could safely call, enthusiastic. Will describes him as "a little boy at Disney World on a sugar high". His challenge is keeping all that enthusiasm contained in this phase.
13:45 Comic and Jennie go into the lead at the moment – 36.4.
13:44 Comic definitely knows what's coming up on Saturday, but overall she's produced a good test and Jennie looks happy with their efforts.
13:42 They're trending between 6.5 and 7s at the minute. Jenny's riding the horse that's underneath her and producing some nice moments.
13:40 Next into the arena is Jennie Saville and the poetically named Twilightslastgleam.
Known as 'Comic' at home, Twilightslastgleam was born and bred in the U.S. by owner Nina Gardner, who, with her husband Tim, has been breeding Thoroughbreds for more than 40 years.
Comic possesses blood lines have been in their breeding program since the early 1980s.
This is Jennie's first ride of three entries this weekend – if all goes well, she'll jump nearly 100 cross country fences on Saturday!
13:39 Buck'll be glad to get that one in and done. It's a 36.5 for them.
13:36 There have been some moments of tension coming through and Buck is doing a great job staying calm on what looks like a very fit horse.
13:32 Erroll Gobey took a bit of a dislike to the camera at C but Buck walked him past it on his way round the arena and they're in the arena now looking to have gotten over his camera shyness.
13:30 First up we have Buck Davidson and Erroll Gobey.
Buck's back in his familiar draw spot as lucky #1.
Erroll Gobey is Buck's least experienced of his three rides here this week.
Buck's looking for his first 5* completion with this horse, so we've got everything crossed for him for a successful weekend.
He comes here on good form having had a 1st and 2nd finish in Advanced classes already this season.
13:25 Good afternoon ENers! Welcome to day one at the LRK3DE. We're all set for the 5* dressage.
Let's go eventing!