Lucy show-jumping at Barbury earlier this summer
As soon as I saw Lucy Jackson working Kilcoltrim Ambassador in Kentucky this Spring a few days before the start of the Rolex Kentucky CCI**** I was impressed, and it seems I'm in good company – William Fox-Pitt had asked her to ride eventual winner Parklane Hawk for him until he arrived in the States. Almost as long-legged as he is but much prettier, it would be easy to be jealous of Lucy for her looks, her talent and her string of horses, but once you meet her it's impossible not to also like and admire her for her sense of humour, warm, open nature, and work ethic. I invited myself to her yard in Oxfordshire just after the Olympics to find out a bit more about her operation and see how her Autumn plans are shaping up.
Lucy, Erik and Sprout working at Rolex Kentucky
Four years ago, Lucy returned to England from New Zealand, "in a bit of a muddle – I'd run away from my job, my husband, my house, my security. I went to work for Ann and Nigel Taylor and it was perfect – all I had to do was ride a dozen horses a day, and after about eight months I had a sudden realisation that that was all I wanted to do, and all I'd ever wanted to do."  Lucy, a trained physio, worked in a hospital in Auckland for three years and in private practice there for two years after that, but has now ridden professionally for slightly more than three years.  Her compact  yard is "not immaculate but all the essentials are here" – a cluster of barns with all manner of roomy stables, a walker, an arena and plenty of turn-out, super hacking, and galloping just down the road on a surface with Austin O'Connor at Tetsworth, as well as a steep hill on "an old-fashioned wood-chip surface" a tiny bit further afield for the "big boys!"
Animator at Bramham this summer
It was at Nigel and Ann's yard that Lucy got the ride on Animator, fondly known as "Luke;" belonging to Nigel and Ann, and Kathy Brown, Lucy is very fond of him, "I'm really sentimental about him because when I first came back from New Zealand I wasn't riding very well and Nigel let me have the ride on him, and basically Luke was going, whether I was coming or not, so he gave me back my confidence!  He's been a funny horse, he's had 8 different jockeys and he used to be quite nappy, but I think because I hero-worship him so much he doesn't mind, he just does it."
–
Lucy was disappointed not to make the New Zealand Olympic team with Luke, "I feel really sorry for him because this was his opportunity to shine, he was on amazing form, and the guys that did go to the London Olympics obviously did deserve to go because they won a bronze medal, but it would have been nice if it was the old days when they could take six; I think he would have done it!  Anyway, we're going to make them really sad they didn't take us by doing well at Burghley! Erik (Duvander) told me not to lose my focus – lose my focus?! I have such a point to prove that I'm even more on a mission now than I was six months ago, which I didn't think was possible!  I think there's always going to be one disappointed person and I don't think they made the wrong decision because everyone went so well but I do feel like I could have done as well."
At Bramham this summer
Lucy will also take Willy Do to Burghley, an eleven year old bay gelding by Matinee, the same sire of  Wellshead Munnings/Jack, who is owned by Lucy's trainer Gill Watson, and is headed to Lignieres CCI** this autumn for "a bit of a jolly, to drink French wine, eat French bread, not get muddy and jump a few fences if there's time!"  Although Gill is pretty busy with her
Team GB World Class commitments 
she does her office work out of a portacabin on Lucy's yard, and helps her two or three days a week, and as Lucy explains, " We'll work on maybe two or three horses together whether it be flat or jumping, sit in the portacabin and work out who's going to gallop when, and which horse is going to go where – it's such a great opportunity because if you go somewhere for a lesson you're inclined to do a bit more than you necessarily want to sometimes, but this way we can do twenty minutes or an hour and a half with a horse, it doesn't matter." Gill has a prime view of the arena from her desk in the portacabin, and admits that at times she doesn't even recognise her own horse – "If you look up into the arena and you're riding Jack or Willy, it's quite hard to tell who it is, initially!", and Lucy agrees, "They are quite similar in lots of ways,  I definitely find myself in the lorry  chatting away to Jack, and it's actually Willy! Willy's got a more thoroughbred mummy, and Jack's mummy was a bit more pony!"
Two brothers fighting over Polos!
Rounding out Lucy's top three is her Lexington horse, Kilcoltrim Ambassador, or Sprout,  owned by the Sprout Syndicate which is made up of Lucy's godmother, and various family connections. He'll be aimed at Blenheim in a few weeks, and then "possibly he might come back to America in the Spring because it really suited him, I just made a stupid error.  He's only ten and he's already done a good deal for a ten year old, and he still needs a bit more time on the flat to become established so I think for him another autumn event doing only two changes in a test instead of four changes will benefit him; he's such a natural born trier."
Sprout jumping at home
Lucy found Sprout  four years ago as a young horse in Ireland who'd just done some show-jumping, and tells me she prefers not to do too much with her youngsters, and wonders if all the future event horse classes and such like are reliable indicators, "It's a lot of exposure for young-ish horses. I sometimes wonder if the ones who have the temperament to cope with that have got enough about them to go all the way, I think maybe they're better off with a more sheltered upbringing."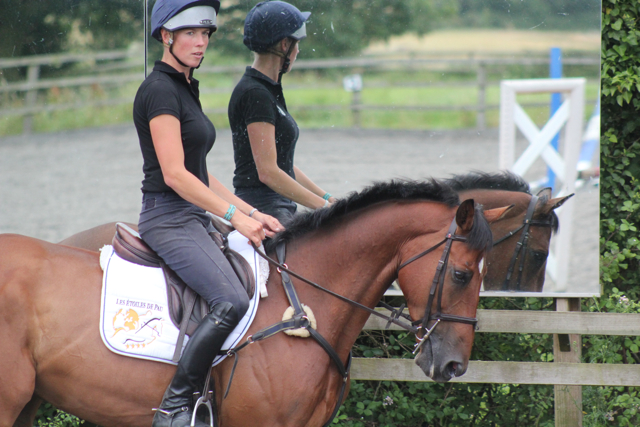 Kilcoltrim Ambassador
"I really think he's going to be like my little Lenamore, a little hero, – he's got everything. At the moment it's a little bit like the wrong size engine in the wrong strength body , it's like a Porsche engine revving in a little mini; that's what gives him frights in the dressage, you get him engaged and the power just takes over a bit."
When Lucy left Nigel and Ann's yard to set up on her own, she admits it was "absolutely terrifying. I brought four horses with me, and I owned three of them. Now, three years later, we have seventeen and I own a quarter of one, which is a much better place to be. I think I'm really lucky because we do adore them all too, we've only got really lovely ones at the moment.  I have Fran, my head girl, and two working pupils.  I suppose my mission when I left Nigel was all about the Olympics, it was the Olympics, Olympics, Olympics with these three horses – Animator was intermediate and the other two were novice and it was all about getting them ready and qualified for the Games, which they all duly did. Now, in the next two or three years I'd like to get some younger horses, a few to sell and a few to keep so that come four years time I've got the same calibre of horse coming on again, and also got a bit more of a robust business because I've sold maybe a couple a year, but nothing drastic."
Dressage in the mud at Bramham this 'summer'
Lucy acknowledges that although the competition to make the New Zealand squad may be undeniably tough, the benefits that come with it are incredible, "We're really, really lucky with the New Zealand Federation – as with most lottery funded sports it's medal dependent, so we got two bronzes at the WEG, and there's 8 of us now on the High Performance programme, and although we don't get given cash, we can apply for funding for training  for instance,(which Lucy intends to do this winter) or a scan on a leg, or run a blood, or something like that.  Then of course the team training with Andrew Fletcher on the flat, and Luis Cervera for jumping has been invaluable, especially just setting up a business, I'd never have been able to afford that on my own – I'll go up with five horses, have five lessons one day, stay the night and have another five lessons before coming home, it's amazing, so I'm very, very lucky." Lucy adds that just training alongside the greats like Mark and Andrew, taking their advice, competing with them, walking courses with them, and riding with them on a team as she did at Blenheim and Aachen has just made her all the more hungry, "It does feel like a great thing to be a part of, and the original gang must have been amazing – Mark, Andrew, Blyth, Vikki Latta when they just won everything.I'm going to get so good that they'll never be able to leave me behind again – the World Equestrian Games 2014 is a huge mission now with all these three big horses."
Lucy and Willy Do
With the Games well and truly behind her now, ("I went both dressage days and had a great time, and then spent all day cross country day in the pub with Piggy (French). Actually it was a Godsend because both of us had got quite miserable.  We'd both started watching at home on telly, and then rang each other in floods of tears and said this is really hard, and then thought, come on, lets get over it together and have a jolly time.  There weren't that many people there and we were definitely the most drunk, and we had our photo taken with our pints stacked up in front us, and it says 'Rio Hopefuls!'" ) Lucy has a lot to look forward to, starting immediately as she kicks off her busy Autumn campaign at Burghley, followed almost immediately by Blenheim, and she told me she'll keep Pau and Boekelo in the back of her mind as a Plan C in case she needs it.  Many thanks to Lucy for her time and for chatting, and wishing her the very best of luck of in all her endeavours – Go Eventing!
Comments