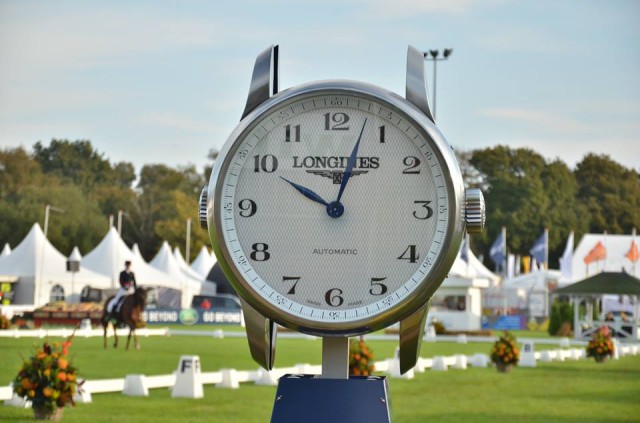 The first day of dressage is complete at Boekelo CCIO3* in the Netherlands, with the first two riders already out for the U.S. Nations Cup team. Paul Tapner and Indian Mill led for much of the day on 46.2, but French rider Didier Dhennin and Opi de Saint Leo overtook them on 42.7 late in the day to hold the overnight lead.
Tiana Coudray and Kinnordy Rivaldo went early in the order of go to score 56.5 in their first dressage test together at this level to sit in 31st at the end of day one. Though she acquired the horse from Chris Burton at the end of the 2012 season, they haven't done much together yet, as "Ken" unexpectedly underwent surgery for a bone injury last year.
Liz Halliday-Sharp and Fernhill By Night went in the first group after the lunch break to score 47.9 for seventh place with half the field still to go. That's a healthy improvement on their score of 51.8 from last year, and from watching the test on the live stream, Liz and "Blackie" look to be polishing up those little details that can really separate a good test from a great one.
Clark Montgomery and Loughan Glen and Sharon White and Under Suspection are still to come tomorrow for Team USA, and the sole Canadian, Lindsay Traisnell with Candar van het Neerveld, scored 53.1 for 21st place at the end of the first day.
Our friends at Uptown Eventing posted a course walk on Facebook yesterday, so click here to check that out. Joanie Morris is also posting photos of Team USA on the USEF Eventing High Performance Facebook page here, and Boekelo is also posting photos on Facebook here. Keep checking back for much more from Boekelo.
Boekelo CCIO3* Links: [Website] [Ride Times] [Live Scores] [Live Stream]
click to enlarge